De 'Ondergewaardeerde 30' is onze non-hitlijst en wordt samengesteld door muzikanten en DJ's. Liedjes die in hun oren nog steeds ondergewaardeerd zijn.
Elke laatste donderdag van de maand is er een nieuwe bijdrage.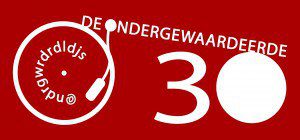 De gast vandaag is zangeres, saxofoniste en singer-songwriter. Funk, Soul, Jazz en Blues zijn haar kinderen en naast haar twee uitstekende albums kwam er dit jaar een (ver)nieuwe(nde) single uit; PennyLeen (Krebbers) durft de platgetreden paden te verlaten.
Het meest Ondergewaardeerde liedje aller tijden volgens PennyLeen: Carleen Anderson – Woman In Me (1998)
De single Woman In Me van Carleen Anderson vind ik een van de meest ondergewaardeerde liedjes. Sterker, ik vind haar album Blessed Burden sowieso ondergewaardeerd. Of nee, nòg sterker, ik vind Carleen Anderson alleen als muzikante, zangeres, componiste al ondergewaardeerd. Zo. Het moge duidelijk zijn dat deze dame een van mijn grote heldinnen is.
Carleen verstaat wat mij betreft de kunst om goede liedjes te schrijven en deze ook nog eens op fabuleuze wijze te vertolken. Voor mij weet ze precíés de balans te raken tussen vocaal vakmanschap en overtuigende zeggingskracht. Nee, ik vind niet al haar werk even mooi of boeiend, maar voor mij is Woman In Me een van de mooiste liefdesliedjes ooit geschreven en uitgevoerd.
In dit nummer bezingt zij de liefde voor een man die onverwacht haar leven binnenkomt en haar volledig van haar stuk brengt. Ze vind het spannend, eng, raakt ervan in de war en weet niet goed wat ze met dit gevoel moet. Eigenlijk wil ze deze gevoelens niet, maar ontkennen heeft geen zin. Het gaat te diep.
Of de liefde wederzijds is, weten we na het beluisteren van dit liedje niet. Maar eigenlijk doet dat er ook niet toe. De boodschap ervan is al mooi genoeg.
Uit: Suzanne Vega
Cursief = niet op Spotify
De huidige Ondergewaardeerde 30 is samengesteld uit bijdragen van Bazz, Blaudzun, Jaap Boots, Marcus Bruystens, Johan Buurke, Cashmyra, Dead Elvis, Tessa Douwstra, Timo Epping, Steven Engel, Chris Fallen, Marinus de Goederen, Pascal Griffioen, Joep Gudde, Lenny Helsing, Specs Hildebrand, Ruud Houweling, Karianne Hylkema, Robin Kester, PennyLeen Krebbers, Jeroen Ligter, Mike & Mool, Skylar Navaeh, Aafke Romeijn, Ollie Schmitz, Arjan Snijders, Rick Treffers, Ad Vanderveen, Peter Visser, Henk Westbroek en Paul Zoontjes.