De 'Ondergewaardeerde 30' is onze non-hitlijst en wordt samengesteld door muzikanten en DJ's. Liedjes die in hun oren nog steeds ondergewaardeerd zijn.
Elke laatste donderdag van de maand is er een nieuwe bijdrage.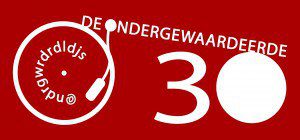 Ik droom nog steeds over jouw organen….is de openingszin. Vervreemdende teksten, minimalistische gitaarlijnen en stampende drums. Na een solo EP vol doodeerlijke obsessieve liefdesliedjes die tegen het ongemak aan schuren kwam vorig jaar het vervolg met Moreel Verwerpelijk. Een volgende loot aan de stam van de finaliste van de Grote Prijs van Nederland 2018 en houder van de POPgroningen Talent Award 2019.
Haar reactie op de uitnodiging: wat tof! Het lijkt mij heel erg leuk om over een ondergewaardeerd pareltje te gaan peinzen!
Het meest Ondergewaardeerde liedje aller tijden volgens Cashmyra: PJ Harvey – The Slow Drug (2004)
Op het moment dat ik gevraagd werd om een nummer te selecteren, kwam ik in mijn hoofd al snel uit bij PJ Harvey. Ik ben al jaren groot fan van deze artiest die zichzelf met ieder album weer opnieuw uit weet te vinden. Iemand zei een keer tegen mij: Huh, PJ Harvey, dat is toch een vriendinnetje geweest van Nick Cave? Maakt die muziek? Toen dacht ik een paar tellen: Wie is Nick Cave ook alweer?
Ik zie haar zeker niet als een ondergewaardeerde artieste, maar ik geloof wel dat niet elk nummer de aandacht krijgt die het in mijn ogen verdient. Na wat grasduinen in haar uitgebreide repertoire kwam ik bij The Slow Drug uit. Het staat op het album Uh Huh Her dat in 2004 is uitgekomen. Het hele album is vrij uitgekleed en naar mijn smaak komt dat de nummers ten goede.
Dit nummer bestaat eigenlijk uit acht coupletten. Je kunt er een refrein in vinden als je naar de tekst kijkt, maar qua structuur is het nummer zeer eenvoudig. De onheilspellende synthesizer die weer verzacht wordt door de cello vormt in mijn oren een prachtig bed voor de kalme vocalen. Het liefste luister ik dit nummer op een flink volume met een koptelefoon, zodat zelfs de achtergrondruis een soort prettige instrumentale laag begint te worden. Heerlijk voor op repeat in de trein.
Uit: The Feelies – Slipping (Into Something): ik feelde deze niet helemaal.
Cursief = niet op Spotify
De huidige Ondergewaardeerde 30 is samengesteld uit bijdragen van
Bazz, Erik van Biesen, Paul Bond, Jaap Boots, Bertus Borgers, Robin Borneman, Ruud van Bree, Marcus Bruystens, Johan Buurke, Cashmyra, Dead Elvis, DJ Ratz, Tessa Douwstra, Marinus de Goederen, Joep Gudde, Lenny Helsing, Specs Hildebrand, Karianne Hylkema, Nanne van der Linden, Alex Nieuwland, Erwin Nijhoff, Aafke Romeijn, Ton Scherpenzeel, Martje Schoemaker, Ollie Schmitz, Arjan Snijders, Rick Treffers, Ad Vanderveen, Peter Visser en Rob Vunderink.