De 'Ondergewaardeerde 30' is onze non-hitlijst en wordt samengesteld door muzikanten en DJ's. Liedjes die in hun oren nog steeds ondergewaardeerd zijn.
Elke laatste donderdag van de maand is er een nieuwe bijdrage.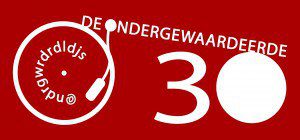 Alex Nieuwland? Bij de echte kenners zal de bel rinkelen. Alex was de frontman van het Friese The Pretty Green, een exponent van de Friese Bries die in de jaren '90 door ons land woei, en waar ook The Serenes deel van uitmaakten. Na een periode van stilte was daar in 2016 zijn solodebuut Love and War onder de naam Newland. Van dat album wist The Man Who Saved the World het te schoppen tot nummer 1 in de Indie-lijst van IndieXL. Ook bij Ondergewaardeerde Liedjes is Newland geen onbekende. Zo schreef die andere Alex over de eind mei verschenen single Drowning Butterflies.
Harlinger Alex Nieuwland schrijft niet alleen alle teksten en muziek zelf – hij bespeelt ook alle instrumenten en als one man band lijkt hij z'n draai te hebben gevonden; na zijn debuut bracht hij nog een drietal albums uit en vorige week vrijdag verscheen nummer vijf Tomorrowland. Een behoorlijke productie dus. Om dat alles ook live te kunnen brengen had hij weer een band geformeerd. De corona-ellende gooide echter roet in het eten zodat Alex na enkele optredens voorlopig weer op zichzelf is aangewezen.
Zelf zegt ie over zijn muziek dat het hem om de frisheid, creativiteit en het plezier gaat, en of dat in een of ander hokje past? Lekker belangrijk. Alex bewandelt niet altijd de makkelijkste weg. Het gaat hem om de verrassing waarbij naast de muziek de tekst net zo belangrijk is, bij voorkeur kleine verhaaltjes over liefde, oorlog, vriendschap en alles wat hem nog meer bezighoudt en inspireert.
Het meest Ondergewaardeerde liedje aller tijden volgens Alex Nieuwland: XTC – Wrapped In Grey (1992)
Voor mij niet alleen het meest ondergewaardeerde liedje maar ook meteen de meest ondergewaardeerde band aller tijden: XTC. Bij velen bekend van Making Plans For Nigel en Senses Working Overtime, maar de band maakte twaalf studioalbums die volstaan met pareltjes van hoog karaat.
In 1982 besloot zanger en componist Andy Partridge dat hij niet meer wilde optreden en werd de band een studioproject. Dit tot groot ongenoegen van de platenmaatschappij die de band voortaan nauwelijks ondersteunde. Einde carrière? Geenszins, want het beste moest nog komen. Eenmaal verlost van de beperkingen van het live spelen ontpopte XTC zich tot een collectief van meester songsmeden die de traditie van bands als The Beatles en The Beach Boys moeiteloos voortzetten.
Wrapped In Grey toont XTC op de toppen van haar kunnen. Niet langer het punk/new wave bandje uit de beginjaren, maar een band die met tekst en muziek een geweldige artisticiteit en originaliteit ten toon spreidt.
Er Uit: wat mij betreft Louis Jordan. Niet omdat het slecht is, maar ik heb met deze stijl en tijdsperiode gewoon wat minder.
Cursief = niet op Spotify
De huidige Ondergewaardeerde 30 is samengesteld uit bijdragen van
Bazz, Una Bergin, Erik van Biesen, Paul Bond, Jaap Boots, Bertus Borgers, Robin Borneman, Ruud van Bree, Marcus Bruystens, Johan Buurke, Dead Elvis, DJ Ratz, Tessa Douwstra, Marinus de Goederen, Joep Gudde, Hugo Heinen, Lenny Helsing, Specs Hildebrand, Karianne Hylkema, Erwin Nijhoff, Aafke Romeijn, Ton Scherpenzeel, Martje Schoemaker, Ollie Schmitz, Arjan Snijders, Rick Treffers, Ad Vanderveen, Peter Visser en Rob Vunderink.