De 'Ondergewaardeerde 30' is onze non-hitlijst en wordt samengesteld door muzikanten en DJ's. Liedjes die in hun oren nog steeds ondergewaardeerd zijn.
Elke laatste donderdag van de maand is er een nieuwe bijdrage.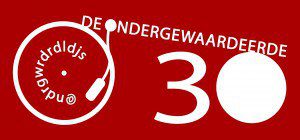 Onze gast is samen met Erik Pols de kern van The Reuters. In 1977 speelden de schoolvrienden in het punkbandje Vitamine Sex, maar na de schooltijd verloren ze elkaar uit het oog. Dankzij de sociale media liepen ze elkander in 2016 weer tegen het lijf en besloten verder te gaan waar ze 40 jaar geleden mee gestopt waren. Dit resulteerde in 2017 in de zeer goed ontvangen elpee We Are From Hu, nog datzelfde jaar gevolgd door een 7" 5 track E.P. met daarop reconstructies van liedjes van Vitamine Sex waaronder Ambient Ambulance, dat een heerlijk perziken Stranglers-gevoel geeft. Inmiddels ligt hun derde plaat Incubation in de wachtrij om geperst te worden.
Volgens onze gast is het hoogtepunt in de carrière van The Reuters – naast een aantal legendarische concerten – het behalen van de 43ste plaats in de Snob 2000 van 2019 met Ambient Ambulance. Kijk, dat horen we natuurlijk graag, maar álle liedjes van The Reuters zijn ondergewaardeerd, want ondanks de vele ronkende recensies uit binnen- en buitenland en airplay tot aan de BBC aan toe verkopen ze voor geen meter!
Het meest Ondergewaardeerde liedje aller tijden volgens Johan Buurke (The Reuters): Ivy Green – Real Slow Burn (1990)
Het was de grote vakantie van '77. Het hoogtepunt voor mij was dat ik tijdens de vakantie een plaat mocht kopen. Ik kocht The Stranglers: Rattus Norvegicus. Misschien wel omdat er een extra singeltje bij zat. Het toeval wilde dat andere vrienden thuis waren gekomen met The Damned, The Clash en Television. De band die er al was werd hierdoor alleen maar hechter.
Punk was dé (muzikale) revolutie. Al snel verzamelden we alles wat ons interessant leek. Op LP of overgenomen op cassette. Ja ja dat waren nog eens tijden… Muzikaal vloog het alle kanten op en bij het langzame verscheiden van de eerste golf (of was het de tweede?) van de punk werd duidelijk dat uit dit genre en de New Wave geweldige, meer experimentele, bands waren ontstaan. Goede Nederlandse voorbeelden zijn Mecano en Mekanik Kommando. Maar op één been kun je niet staan en ook de rockkant bleef aantrekkelijk alsmede blues, country… als er maar een donker randje aan zit. (Hoewel… vrolijke goede muziek is minstens even leuk. B-52's bijvoorbeeld. Maar het is veel moeilijker om vrolijke goede muziek te maken dan donkere goede muziek).
Dus, dan snap je dat het maken van een keuze voor mij echt een probleem is. Er is zoveel moois en ondergewaardeerd dat ik nooit de juiste keuze kan maken.
Maar om dan op de muziek te komen die The Reuters maken. Wij zijn en waren altijd grote fans van de eerste echte Nederlands punkband Ivy Green. Erik (Pols) en ik hebben besloten om te stoppen met liedjes maken als we het ultieme, door ons zelf geschreven, Ivy Green nummer maken. Dat gaat ons nooit lukken dus we moeten nog even door. Daarbij komt dat er wel wat aandacht aan bands uit ons eigen land mag worden besteed én aan de minder grote namen. Want ach, stadion acts, met ondergewaardeerde liedjes of niet, hebben hier toch geen podium nodig?
Dus hier, in het laatste jaar van hun bestaan, is Ivy Green met Real Slow Burn.
Uit: Melba Moore
Cursief = niet op Spotify
De huidige Ondergewaardeerde 30 is samengesteld uit bijdragen van Robin Assen, Bazz, Una Bergin, Erik van Biesen, Paul Bond, Jaap Boots, Bertus Borgers, Robin Borneman, Ruud van Bree, Marcus Bruystens, DJ Ratz, Marinus de Goederen, Joep Gudde, Kevin de Harde, Hugo Heinen, Lenny Helsing, Specs Hildebrand, Karianne Hylkema, Paul de Munnik, Joop van Nimwegen, Aafke Romeijn, Ton Scherpenzeel, Martje Schoemaker, Ollie Schmitz, Arjan Snijders, Rick Treffers, Ad Vanderveen en Rob Vunderink.