De 'Ondergewaardeerde 30' is onze non-hitlijst en wordt samengesteld door muzikanten en DJ's. Liedjes die in hun oren nog steeds ondergewaardeerd zijn.
Elke laatste donderdag van de maand is er een nieuwe bijdrage.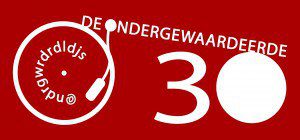 De gast van vandaag reageerde direct met dank voor je bericht! Wat een eer! Ik draag graag bij aan de Ondergewaardeerde 30 en heb meteen wel een goede in mijn hoofd. Hij is zanger en multi-instrumentalist in Dandelion; een band die we hier een warm hart toedragen en al twee keer (hier en hier) een blog aan gewijd hebben.
Gezien zijn muzikale achtergrond moest het daarom ook een aparte bijdrage zijn en daarin worden we niet teleurgesteld.
Het meest Ondergewaardeerde liedje aller tijden volgens Paul Bond (Dandelion): James Booker – Life (1977)
De 'Ondergewaardeerde 30' is een geweldig initiatief, maar het legt ook een pijnlijke waarheid van het artiest-zijn bloot. Soms blijkt jouw artistieke zielkreet een eenzame uiting die belandt in de peilloze diepte van de vergetelheid. Alle emoties die jij hebt proberen te vangen in jouw muziek, worden in het slechtste geval alleen beantwoord door de meedogende goedkeuring van je eigen moeder. In dit opzicht is de site Forgotify ook heel interessant, een website die Spotify-tracks verzamelt die nog nooit zijn afgespeeld. In dit geval heeft zelfs de moeder van de artiest dus niet geluisterd.
Daarom, lof voor de 'Ondergewaardeerde 30': een playlist die staat voor het ontdekken en herwaarderen van verloren parels uit muziekland. Judee Sill met The Kiss staat er al tussen, dat maakt mij heel erg blij. Wat een onvoorstelbaar mooi, ingetogen en oprecht nummer.
Mijn bijdrage is het nummer Life van James Booker. Booker was een absurd getalenteerde pianist uit New Orleans, Dr. John noemde hem ooit the best black, gay, one-eyed junkie piano genius New Orleans has ever produced. Booker was een flamboyante persoonlijkheid, en stond ook bekend als the 'black Liberace', en deze excentriciteit is terug te horen in zijn spel. Wat Booker speelt in deze opname is fenomenaal; hij begint met een pompende riff, en vervolgt met zingen met zijn knijpende stem. De solo die hij speelt vanaf minuut drie is een van de vreemdste en moeilijkste stukken piano die ik ken, en niet omdat het harmonisch zo ingewikkeld is, maar vanwege de achteloosheid en het plezier waarmee het wordt gespeeld. Als je goed luistert hoor je links een baslijn, daartussen akkoorden en dan de rechterhand die klassieke arpeggio's speelt: zwierende loopjes die helemaal de hoogte van de piano induiken en weer terug. Het klinkt bijna alsof Booker drie handen heeft, en dat met maar een oog tot zijn beschikking. De Renaissance term hiervoor is sprezzatura: geniale nonchalance. Ondertussen groovet Booker door, hij lacht, hij zingt en het publiek klapt mee. Wat mij inspireert in de opname is ook Booker's muziekfilosofie: iedere dag is voor hem anders, en iedere dag speelt hij zijn stukken op een volledig andere manier.
Booker wisselt zonder problemen van toonsoort, feel, tekst of solo, en daardoor zit je als luisteraar altijd op het puntje van je stoel. In dit opzicht staat Booker ook haaks op de hedendaagse grote-concert-ervaringen, waarbij het doel is dezelfde show steeds tot in perfectie uit te voeren. James Booker zou wel wat meer mondiale erkenning mogen krijgen, en past daarom perfect in de 'Ondergewaardeerde 30'!
Uit: Chuck Prophet heb ik een keer live gezien in Tivoli, en dat was niet best. Die kan wel door het leven met wat minder erkenning (😊), dus haal ik Chuck Prophet met I Couldn't Be Happier uit de lijst.
| | |
| --- | --- |
| Release | Artiest en Titel |
| 1946 | Louis Jordan – Ain't That Just Like a Woman (They'll Do It Every Time) |
| 1967 | Q65 – From Above |
| 1966 | Jimi Hendrix – Stone Free |
| 1968 | Syl Johnson – Is It Because I'm Black |
| 1969 | Nick Drake – River Man |
| 1973 | Judee Sill – The Kiss |
| 1976 | Jerry Jeff Walker – Won't You Give Me One More Chance |
| 1977 | Frankie Miller – Searching |
| 1977 | James Booker – Life |
| 1978 | Breeze – It's Only A Matter Of Time |
| 1979 | Lee Clayton – If I Can Do It (So Can You) |
| 1979 | Lowell George – Cheek To Cheek |
| 1981 | Frank Zappa – Tinsel Town Rebellion |
| 1986 | The Feelies – Slipping (Into Something) |
| 1988 | Public Enemy – Rebel Without A Pause |
| 1992 | The Saw Doctors – Never Mind The Strangers |
| 1993 | Daniel Lanois – Death Of A Train |
| 1999 | Jason Falkner – Holiday |
| 2001 | Suzanne Vega – Songs In Red And Clay |
| 2002 | Clearlake – Wonder If The Snow Will Settle |
| 2003 | David Sylvian – Blemish |
| 2006 | Dixie Chicks – Not Ready To Make Nice |
| 2006 | IAMX – S.H.E. |
| 2007 | Shantel – Disko Partizani |
| 2008 | Jim O'Rourke – Pictures Of Adolf Again |
| 2009 | Tim Minchin – Prejudice |
| 2012 | 2:54 – You're Early |
| 2014 | The Big Hunger – Ways To Waste Time |
| 2015 | Flying Horseman – Brother |
| 2017 | M-Jo – Buttons I've lost |
De huidige Ondergewaardeerde 30 is samengesteld uit bijdragen van Robin Assen, Bazz, Una Bergin, Erik van Biesen, Jaap Boots, Bertus Borgers, Robin Borneman, Ruud van Bree, Marcus Bruystens, DJ Ratz, Marinus de Goederen, Joep Gudde, Kevin de Harde, Hugo Heinen, Lenny Helsing, Specs Hildebrand, Karianne Hylkema, Philip Kroonenberg, Maceál, Paul de Munnik, Joop van Nimwegen, Aafke Romeijn, Ton Scherpenzeel, Martje Schoemaker, Ollie Schmitz, Arjan Snijders, Rick Treffers, Ad Vanderveen en Rob Vunderink.