De 'Ondergewaardeerde 30' is onze non-hitlijst en wordt samengesteld door muzikanten en DJ's. Liedjes die in hun oren nog steeds ondergewaardeerd zijn.
Elke twee weken is er een nieuwe bijdrage.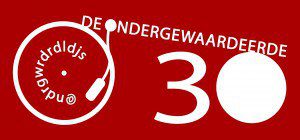 Ineens stond ex-radio DJ Jaap Boots in de Snob 2000 met het rockerige Kutwijf uit 2007: zijn therapie om frustraties van zich af te zingen. Niet dat hij sindsdien stilgezeten heeft, want hij hangt nog steeds de artiest uit en kwam vorig jaar met een nieuw album, Terug Naar Zee. In het dagelijkse leven is hij docent aan de opleiding Creative Business aan de Hogeschool van Amsterdam. Zijn DJ-dagen bij VPRO zijn verleden tijd, maar de liefhebbers kunnen over 25 jaar lang DJ bij de verhalenbundel Donderweg terecht.
Het meest Ondergewaardeerde liedje aller tijden volgens Jaap Boots: Syl Johnson – Is It Because I'm Black (1968)
SMAKEN VERSCHILLEN MAAR DIT GAAT TE VER
oftewel
BIGMOUTH STRIKES AGAIN
oftewel
IS HET OMDAT IK ZWART BEN

Wat een goed initiatief die Snob2000, destijds.
En wat een genot die Ongewaardeerde 30, zeg.
Maar wat een straf tegelijkertijd.
Eerst wat er zo mooi aan is: even grasduinen en je komt de mooiste vondsten tegen. Neem nou de bijdrage van Dave Von Raven die me attendeerde op Down And Out van 4PK (a.k.a. Peter Koelewijn), een single die ik nog nooit gehoord had. En wat te denken van het legendarisch onvindbare Ik Ben Gebeten Door De Poolvos van Ton van der Meer – aangedragen door Bob Fosko?
En -in een meer recentere editie van de lijst – Bazz Barnasconi die gewoon pal staat voor Disko Partizani van Shantel!
In de lijst zoals ik hem voor mijn neus kreeg stonden ook een paar heerlijke (her-) ontdekkingen zoals Frankie Miller  (Searchin') en Tim Minchin (Prejudice). Kortom: Heerlijk, lekker, leuk.
Maar van tijd tot tijd ook een straf, hoor die lijst.  Want: zoveel mensen, zoveel smaken. Of moet ik pesterig zeggen: zoveel witte mannen van een zekere leeftijd, zoveel smaken? Voeg daarbij het lekker democratische karakter en totaal gebrek aan muzikale sturing van de lijst (daar had je dus vroeger radio-DJ's met smaak voor, maar ja: das war einmal) en nu krijgt de niets vermoedende luisteraar regelmatig een obscure non-hitparade voor zijn neus waarin nogal wat onversneden (ik zeg maar even waar het op staat) KUTNUMMERS belanden. Om niet te zeggen dat de Ongewaardeerde 30 om de zoveel maanden in een zouteloze stamppot met brokjes muzikale hondenkots verandert. Zoals op dit moment.
Dus nu deze ouwe witte ex-VPRO-DJ-snob het nog één keer voor het zeggen krijgt (jippie) nu eerst even een lijstje van wat er allemaal NU (heute nog verdomme) allemaal uit moet vanwege: niet goed, niet ondergewaardeerd, niet interessant, niet bijzonder, niet speciaal, niet lekker, niet soulful, niet jazzy, niet sprankelend, niet rockend, niet ontroerend, niet swingend, niet punky, niet liefdevol, niet goed, kortom: BOOOORING: Judee Sill, Q65, Frank Zappa, 2.54, David Sylvain, Toad The Wet Sprocket, Hedwig & The Angry Inch, Andrew Gold, The Saw Doctors, IAMX, Flying Horseman. Blue Stahli.
Hè? Wat? Mag ik er maar 1 uitgooien? O, dat is wel even een domper zeg. Nou doe dan dat vreselijke Let's Active maar.
En zet in godsnaam Is It Because I'm Black van de onterecht vergeten soulman Syl Johnson erin, om de boel een beetje op te zwarten. Ik wens mijn opvolgers veel muzikale wijsheid toe. Als ze tips nodig hebben, kunnen ze me bellen.
Uw muzikale snob par excellence,
JB
| | |
| --- | --- |
| Release | Artiest en Titel |
| 1946 | Louis Jordan – Ain't That Just Like a Woman (They'll Do It Every Time) |
| 1967 | Q65 – From Above |
| 1968 | Syl Johnson – Is It Because I'm Black |
| 1969 | Nick Drake – River Man |
| 1973 | Judee Sill – The Kiss |
| 1976 | Jerry Jeff Walker – Won't You Give Me One More Chance |
| 1977 | Frankie Miller – Searching |
| 1978 | Andrew Gold – Still You Linger On |
| 1978 | Breeze – It's Only A Matter Of Time |
| 1979 | Lee Clayton – If I Can Do It (So Can You) |
| 1981 | Frank Zappa – Tinsel Town Rebellion |
| 1986 | The Feelies – Slipping (Into Something) |
| 1988 | Public Enemy – Rebel Without A Pause |
| 1991 | Toad The Wet Sprocket – All I Want |
| 1992 | The Saw Doctors – Never Mind The Strangers |
| 1993 | Daniel Lanois – Death Of A Train |
| 1999 | Chuck Prophet – I Couldn't Be Happier |
| 1999 | Jason Falkner – Holiday |
| 2001 | Hedwig & The Angry Inch – The Origin of Love |
| 2003 | David Sylvian – Blemish |
| 2006 | Dixie Chicks – Not Ready To Make Nice |
| 2006 | IAMX – S.H.E. |
| 2007 | Shantel – Disko Partizani |
| 2008 | Jim O'Rourke – Pictures Of Adolf Again |
| 2009 | Tim Minchin – Prejudice |
| 2012 | 2:54 – You're Early |
| 2014 | The Big Hunger – Ways To Waste Time |
| 2015 | Blue Stahli – Not Over Til We Say So |
| 2015 | Flying Horseman – Brother |
| 2017 | M-Jo – Buttons I've lost |
De huidige Ondergewaardeerde 30 is samengesteld uit bijdragen van Robin Assen, Bazz, Una Bergin, Erik van Biesen, Robin Borneman, Ruud van Bree, Marcus Bruystens, DJ Ratz, Marinus de Goederen, Joep Gudde, Kevin de Harde, Hugo Heinen, Lenny Helsing, Specs Hildebrand, Karianne Hylkema, Rick de Leeuw, Maceál, Paul de Munnik, Erwin Nijhoff, Michiel Papenhove, Aafke Romeijn, Ton Scherpenzeel, Ollie Schmitz, Arjan Snijders, Robby Valentine, Joop van Nimwegen, Ad Vanderveen, Michiel Veenstra en Rob Vunderink.