De 'Ondergewaardeerde 30' is onze non-hitlijst en wordt samengesteld door muzikanten en DJ's. Liedjes die in hun oren nog steeds ondergewaardeerd zijn.
Elke twee weken is er een nieuwe bijdrage.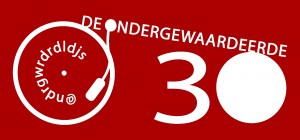 O, dat is leuk! was de reactie van Bas Barnasconi. Eigenlijk hadden we niet anders verwacht, want Bazz vindt alles leuk. Hij was hij de zanger van VanKatoen; een punkmetalband met uitsluitend Nederlandse teksten, die behalve in Nederland en België ook in landen als Indonesië, Duitsland en de Verenigde Staten opgetreden heeft. In Indonesië hadden ze zelfs een grote hit met Lef. Ze stonden op Lowlands en Pinkpop, als één van de twee zonder platencontract ooit. Hierna startte hij de skaband Bazzookas die wederom overal op de wereld op festivals hun muzikale kunsten vertonen (Sziget, Pohoda Slowakije en Blue Mountain Australië en daarmee aantonen dat muziek universeel is ongeacht de taal.
In de tussentijd is hij DJ bij Pinguin Radio, parkeert zijn befaamde buzz in de buurt van een bevriende Nederlander om hem of haar vervolgens het hemd van het lijf te vragen en hun 25 favoriete plaatjes krijgen een prominente plek op de Pinguin-playlist. Én hij is de stem van de jingles en het geluid van veel Snob 2000-jingles en de aftelling. Kortom, een veelzijdig maar bovenal gezellig mens en muziekliefhebber.
Het meest Ondergewaardeerde liedje aller tijden volgens Bas Barnasconi (Bazzookas): Shantel – Disko Partizani (2007)
Het was voor mij een twee-ledige eye-opener. Ik dacht dat uit het Oosten alleen maar zwaarmoedige depressieve muziek kwam. Met van die afschuwelijke klarinetten en geklaag. Ik betrapte mezelf op een vooringenomen vooroordeel. Maar de kracht, de cross over en het lef van Shantel heeft mij enorm geïnspireerd. De arrogantie van de muziek, alle look-a-likes en kopieën die gemaakt wordt vanuit de traditie en het superieure-, decadente gevoel van het westen, U.K. en U.S.A. wordt totaal teniet gedaan door de essentiële behoefte van Shantel aan muziek die je doet ontsnappen aan de werkelijkheid.
Het heeft mij enorm geïnspireerd me niet te laten leiden door de zogenaamde 'ontdekkers' en 'bepalers' in de muziekwereld. Journalisten, DJ's, muzieksamenstellers. Eigenlijk alle mensen die zich heel belangrijk voelen in de muziek industrie maar zelf geen noot kunnen spelen. Shantel vertegenwoordigd voor mij het gevoel dat jezelf het enige bent dat telt. Als kunstenaar. Waar in eerste instantie niemand op zit te wachten. Totdat je je eigen weg en pad hebt ontdekt. Vol houden. Dat je tegen de stroming in van middle of the road-meelopers ontdekt dat er mensen zijn die de zelfde kracht, dezelfde energie uit jouw creaties halen. Dat je bestaansrecht vanaf dan verder reikt dan je eigen zolderkamer of oefenhok.
Shantel for President.
De track die eruit mag is voor mij die van de Fatal Flowers. Ik heb deze band altijd zwaar overgewaardeerd gevonden. Ben ze regelmatig tegen gekomen op festivals waar ik ook mocht aantreden en het viel mij altijd op dat het publiek in slaap viel tijdens hun concerten, dat de 'Dutch disease' wellicht daar ontstaan is. Nu met hun 'come back', terwijl ze echt wel met een reden uit elkaar gingen (ruzie, haat en ellende), voelt het voor mij helemaal als we kunnen niks anders, al onze eigen projecten zijn mislukt, laten we 't ouwe trucje nog maar een keer doen. De zalen, managers en het publiek trapt daarin. Niks mis mee. Maar geen artistieke behoefte ligt daaraan ten grondslag. Ego en geld zijn wellicht de redenen. Net als alle mash up, tribute en cover/karaoke bands, een gevaar voor de ontwikkeling van de muziek van nu.
| | |
| --- | --- |
| Release | Artiest en Titel |
| 1946 | Louis Jordan – Ain't That Just Like a Woman (They'll Do It Every Time) |
| 1967 | Q65 – From Above |
| 1973 | Judee Sill – The Kiss |
| 1976 | Jerry Jeff Walker – Won't You Give Me One More Chance |
| 1977 | Frankie Miller – Searching |
| 1978 | Andrew Gold – Still You Linger On |
| 1978 | Breeze – It's Only A Matter Of Time |
| 1979 | Lee Clayton – If I Can Do It (So Can You) |
| 1981 | Frank Zappa – Tinsel Town Rebellion |
| 1984 | Let's Active – Waters Part |
| 1986 | The Feelies – Slipping (Into Something) |
| 1988 | Public Enemy – Rebel Without A Pause |
| 1991 | Toad The Wet Sprocket – All I Want |
| 1992 | The Saw Doctors – Never Mind The Strangers |
| 1993 | Morphine – Thursday |
| 1999 | Chuck Prophet – I Couldn't Be Happier |
| 1999 | Jason Falkner – Holiday |
| 2001 | Hedwig & The Angry Inch – The Origin of Love |
| 2004 | Iron & Wine – The Trapeze Swinger |
| 2006 | Dixie Chicks – Not Ready To Make Nice |
| 2007 | Shantel – Disko Partizani |
| 2008 | Jim O'Rourke – Pictures Of Adolf Again |
| 2009 | Micachu & The Shapes – Curly Teeth |
| 2006 | Tim Minchin – Prejudice |
| 2011 | Sarah Siskind – Yellow And Blue |
| 2012 | 2:54 – You're Early |
| 2014 | The Big Hunger – Ways To Waste Time |
| 2015 | Blue Stahli – Not Over Til We Say So |
| 2015 | Flying Horseman – Brother |
| 2017 | M-Jo – Buttons I've lost |
De huidige Ondergewaardeerde 30 is samengesteld uit bijdragen van Robin Assen, Una Bergin, Bertolf, Pip Blom, Marcus Bruystens, DJ Ratz, Marinus de Goederen, Joep Gudde, Kevin de Harde, Hugo Heinen, Lenny Helsing, Anne-Maarten van Heuvelen, Specs Hildebrand, Rick de Leeuw, Maceál, Paul de Munnik, Michiel Papenhove, Aafke Romeijn, Ton Scherpenzeel, Ollie Schmitz, Arjan Snijders, Robby Valentine, Joop van Nimwegen, Hans Vandenburg, Ad Vanderveen, Michiel Veenstra, Rob Vunderink en Jonas Winterland.