De 'Ondergewaardeerde 30' is onze non-hitlijst en wordt samengesteld door muzikanten. Liedjes die in hun oren nog steeds ondergewaardeerd zijn.
Elke twee weken is er een nieuwe bijdrage.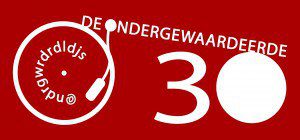 In 1967 van het gymnasium gestuurd vanwege zijn rebelse houding. Zanger en gitarist in Counts, Jasper Mule a.k.a. Island a.k.a. Cobra, Centaur, The Hammer, Diesel, Vitesse en Kayak.
Maar muziek is te eenzijdig en dus gaat Vunderink Russisch studeren en reist twee keer af naar Rusland om daar te werken als journalist. Als hij terugkomt naar Nederland gaat hij werken bij De Gelderlander. In 1978 richt hij samen met Pim Koopman Diesel op, om via een jaar Vitesse een doorstart met Diesel te maken, dat met Samantha weer een hit zou opleveren. In 2001 werd hij gitarist bij Kayak. Inmiddels heeft hij weer een doorstart met Diesel gemaakt: drie keer is scheepsrecht?
Tussen alle wereldnieuwtjes door zoekt en vindt hij een ondergeschoven pareltje van Nederlandse bodem!
Het meest Ondergewaardeerde liedje aller tijden volgens Rob Vunderink (Diesel): Breeze – It's Only A Matter Of Time (1978)
Wilde je in de jaren zeventig iets mooi in de zwarte groeven geperst krijgen, dan was je bij Jaap Eggermont aan het juiste adres. Al was mijn eigen ervaring met de voormalige oorring niet heel geweldig, want de vierde single van onze band Cobra, Don't Do Like I Do, had hij zodanig weten te verkloten dat hij uiteindelijk zijn eigen naam niet op het label wilde. En dat zagen we pas toen we het plaatje in handen kregen. Livin' Blues, Earth and Fire, Smyle, Catapult, The Star Sisters en Bert Heerink hadden over hem minder te klagen.
In 1978 hielp Jaap met behulp van een hele kudde studiomuzikanten een band aan een minuscuul hitje dat eigenlijk een knaller had moeten zijn: It's Only a Matter of Time van Breeze. Leuk deuntje, zij het wat zijig, goede samenzang, en tegen het slot een geweldige gitaarsolo, waarschijnlijk gespeeld door Jan Hollestelle. Hij spotte met de 'wet' die ik er van Cobra-zanger Winston Gawke ingeramd had gekregen: je werkt met je solo naar een climax en die zit in de hoogte. Bij die Breeze-solo was het net andersom en dat werkte uitstekend.
Moet je luisteren, Breeze, zei ik dat jaar, 1978 dus, enthousiast tegen een medestudente. Grease?, vroeg zij al even enthousiast, om haar neus op te halen toen ze hoorde dat het niet om Olijfje en Johnnie ging, maar om een obscuur Nederlands bandje. Ook de rest van Nederland haalde er zijn neus voor op. Het liedje stond maar twee weken genoteerd, een lot dat ik later zou delen met menige Dieselsingle, maar voor onze band maakten de VS, Canada en de Top 2000 de zaak tenminste nog een beetje goed. It's Only a Matter of Time is altijd ondergewaardeerd gebleven. Het moest niet mogen.
Eruit: Depeche Mode – Walking In My Shoes
| | |
| --- | --- |
| Release | Artiest en Titel |
| 1966 | The Left Banke – Walk Away Renée |
| 1969 | Fairport Convention – Who Knows Where The Time Goes |
| 1969 | James Brown – Mother Popcorn |
| 1969 | The Aerovons – World Of You |
| 1971 | Fields – A Friend Of Mine |
| 1971 | Little Richard – Green Power |
| 1972 | Esther Phillips – From A Whisper To A Scream |
| 1974 | Maria Bethânia – A Felicidade |
| 1976 | Jerry Jeff Walker – Won't You Give Me One More Chance |
| 1976 | Rory Gallagher – Edged In Blue |
| 1977 | Sonic's Rendezvous Band – Slow Down (Take a Look) |
| 1978 | Ton van der Meer – Ik Ben Gebeten Door De Poolvos |
| 1978 | Breeze – It's Only A Matter Of Time |
| 1980 | Johan Timman – Look Out For The Killer |
| 1983 | John Spencer – Johnny Vergeet me Niet |
| 1984 | Let's Active – Waters Part |
| 1985 | Waterboys – Medicine Bow |
| 1989 | Bonnie Raitt – Too Soon To Tell |
| 1992 | The Saw Doctors – Never Mind The Strangers |
| 1993 | Morphine – Thursday |
| 1999 | New Radicals – Someday We'll Know |
| 2003 | Yo La Tengo – Today Is The Day |
| 2004 | Iron & Wine – The Trapeze Swinger |
| 2006 | Dixie Chicks – Not Ready To Make Nice |
| 2006 | Cuban Heels – Work Me Baby |
| 2011 | Sarah Siskind – Yellow And Blue |
| 2012 | Sukilove – Somehow Someday |
| 2013 | Sir Yes Sir – Smiling |
| 2014 | Opeth – Cusp Of Eternity |
| 2014 | The Big Hunger – Ways To Waste Time |
De huidige Ondergewaardeerde 30 is samengesteld uit bijdragen van Arthur Akkermans, Guido Belcanto, Una Bergin, Bertolf, Ad Bouman, Peter van Capelle, Bob Fosko, Bart Geevers, Anneke van Giersbergen, Marinus de Goederen, Annelotte de Graaf, Specs Hildebrand, Jerry Hormone, Peter Koelewijn, Anne-Maarten van Heuvelen, Michael de Jong, Frans Kraaikamp, Maceál, Anouk Paus, Dave von Raven, Julian Sas, Ian Siegal, Rebecca Sier, Henk Temming, Hans Vandenburg, Guus Willemse en Jonas Winterland.