De 'Ondergewaardeerde 30' is onze non-hitlijst en wordt samengesteld door muzikanten. Liedjes die in hun oren nog steeds ondergewaardeerd zijn.
Elke twee weken is er een nieuwe bijdrage.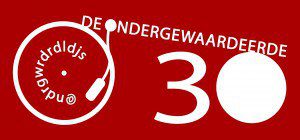 Onze gast trad in 2004 in de zoeklichten van de Vaderlandse popmuziek met de EP Rumor Has It en volgens magazine OOR was They've Shut Down Marks & Spencer op het mini-album om te janken, zo mooi. Wij  sluiten ons bij dit commentaar aan. En sindsdien blijven de pareltjes uit zijn pen komen. Swim With Sam, Robin II, A Little Rain Has Never Hurt No One en het waanzinnig gevoelige In Your Arms I Was Somebody, wat zonder overdrijven ook uit de fantasie van Sir Paul had kunnen komen.
We hadden hem in april al uitgenodigd, maar hij was een maandje ondergedoken om liedjes te componeren voor zijn nieuwe album. En wie zijn wij om hem dan te storen? Ook wij kijken halsreikend uit naar nieuw werk. Maar eerst zijn bijdrage…
Het meest Ondergewaardeerde liedje aller tijden volgens Marinus de Goederen (a balladeer): Dixie Chicks – Not Ready To Make Nice (2006)
De Dixie Chicks waren de grote winnaar tijdens de Grammy Awards in 2007, vier jaar nadat het hele land over ze heen was gevallen. De Verenigde Staten en Groot-Brittanië hadden in maart 2003 de oorlog aan Irak verklaard en zangeres Natalie Maines sprak haar teleurstelling en frustratie uit tijdens een show: We do not want this war, this violence, and we're ashamed that the President of the United States is from Texas. De populariteit van George Bush was op z'n hoogtepunt en de republikeinse achterban van het country trio was woedend: CD's werden verbrand of met tractors overreden en de countryradiostations boycotte massaal de Dixie Chicks, die ongevraagd een politieke band waren geworden. Volgens de 'fans' moesten de dames vooral hun kop houden en zingen.
In de documentaire Shut Up & Sing is de hele shitstorm vastgelegd. En hoe de Dixie Chicks een paar jaar later in de studio hun wonden likken. Ze worden bijgestaan door producer Rick Rubin en Red Hot Chili Peppers drummer Chad Smith. Dan Wilson (die later met Adele Someone Like You zou schrijven) helpt ze met hun songs. Natalie Maines weigert nog steeds sorry te zeggen, wat resulteert in Not Ready To Make Nice. Ondanks dat de country radiostations het nummer amper draaien, haalt het de Amerikaanse Top 100. Ruim een half jaar later, na het winnen van de Grammy voor Song Of The Year, wordt Not Ready To Make Nice pas echt een hit en weet het de platina status te behalen.
Vorig jaar was ik voor het eerst bij een concert van de Dixie Chicks. Ze hadden tien jaar niet meer opgetreden of een plaat uitgebracht. De Facebook-reacties op de comeback tour logen er niet om: veel Amerikanen hebben de dames nog steeds niet vergeven. De visuele spektakelshow waarin onder meer Trump belachelijk werd gemaakt, rockte de pan uit. Not Ready To Make Nice werd tot het laatst bewaard. They say time heals everything, but I'm still waiting, zong Natalie. De live-uitvoering miste de woede en het verdriet dat op plaat was vastgelegd. En misschien is dat maar goed ook.
Marinus heeft Procol Harum verwijderd.
| | |
| --- | --- |
| 1966 | The Left Banke – Walk Away Renée |
| 1969 | Fairport Convention – Who Knows Where The Time Goes |
| 1969 | James Brown – Mother Popcorn |
| 1969 | The Aerovons – World Of You |
| 1971 | Fields – A Friend Of Mine |
| 1972 | Esther Phillips – From A Whisper To A Scream |
| 1972 | Neil Young – Old Man |
| 1974 | Maria Bethânia – A Felicidade |
| 1976 | Jerry Jeff Walker – Won't You Give Me One More Chance |
| 1976 | Rory Gallagher – Edged In Blue |
| 1977 | Sonic's Rendezvous Band – Slow Down (Take a Look) |
| 1978 | Ton van der Meer – Ik Ben Gebeten Door De Poolvos |
| 1983 | John Spencer – Johnny Vergeet me Niet |
| 1984 | Let's Active – Waters Part |
| 1985 | Waterboys – Medicine Bow |
| 1989 | Bonnie Raitt – Too Soon To Tell |
| 1989 | Tin Machine – Under The God |
| 1993 | Morphine – Thursday |
| 1993 | Wu Tang Clan – Wu-Tang Clan Ain't Nuthing Ta F' Wit |
| 1999 | New Radicals – Someday We'll Know |
| 1999 | Tommy Castro – Lucky In Love |
| 2003 | Yo La Tengo – Today Is The Day |
| 2004 | Iron & Wine – The Trapeze Swinger |
| 2006 | Dixie Chicks – Not Ready To Make Nice |
| 2006 | Cuban Heels – Work Me Baby |
| 2008 | Elbow – Weather To Fly |
| 2011 | Sarah Siskind – Yellow And Blue |
| 2012 | Sukilove – Somehow Someday |
| 2013 | Sir Yes Sir – Smiling |
| 2014 | Opeth – Cusp Of Eternity |
De huidige Ondergewaardeerde 30 is samengesteld uit bijdragen van Arthur Akkermans, Guido Belcanto, Bertolf, Ad Bouman, Peter van Cappelle, Bob Fosko, Bart Geevers, Anneke van Giersbergen, Marinus de Goederen, Annelotte de Graaf, Specs Hildebrand, Peter Koelewijn, Anne-Maarten van Heuvelen, Jiggy Djé, Michael de Jong, Frans Kraaikamp, Saskia van Oerle, Anouk Paus, Dave von Raven, Tricky Dicky, Julian Sas, Rebecca Sier, Henk Temming, Hans Vandenburg, Guus Willemse en Jonas Winterland.