De 'Ondergewaardeerde 30' is onze eigen non-hitlijst met liedjes, die het aller-, allermeest ondergewaardeerd zijn.
Elke twee weken draagt een gastschrijver een nieuw lied aan.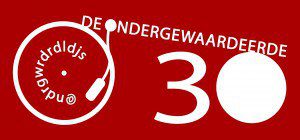 Nog maar net bijgekomen van de blog die Paul Nederveen schreef over The LA's is het alweer tijd voor een nieuwe editie met een nieuwe Gastsamensteller. Dit keer is het woord aan DJ Tricky Dicky. Vanaf 1996 tot en met 2000 was hij DJ bij radio Omroep Centraal te Leiden, waar hij het jazz- en (met name) bluesprogramma After Hours presenteerde. Sinds 2015 is hij ook actief blogger bij Ondergewaardeerde Liedjes en presenteert de wekelijkse Snob-uitzending (vrijdag 22.00-23.00 uur) bij Pinguin Radio. Dames en heren: Tricky Dicky!
Het meest Ondergewaardeerde liedje aller tijden volgens Tricky Dicky: Tommy Castro – Lucky In Love (1999)
Lang getwijfeld, want er is zoveel ondergewaardeerde muziek in mijn kast dat ik gemakkelijk de Snob 2000 zou kunnen vullen. Mijn eerste gedachte ging (natuurlijk) naar de bovenmeester, Frank Zappa, maar uit zijn oeuvre eenkeuze maken is eigenlijk onmogelijk. Uiteindelijk meende ik dat 'noblesse oblige' van toepassing is. Nee, ik ben niet van adel, alhoewel er beweert wordt dat we afstammen van verarmde lage adel uit Noord-Frankrijk. Indien het al waar is weet ik gelijk waar mijn platte portefeuille vandaan komt; het zal iets genetisch zijn. Echter, mijn jaren als DJ van een bluesprogramma verplichte mij dit zeer ondergewaardeerde genre te nomineren. Aangezien de blues één van de oudste muzieksoorten is had ik nu nog maar circa honderd jaar om uit te kiezen.
In de jaren negentig ontdekten de blanken massaal de blues en vele hedendaagse bluesgiganten speelden in die dagen de Nederlandse podia plat.  Er ontstond een hernieuwde interesse, en in het kielzog werden de oude (veelal zwarte) bluesrakkers (her)ontdekt. In die dagen kon je overal op kleine podia en in lokale kroegjes de huidige gitaar- en harpbeulen voor een grijpstuiver zien spelen. Buddy Guy, The Paladins, Mike Henderson & the Bluebloods, Susan Tedeschi, Michael Katon en Robert Cray om er maar een paar te noemen. Echter, er is één die ik (nog) nooit 'live' heb kunnen zien en hij staat hoog op mijn verlanglijstje. Gelukkig heb ik wel Live At The Fillmore' en The Legendary Rhythm & Blues Revue (I & II)' van hem; drie live-registraties die nog steeds de weg naar mijn speler weten te vinden.
Tommy Castro is een oudgediende en al bijna 45 jaar actief. Sinds 1991 heeft hij zijn eigen band. Zijn muziek is een mix van blues, soul en rock & roll. Zijn voorbeelden qua gitaarspel zijn onder andere Mike Bloomfield, Elvin Bishop, Eric Clapton, B.B. King en Elmore James, en qua zang Ray Charles, Wilson Pickett en James Brown.
Zonder auditie, en slechts het inzenden van een demo werden ze medio jaren '90 drie seizoenen de huisband bij NBC Television's Comedy Showcase (op zaterdagavond), waardoor ze onder de aandacht kwamen van miljoenen kijkers. De grote doorbraak kwam in 1999 met Right As Rain. Hij heeft inmiddels veertien albums op zijn naam staan en heeft vele awards gewonnen voor onder andere de fantastische Painkiller en Hard Believer.
Tommy Castro is vrijwel het gehele jaar op tournee en dat heeft de muziek naar een hoger niveau getild. Lucky In Love is een typisch voorbeeld van die rauwe energie en ervaring; een lekkere uptempo soulblues.  Hij is een zanger en gitarist die live op z'n best is; een podiumbeest. De altijd aanwezige blazers in de band geven het een extra dimensie.
I'm always moving forward, going outside of my wheelhouse, listening to new music and incorporating new ideas. The contemporary blues scene is full of fresh, new sounds
Nb. Uit de lijst is gevallen: Aphex Twin – Windowlicker
Periode

Artiest en Titel

Release

jaar

Aantal weken genoteerd

<70's

Billie Holiday – Lover Man

1941

10

The Miracles – The Track Of My Tears

1965

10

Jimi Hendrix Experience – Red House

1966

10

Stevie Wonder – I Was Made To Love Her

1967

10

James Brown – Mother Popcorn

1969

10

70's

Joni Mitchell – A Case Of You

1971

10

Genesis – Supper's Ready

1972

10

Nick Drake – From The Morning

1972

10

David Bowie – Wild Is The Wind

1976

10

Chris Bell – I Am The Cosmos

1978

4

80's

Tuxedomoon – In A Matter Of Speaking

1985

10

Waterboys – Medicine Bow

1985

10

Prince – Condition Of The Hearth

1985

10

Mano Negra – Mala Vida

1989

10

Tin Machine – Under The God

1989

10

90's

The La's – There She Goes

1990

2

DeUS – Mute

1994

10

Bjork – Hyper-ballad

1995

8

Jeff Buckley – Everybody Where Wants You

1998

10

Tommy Castro – Lucky In Love

1999

0

0's

The Prayer Boat – Dead Flowers

2001

10

Guided By Voices – Useless Inventions

2003

6

Ron Sexsmith – Reason For Our Love

2006

10

LCD Soundsystem – Us Vs Them

2008

10

Elbow – Weather To Fly

2008

10

>10's

Sarah Siskind – Yellow And Blue

2011

10

Frank Ocean – Bad Religion

2012

10

Sukilove – Somehow Someday

2012

10

Woodkid – Run Boy Run

2012

10

Sir Yes Sir – Smiling

2013

10