De 'Ondergewaardeerde 30' is onze non-hitlijst en wordt samengesteld door muzikanten. Liedjes die in hun oren nog steeds ondergewaardeerd zijn.
Elke twee weken is er een nieuwe bijdrage.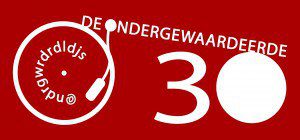 Ineens was er een aardbeving. Nee, geen grondbeweging, maar een muzikale vanuit het hoge Noorden. In de jongste Snob 2000 kwam The Mudd met According To Plan op plekje 27 de lijst binnen. The Mudd is inmiddels meer dan twee jaar bezig en hebben op mening festival opgetreden en onder andere als voorprogramma van Cloud Nothings.
Momenteel is de band druk met de voorbereidingen voor een eerste officiële release. Qua shows is het daarom even rustig, maar vanaf het najaar gaan ze het podium weer op. Het ziet er naar uit dat alles volgens plan verloopt.
Het meest Ondergewaardeerde liedje aller tijden volgens Hugo Heinen (The Mudd): The Feelies – Slipping (Into Something) (1986)
The Feelies ondergewaardeerd noemen kan twee kanten op vallen. De ene helft van de mensen zal denken nou, zonder die band had indie rock niet bestaan, terwijl de andere helft zal denken wie?. The Feelies dus. In de college rock en indie kringen is debuutplaat Crazy Rhythms één van de belangrijkste releases ooit. De sound een combinatie van The Velvet Underground en The Modern Lovers, de hoes gesierd door een look die later aangemeten is door elke nerdy college rock band (ja, we kijken jullie aan, Weezer). Muzikaal gezien is het album een blauwdruk voor een groot deel van het oeuvre van R.E.M., The Dream Syndicate en Yo La Tengo en toch, ondanks zo'n invloedrijk debuut, is het tweede album van de band, The Good Earth, een vergeten pareltje.
Op dit tweede album, zes jaar na hun eerste plaat, hebben The Feelies zich van een wat rustiger geluid bediend. De nummers kabbelen kalm voort, zoals ze op de meeste latere platen van de band ook zullen doen. Echter, ergens halverwege de plaat begint het ineens te dreigen. Slipping (Into Something) begint met een kort introotje. Helemaal niet moeilijk, maar toch gaat het op je zenuwen zitten. Als daarna het hoofdmotiefje komt, lijkt alles ineens weer goed. Een zomers melodietje kabbelt voort en meteen horen we waar hedendaagse bands als Rolling Blackouts Coastal Fever de mosterd halen. Just looking for something… het is alsof The Feelies je meenemen op een droomreis door een zwoele zomernacht. Liggend aan een donker meertje, de muggen zwermen rond je hoofd maar steken niet. Langzaam versnelt het nummer en verandert de kalme droom in de nachtmerrie die al voorspeld werd in het intro. De gitaren gieren in het rond en alles gaat sneller en wordt dissonant. Het kalme, diepe meertje verandert in een kolkende zee, die net zo plotseling verdwijnt als dat hij is ontstaan.
De eerste keer dat ik Slipping (Into Something) hoorde was ik aan het afwassen, terwijl The Good Earth draaide. Een leuk album, maar een beetje een tegenvaller dacht ik toen nog. Toen het nummer kwam dat meteen mijn favoriete Feelies nummer zou worden, draaide mijn mening 180 graden. Ik liet de pan in de afwasbak staan en draaide het nummer vier, vijf keer achter elkaar – totdat het water koud was. De dagen erna leefde ik op een wolk.
Slipping (Into Something) is zo'n nummer waarvan je meteen tegen je bandleden zegt ik wil dit coveren. We doen nooit covers, maar voor dit nummer zou ik graag een uitzondering maken. Aan de andere kant zou geen andere band dan The Feelies dit nummer recht aan doen. En heeft coveren überhaupt wel zin, als niemand het nummer kent? Nee. Slipping (Into Something) is een nummer dat je de band zelf live moet horen spelen. Enige probleem: de band heeft – als ik mijn bronnen kan vertrouwen – sinds 1989 geen voet meer op Nederlandse bodem gezet, en schuwt heel Europa voor het gemak maar. En dat, dat is toch best jammer.
Eruit: Little Richard – Green Power. Ik heb niks tegen de godfather van de rock & roll, maar toch: elk nummer heeft ongeveer dezelfde kwaliteiten en uiteindelijk draait het niet om één specifiek nummer, maar om de invloed van de man zelf – en die is onmogelijk ondergewaardeerd te noemen.
| | |
| --- | --- |
| Release | Artiest en Titel |
| 1946 | Louis Jordan – Ain't That Just Like a Woman (They'll Do It Every Time) |
| 1966 | The Left Banke – Walk Away Renée |
| 1967 | Q65 – From Above |
| 1974 | Maria Bethânia – A Felicidade |
| 1976 | Jerry Jeff Walker – Won't You Give Me One More Chance |
| 1976 | Rory Gallagher – Edged In Blue |
| 1978 | Breeze – It's Only A Matter Of Time |
| 1981 | Frank Zappa – Tinsel Town Rebellion |
| 1983 | De Div – 4 |
| 1984 | Let's Active – Waters Part |
| 1986 | The Feelies – Slipping (Into Something) |
| 1986 | Fatal Flowers – Younger Days |
| 1987 | The Sisters Of Mercy – This Corrosion |
| 1992 | The Saw Doctors – Never Mind The Strangers |
| 1993 | Morphine – Thursday |
| 1999 | De Kift – Bierflessengroen |
| 1999 | Chuck Prophet – I Couldn't Be Happier |
| 1999 | Jason Falkner – Holiday |
| 2001 | Hedwig & The Angry Inch – The Origin of Love |
| 2003 | Yo La Tengo – Today Is The Day |
| 2004 | Iron & Wine – The Trapeze Swinger |
| 2006 | Dixie Chicks – Not Ready To Make Nice |
| 2006 | Cuban Heels – Work Me Baby |
| 2008 | Jim O'Rourke – Pictures Of Adolf Again (2008) |
| 2009 | Micachu & The Shapes – Curly Teeth |
| 2011 | Sarah Siskind – Yellow And Blue |
| 2013 | Sir Yes Sir – Smiling |
| 2014 | Opeth – Cusp Of Eternity |
| 2014 | The Big Hunger – Ways To Waste Time |
| 2015 | Blue Stahli – Not Over Til We Say So |
De huidige Ondergewaardeerde 30 is samengesteld uit bijdragen van Arthur Akkermans, Una Bergin, Bertolf, Pip Blom, Sander Evers, Anneke van Giersbergen, Marinus de Goederen, Annelotte de Graaf, Kevin de Harde, Hugo Heinen, Lenny Helsing, Anne-Maarten van Heuvelen, Specs Hildebrand, Jerry Hormone, Peter Koelewijn, Henk Koorn, Edgar Kruize, Rick de Leeuw, Maceál, Paul de Munnik, Michiel Papenhove, Anouk Paus, Aafke Romeijn, Julian Sas, Arjan Snijders, Henk Temming, Robby Valentine, Hans Vandenburg, Rob Vunderink, Petra de Winter en Jonas Winterland.