De 'Ondergewaardeerde 30' is onze non-hitlijst en wordt samengesteld door muzikanten en DJ's. Liedjes die in hun oren nog steeds ondergewaardeerd zijn.
Elke laatste donderdag van de maand is er een nieuwe bijdrage.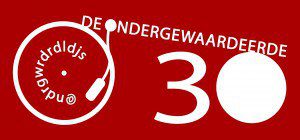 In de zachtheid van mijn stem zit mijn soul is een uitspraak van de gast van vandaag. Een zangeres die in een kinderkoor begonnen is en op de Middelbare school al liedjes schreef. Op het conservatorium werkte ze met de band Wooden Saints om vervolgens en tegelijkertijd haar succesvolle band Orlando te starten. Tevens heeft ze een soloproject onder de naam Luwten.
Een duizendpoot want ze werkt(e) ook samen met onder andere San Holo, Chef'Special, IX, Mark Lotterman, Happy Camper, Frames Janco, Klangstof en De Staat.
Het meest Ondergewaardeerde liedje aller tijden volgens Tessa Douwstra: Joan As Police Woman – Eternal Flame (2006)
In 2009 was ik 19 en net begonnen met mijn studie aan het conservatorium. Een jaar eerder was ik van mijn ouderlijk huis in Amersfoort naar een kamertje van 17 vierkante meter met systeemplafond in Rotterdam verhuisd. Ik vond het een openbaring elke dag zelf te mogen kiezen wat ik ging eten, leerde nieuwe mensen kennen en daarmee een heleboel nieuwe muziek. Naast dat ik bezeten raakte van Feist, Erykah Badu en Bon Iver leerde ik Joan As Police Woman kennen. Wat ik fascinerend aan haar vond was dat ze zo soulvol zong, zelf schreef, arrangeerde, produceerde en een groot deel van het inspelen van de instrumenten voor haar rekening nam. Ik droomde hiervan maar dacht ook vaak dat ik dat nooit zou kunnen leren en nu was er opeens een vrouw met net zulk haar als ik die dat al deed. Toen dacht ik oh yes, dan kan ik dat misschien ook.
Ik heb zoveel van de liedjes van de albums Real Life en To Survive in mijn eentje en zonder publiek gezongen en gespeeld in kleine rokerige oefenruimtes. Het lied Eternal Flame kan ik van het begin tot het einde meezingen en die tekst voel ik nog steeds. Dat je nooit de vlam van een ander aan kan houden. Die zoektocht tussen individualiteit en samen zijn is iets waar ik veel over nadenk en schrijf. Ik vond het gebruik van die lage stemmen zo vreemd en die manier van zinnen en woorden herhalen klonk heel nieuw voor mij. Ik hou ervan als mensen dingen proberen die niet gebruikelijk zijn. Voor mij is creativiteit heel belangrijk. Ik word graag verrast en uitgedaagd. Ik besloot dat ik haar live wilde gaan zien. Op advies van mijn toenmalige vriend, waar ik ook veel van die nieuwe muziek van had (zijn vader had, en heeft vast nog steeds, de vetste platenkast van Nederland) deed ik mee met een prijsvraag van 3 voor 12 om kaartjes te winnen voor een concert van haar in het Zuiderpark in Den Haag. Ik won! Bij het concert ben ik na afloop naar haar toegegaan en heb ik haar behoorlijk nerveus verteld dat ik ook muziek maakte. Glimlachend antwoordde ze I figured. Man, dat ga ik nooit vergeten.
Het liedje wat er van mij uit mag is The Saw Doctors met Never Mind The Strangers. Ik houd niet van deze instrumentatie en voor mij voelt deze muziek dus heel voorspelbaar.
Cursief = niet op Spotify
De huidige Ondergewaardeerde 30 is samengesteld uit bijdragen van Robin Assen, Bazz, Una Bergin, Erik van Biesen, Paul Bond, Jaap Boots, Bertus Borgers, Robin Borneman, Ruud van Bree, Marcus Bruystens, Michelle David, DJ Ratz, Marinus de Goederen, Joep Gudde, Kevin de Harde, Hugo Heinen, Lenny Helsing, Specs Hildebrand, Karianne Hylkema, Paul de Munnik, Joop van Nimwegen, Aafke Romeijn, Ton Scherpenzeel, Martje Schoemaker, Ollie Schmitz, Arjan Snijders, Rick Treffers, Ad Vanderveen en Rob Vunderink.
Foto: David A. Fitschen