De 'Ondergewaardeerde 30' is onze non-hitlijst en wordt samengesteld door muzikanten en DJ's. Liedjes die in hun oren nog steeds ondergewaardeerd zijn.
Elke laatste donderdag van de maand is er een nieuwe bijdrage.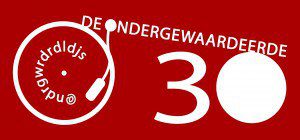 The building? He has left his grave! En wij hebben 'm gestrikt, Dead Elvis. Een primeur: voor het eerst buigt een muzikant zich postuum over de Ondergewaardeerde 30. Dead Elvis werd al in 2005 opgegraven uit zijn one man grave en struint sindsdien wereldwijd de podia af, van Europa tot Zuid-Amerika en van Japan tot de States. Onder de grond was het niks, ook Graceland trok niet meer, dus daarom lekker op pad om te rocken en de mensen weer te laten genieten van Elvis.
Speelt-ie niet dan is ie bezig met zijn eigen platenlabel, Monster Mash Records. Daarop alles van Dead Elvis, maar je vindt daar ook Wet Boys, Fake O's, Three Drongos, Hipbone Slim & The Kneetremblers en nog veel meer. Dead Elvis doet zelf het artwork en voegt soms een comic toe. Om een beetje een idee te krijgen van zijn muziek: zijn one man band speelt z'n eigen garagevorm van trashy, primitive redneck country en het lijkt erop dat ook Johnny Cash weer is opgestaan en zich er tegenaan bemoeit.
Het meest Ondergewaardeerde liedje aller tijden volgens Dead Elvis: Wilson Picket – Let Me Be Your Boy (1962)
De meeste muziek die ik luister is niet bepaald mainstream, dus nagenoeg mijn hele platencollectie is wat dat betreft ondergewaardeerd te noemen. Maar het liedje dat ik wil toevoegen aan de lijst is toevallig wel van een redelijk bekende artiest, namelijk Wilson Pickett.
Natuurlijk vooral door de hit Land Of A Thousand Dances, zo'n beetje het hardst rockende soul-nummer uit de historie. Op zijn eerste solo single Let Me Be Your Boy deed Wilson het wat rustiger aan. Met een lekker swingende beat, een gezellig viooltje, en The Supremes (!!) als achtergrondkoor. Fantastisch. Helaas was het nummer op vinyl jarenlang niet aan te komen, maar vorig jaar kwam gelukkig de geweldige verzamelaar Let Me Be Your Boy uit. Aanrader!
Mijn ondergewaardeerd liedje is dus Let Me Be Your Boy van Wilson Pickett
Uit: Ik zou heel graag Frank Zappa uit de lijst verwijderen.
Cursief = niet op Spotify
De huidige Ondergewaardeerde 30 is samengesteld uit bijdragen van Robin Assen, Bazz, Una Bergin, Erik van Biesen, Paul Bond, Jaap Boots, Bertus Borgers, Robin Borneman, Ruud van Bree, Marcus Bruystens, Johan Buurke, DJ Ratz, Tessa Douwstra, Marinus de Goederen, Joep Gudde, Kevin de Harde, Hugo Heinen, Lenny Helsing, Specs Hildebrand, Karianne Hylkema, Erwin Nijhoff, Aafke Romeijn, Ton Scherpenzeel, Martje Schoemaker, Ollie Schmitz, Arjan Snijders, Rick Treffers, Ad Vanderveen en Rob Vunderink.