De 'Ondergewaardeerde 30' is onze non-hitlijst en wordt samengesteld door muzikanten en DJ's. Liedjes die in hun oren nog steeds ondergewaardeerd zijn.
Elke laatste donderdag van de maand is er een nieuwe bijdrage.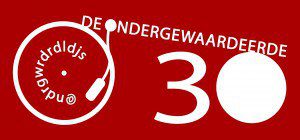 Vorig jaar september wisten we de gast van vandaag en zangeres Carol van Dijk naar de studio te lokken om commentaar te geven op de Ondergewaardeerde Bettie Serveert-playlist.  En wat doe je dan…..je vraagt hem zijn meest ondergewaardeerde liedje in die andere ondergewaardeerde non-hitlijst te zetten.
Het meest Ondergewaardeerde liedje aller tijden volgens Peter Visser (Bettie Serveert): The Byrds – Everybody's Been Burned (1967)
Het is ongelooflijk om te beseffen dat David Crosby nog maar 21 jaar oud was toen hij in 1962 Everybody's Been Burned schreef (en dat in 1967 uitkwam), want de tekst lijkt eerder te zijn bedacht door iemand die veel ouder is en meer levenservaring heeft. De zang over liefdesverdriet en de angst om opnieuw gekwetst te worden geven je bij iedere beluistering weer kippenvel maar gelukkig wordt de melancholie van het hele nummer in de laatste zin vervangen door hoop.
Als puber was ik enorme fan van de Beatles en in ons dorp was een soort hippie-rommelwinkeltje waar je voor een tientje (guldens!) LP's kon kopen. De dame achter de toonbank wist mij te vertellen dat als ik zo'n Beatles fan was, ik dan maar eens naar The Byrds moest luisteren. Roger McGuinn had immers een 12-snarige Rickenbacker gitaar gekocht, nadat hij had gezien dat George Harrison er ook een had, en dat gitaargeluid werd bepalend voor The Beatles en The Byrds. Daarnaast is de baspartij van Chris Hillman op het nummer ook geweldig. Hij speelt een soort solo door het hele nummer heen, bijna als een jazz-saxofonist. Maar het meest indringende is toch wel de zacht zingende stem van Crosby en de universele inhoud van het nummer. Want wees eerlijk: wie is er nou niet ooit "gebrandmerkt" door liefdesverdriet?
Uit: Tim Minchin
Cursief = niet op Spotify
De huidige Ondergewaardeerde 30 is samengesteld uit bijdragen van
De huidige Ondergewaardeerde 30 is samengesteld uit bijdragen van
Bazz, Una Bergin, Erik van Biesen, Paul Bond, Jaap Boots, Bertus Borgers, Robin Borneman, Ruud van Bree, Marcus Bruystens, Johan Buurke, Dead Elvis, DJ Ratz, Tessa Douwstra, Marinus de Goederen, Joep Gudde, Kevin de Harde, Hugo Heinen, Lenny Helsing, Specs Hildebrand, Karianne Hylkema, Erwin Nijhoff, Aafke Romeijn, Ton Scherpenzeel, Martje Schoemaker, Ollie Schmitz, Arjan Snijders, Rick Treffers, Ad Vanderveen en Rob Vunderink.