De 'Ondergewaardeerde 30' is onze non-hitlijst en wordt samengesteld door muzikanten en DJ's. Liedjes die in hun oren nog steeds ondergewaardeerd zijn.
Elke laatste donderdag van de maand is er een nieuwe bijdrage.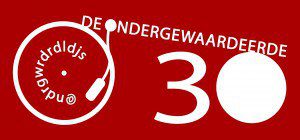 De keuze voor het toevoegen van een nieuwe parel in de lijst valt deze keer in handen van de charismatische zangeres van de Amsterdamse Indie-band Jagd. Alhoewel wij bij Ondergewaardeerde Liedjes al bekend waren met hun goede werken kwam dit jaar de definitieve bevestiging van hun kunnen met Violins en Attention.
Bovendien was zij in juli de platenplugger in het Snobuur via Pinguin radio, waar zij 12 liedjes uitkoos die een speciale betekenis voor haar hebben. Vandaag dus nummer 13.
Het meest Ondergewaardeerde liedje aller tijden volgens Nanne van der Linden (Jagd): Hüsker Dü – Eight Miles High (1984)
Stiekem vind ik het heel leuk om mijn mening te mogen verkondigen, maar ik ben nooit goed geweest in kiezen. Gevraagd naar een enkele ondergewaardeerde parel besloot mijn brein me te bekogelen met oesters: overal potentiele schatten, geen idee waar ik moest beginnen met zoeken. Mezelf begrenzen dus maar. Als historica vind ik het bijzonder cool dat er bij de samenstelling van de Snob 2000 zoveel aandacht besteed wordt aan de historische context. Maar de 80's en 90's zijn in de huidige ondergewaardeerde 30-lijst wel wat ondervertegenwoordigd. Slechts twee nummers uit de 80's; daar kan ik wel wat aan doen.
Van al die rustige, mooie en blije liedjes in de lijst werd ik bovendien maar onrustig. Mag het ook een beetje rauwer of gefrustreerder? Neem het nummer Eight Miles High van The Byrds: goed nummer, belangrijk ook in de muziekgeschiedenis, maar ik voel er niet bijzonder veel bij. Dan de versie van Hüsker Dü waarin zanger Bob Mould z'n longen uit z'n lijf schreeuwt, die komt altijd binnen hoor. De band bracht de cover in 1984 uit als single, nog voordat ze met tweede album Zen Arcade critici en liefhebbers overtuigden dat muziek hard en melodieus tegelijk kan zijn. Ondanks die erkenning brak de band nooit echt door bij het grote publiek.
Hüsker Dü's Eight Miles High is wat mij betreft de beste cover ooit en alleen daarom al hoort 'ie in dit lijstje thuis. Een iconisch nummer kapot durven spelen en kunnen omvormen tot iets authentieks, bruuts en prachtigs, en dat in een tijd waarin andere punkbands zich alleen nog maar aan ironische covers waagde; dat verdient wel wat meer waardering.
Uit: Ways To Waste Time van The Big Hunger mag er van mij uit, veel te blij.
Cursief = niet op Spotify
De huidige Ondergewaardeerde 30 is samengesteld uit bijdragen van
Bazz, Erik van Biesen, Paul Bond, Jaap Boots, Bertus Borgers, Robin Borneman, Ruud van Bree, Marcus Bruystens, Johan Buurke, Dead Elvis, DJ Ratz, Tessa Douwstra, Marinus de Goederen, Joep Gudde, Hugo Heinen, Lenny Helsing, Specs Hildebrand, Karianne Hylkema, Alex Nieuwland, Erwin Nijhoff, Aafke Romeijn, Ton Scherpenzeel, Martje Schoemaker, Ollie Schmitz, Arjan Snijders, Rick Treffers, Ad Vanderveen, Peter Visser en Rob Vunderink.