De 'Ondergewaardeerde 30' is onze non-hitlijst en wordt samengesteld door muzikanten en DJ's. Liedjes die in hun oren nog steeds ondergewaardeerd zijn.
Elke laatste donderdag van de maand is er een nieuwe bijdrage.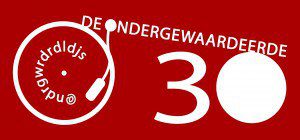 De in een onrustig nomadisch gezin opgegroeide en met huiselijk geweld, armoede en dakloosheid geconfronteerde levensreiziger Chris Fallen is van meerdere markten thuis. Hij is sociaal antropoloog, mixologist, copywriter, acteur én muzikant. In die laatste hoedanigheid timmert hij sinds 2017 stevig aan de weg met zijn one man band Van Tastik.
De muziek van dominee Van vertelt het verhaal van duisternis en onrust, over afstammelingen van edelen, paupers, handelaren en zeelieden. Ook zingt The Dark Rev over vluchtelingen, migranten en gewelddadige en mysterieuze kolonisten. Het resultaat is een mix van diepe melancholie en krachtige blues culminerend in hectische optredens. Luister en onderga zijn laatste powerblues Drag Me To Hell.
Van begon met spelen op straat, in bars, clubs en huiskamers, over de hele wereld. Door zijn zwervende levensstijl is Van Tastik de archetypische performing artist geworden – van nature in staat om direct persoonlijk contact te maken met zijn publiek. Waar hij ook speelt, Van verwelkomt iedereen en zorgt ervoor dat je je thuis voelt in zijn Church of Van Tastik. Zijn muziek beschouwt The Dark Reverend als een emotionele zuivering, om zijn verleden en het onrecht dat hij om zich heen ziet te herstellen en dit met anderen te delen zodat hij iedereen die hem wil volgen door de duistere kanten van het leven zal leiden.
Van heeft optredens gehad op evenementen als de BBC Live On Air Fringe Stage, het Haagse Sniester Festival 2019, 3Voor12 te Utrecht, de Bulleit Bourbon Battle Of The Bands, de Edinburgh Fringe, Kelburn Garden Party en het Eden Festival. Deze maand toert Van door Duitsland.
Het meest Ondergewaardeerde liedje aller tijden volgens Chris Fallen (Van Tastik): Reignwolf – Electric Love (2012)
I have been thinking about this one long and hard as my taste in music is extremely broad and I really struggled to make my mind up in ranking songs I hold dear or ones which I find underrated.
I've chosen a live performance of Electric Love by Reignwolf. The first time I got back into Blues it was through this incredibly talented musician and when I was shown this video and told by a friend that my singing and guitar playing reminded him of Reignwolf. I was over the moon although I'd never before heard of the guy. The deeper I dug into his world the more enticed I was by it.
Reignwolf and his style of performing back in the early 2010's showed me that a one man band could be more than Andy McKee slapping a guitar and performing multiple melodic duties at once on the same instrument. It proved to me that as a one-man-band you get people up on their feet and dancing.
Anyway, Reignwolf single-handedly led me back into music in a big way and inspired me to dive back into Blues and showed me that in actual fact, much of the music I loved growing up was an offshoot of Blues usually with just more distortion and heavier drums. I realized that bands like Nirvana, The White Stripes, The Black Keys, Rage Against The Machine and even much heavier rock took queues directly from early blues and had simply gradually built on that early model.
So this particular song and this particular performance of that song got me started as Van Tastik and inspired me to find strength and faith in myself. Even if I couldn't find a band committed enough to stick it out with me and make something big of ourselves, I could do it on my own and find kindred spirits later in the process.
Uit: As for the song which I think can go it would be XTC – Wrapped in Grey. I've enjoyed all the songs on the list including this one but I enjoyed this one the 'least'.
Cursief = niet op Spotify
De huidige Ondergewaardeerde 30 is samengesteld uit bijdragen van Bazz, Jaap Boots, Ruud van Bree, Marcus Bruystens, Johan Buurke, Cashmyra, Dead Elvis, DJ Ratz, Tessa Douwstra, Chris Fallen, Marinus de Goederen, Joep Gudde, Lenny Helsing, Specs Hildebrand, Ruud Houweling, Karianne Hylkema, Robin Kester, Nanne van der Linden, Mike & Mool, Skylar Navaeh, Frank van Praag, Aafke Romeijn, Ton Scherpenzeel, Martje Schoemaker, Ollie Schmitz, Arjan Snijders, Rick Treffers, Ad Vanderveen, Peter Visser en Rob Vunderink.