De 'Ondergewaardeerde 30' is onze non-hitlijst en wordt samengesteld door muzikanten en DJ's. Liedjes die in hun oren nog steeds ondergewaardeerd zijn.
Elke laatste donderdag van de maand is er een nieuwe bijdrage.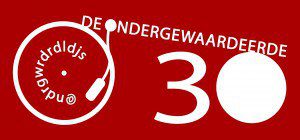 Ilona Stoker is schrijver en frontvrouw. In maart '23 brengt zij met haar punkband Velveteen Rabbit hun selftitled debuut EP uit.
Het meest Ondergewaardeerde liedje aller tijden volgens Ilona Stoker (Velveteen Rabbit): Holly Golightly – Your Love Is Mine (1998)
Er zijn van die albums die gewoon af zijn. Albums die je in hun geheel mee op reis nemen. En die ook als geheel ondergewaardeerd worden. Het album Serial Girlfriend (1998) van de Britse muzikant Holly Golightly is er zo eentje. Ik ontdekte de plaat toen hij net vers van de pers was gerold, op een zaterdagse snuffeltocht door de bakken van platenzaak Da Capo. Ik werd helemaal meegezogen door de sound van de one woman garage band: omringd door een dikke 60's rook en overgoten met een saus van die heerlijk verveelde 90's je ne sais quoi.
Your Love Is Mine is een cover van Ike & Tina Turner. De originele versie klinkt al alsof er een begrafenisstoet aan je voorbijtrekt, maar Holly Golightly (ja, haar echte naam) doet er nog een schepje bovenop, het is allemaal nét wat slepender en nét wat nonchalanter waardoor de obsessie nog wat aanzwelt. Heerlijk voor een vage afterparty. Of voor een solofeestje waarop je creatieve vormen bedenkt om je nieuwe object of affection te veroveren.
Uit: Ik elimineer uit de lijst: Kaw-Liga – The Residents
Cursief = niet op Spotify
De huidige Ondergewaardeerde 30 is samengesteld uit bijdragen van Bazz, Blaudzun, Jaap Boots, Marcus Bruystens, Johan Buurke, Cashmyra, Dead Elvis, Tessa Douwstra, Steven Engel, Timo Epping, Chris Fallen, Marinus de Goederen, Pascal Griffioen, Joep Gudde, Lenny Helsing, Specs Hildebrand, Ruud Houweling, Karianne Hylkema, Mariska Lie A Ling, Jeroen Ligter, Skylar Navaeh, Aafke Romeijn, Ollie Schmitz, Arjan Snijders, Ilona Stoker, Rick Treffers, Ad Vanderveen, Peter Visser, Henk Westbroek en Paul Zoontjes.