De 'Ondergewaardeerde 30' is onze non-hitlijst en wordt samengesteld door muzikanten en DJ's. Liedjes die in hun oren nog steeds ondergewaardeerd zijn.
Elke laatste donderdag van de maand is er een nieuwe bijdrage.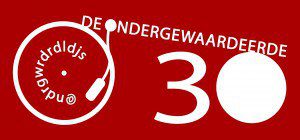 Dankzij een explorerend weekendje weg is de Nederlandse muziekscene verrijkt met het collectief Dizzy Panda. Mike en Mool en twee andere vrienden bezonnen zich op hun toekomst. De twee anderen zitten nu in de koffie. Mike en Mool in de muziek, en dat terwijl zij geen noot kunnen lezen noch een instrument kunnen bespelen, laat staan zingen. De eerste stappen zetten zij op de iPad met behulp van GarageBand, maar inmiddels beschikken zij over professionele software, een goede PC en allerlei hulpmiddelen om muziek of video mee te bewerken. Daarmee leren werken, dáár zit hun uitdaging. Mike en Mo gebruiken bestaande samples of vragen anderen om wat in te spelen of te zingen, zoals recent een dertienjarig meisje op gitaar, wat leidde tot Intermezzo, een nog niet vrijgegeven jazzy track van amper twee minuten. Wel op YouTube de psychedelische electrotriphop track: Turn Of The Light.
Alles start zonder vastomlijnd idee. Er ontstaat íets, of er ontstaat niets. Dan zit het er die dag gewoon niet in. Het mooie aan het maken van muziek (en video) is dat er steeds iets nieuws valt te ontdekken en te leren. Elke keer wanneer zij een nummer hebben uitgebracht ontdekken ze weer iets nieuws waardoor ze soms alweer spijt hebben het nummer online te hebben gezet.
Eigenlijk is Dizzy Panda (met als thuisbasis Haarlem) ook een vrucht van de lockdown. Die bracht voor Mike en Mool de tijd en de gelegenheid om zich te ontwikkelen. Dat zij zelf geen instrument bespelen weerhoudt hen niet om ooit – wanneer het weer kan en mag – het podium te betreden. Genoeg anderen om hun daarbij te helpen.
Het meest Ondergewaardeerde liedje aller tijden volgens Mike & Mool (Dizzy Panda): The Residents – Kaw-Liga (1986)
Het leek niet zo moeilijk, maar ga met z'n tweeën maar eens een keuze maken voor het meest ondergewaardeerde liedje. Dat moest haast tot vechten leiden, maar we pakten het aan als oefening om samen tot een selectie voor ons album te komen. Zo gingen we door de hele collectie heen van Eddie Jefferson's Psychedellic Sally tot nummers van LTJ X-Perience of nummers van getalenteerde Nederlanders die we recent hebben ontdekt in playlijsten zoals Skylar Nevaeh, Hipster Pug, Nomden, Rufusking of Animal Revolt. Stuk voor stuk aanraders én ondergewaardeerd. We hadden de hele Ondergewaardeerde 30 al samengesteld, maar de redactie was streng; maar één nummer mannen…
Het meest ondergewaardeerde liedje is volgens ons Kaw-Liga van The Residents. We hadden tot voor kort nog nooit van deze band gehoord maar hun eerste album stamt nog uit de tijd dat The Beatles nog bij elkaar waren. We werden door Leg Puppy, een band uit Londen die ons inspireert, gewezen op The Residents, waar zij op hun beurt weer door waren geïnspireerd. De basis voor het nummer Kaw-Liga is de bekende beat van Michael Jackson's Billie Jean met een vreemde tekst over een indiaan. Die tekst is van een nummer van countryzanger Hank Williams. En is het puur toeval dat de vrouw van Hank dan weer Billie Jean heette? En zo valt er nog meer aan het nummer te ontdekken als je er in duikt. Het lijkt ordinaire diefstal van samples en teksten en toch zit er ook weer heel veel nieuwe creativiteit in. Zo'n twist is mooi en het resultaat is toch ook erg aanstekelijk. Door hergebruik weer iets totaal nieuws maken, af en toe een grap of verborgen boodschap, een masker op. Ja, dat spreekt ons wel aan.
Uit: Het is misschien nog wel moeilijker om een nummer te kiezen dat moet verdwijnen, maar we hebben een keuze gemaakt. Het nummer dat voor ons wegvalt is Cheek To Cheek van Lowell George (sorry Bertus, deze komt niet door ons mediafilter).
N.B.: Voor die laatste opmerking moet je even het interview met Bertus Borgers lezen.
De huidige Ondergewaardeerde 30 is samengesteld uit bijdragen van Bazz, Paul Bond, Jaap Boots, Robin Borneman, Ruud van Bree, Marcus Bruystens, Johan Buurke, Cashmyra, Dead Elvis, DJ Ratz, Tessa Douwstra, Marinus de Goederen, Joep Gudde, Lenny Helsing, Specs Hildebrand, Karianne Hylkema, Mike & Mool, Nanne van der Linden, Alex Nieuwland, Erwin Nijhoff, Frank van Praag, Aafke Romeijn, Ton Scherpenzeel, Martje Schoemaker, Ollie Schmitz, Arjan Snijders, Rick Treffers, Ad Vanderveen, Peter Visser en Rob Vunderink.