De 'Ondergewaardeerde 30' is onze non-hitlijst en wordt samengesteld door muzikanten en DJ's. Liedjes die in hun oren nog steeds ondergewaardeerd zijn.
Elke laatste donderdag van de maand is er een nieuwe bijdrage.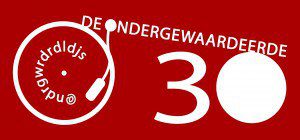 De gasten van vandaag zijn het collectief Breaking The Surface uit Rotterdam. Deze rockmetalband timmert al een aantal jaren aan de weg en zoals alle nieuwe acts (tijdelijk) gehinderd door Corona, maar sindsdien druk bezig met de opname van nieuwe tracks waaronder No One Left dat ook de aandacht van het Snobuur trok.
Het meest Ondergewaardeerde liedje aller tijden volgens (Breaking The Surface): Agent Fresco – Dark Water (2015)
Het is een band uit IJsland: Agent Fresco. We hebben voor hen gekozen, omdat ze hoge kwaliteit muziek maken maar soort van ondersneeuwen door het enorme aanbod van muziek en muzikanten. Ook worden ze vaak ten onrechte vergeleken met populaire acts.
Ze spelen in een bijzondere line-up qua instrumenten en onderscheiden zich wel degelijk. Nummers zijn stuk voor stuk goed en afwisselend. Dark water springt er wat ons betreft nog wat bovenuit. Dit nummer is het meest pakkend.
Uit: Dixie Chicks
Cursief = niet op Spotify
De huidige Ondergewaardeerde 30 is samengesteld uit bijdragen van Bazz, Blaudzun, Jaap Boots, Marcus Bruystens, Johan Buurke, Cashmyra, Dead Elvis, Tessa Douwstra, Timo Epping, Chris Fallen, Pascal Griffioen, Joep Gudde, Lenny Helsing, Specs Hildebrand, Ruud Houweling, Karianne Hylkema, Mariska Lie A Ling, Jeroen Ligter, Luvalu, Skylar Navaeh, Yorick van Norden, Aafke Romeijn, Ollie Schmitz, Arjan Snijders, Ilona Stoker, Rick Treffers, Ad Vanderveen, Peter Visser en Paul Zoontjes.