We maken deze playlist nu al voor de 22ste keer. Volgens KINK zijn wel zelfs al aan seizoen 4 bezig. En we zijn in al die afleveringen ergens achter gekomen: de allerleukste artiesten om een ondergewaardeerde playlist over te maken, dat zijn zogeheten projectartiesten.
Chris Cornell was zo iemand. Wereldberoemd geworden met Soundgarden; MTV draaide Black Hole Sun in de jaren negentig grijs. Maar er was natuurlijk ook dat project Temple Of The Dog. En de superband Audioslave waar hij aan meedeed. En het solowerk! Daarnaast is Chris Cornell misschien wel de beste zanger die het grunge-wereldje heeft voortgebracht.
Wat zijn nu eigenlijk de meest ondergewaardeerde liedjes van deze meesterzanger? Negentien fans kamden zijn oeuvre uit en kwamen op de proppen met een lijst met 79 prachtliedjes.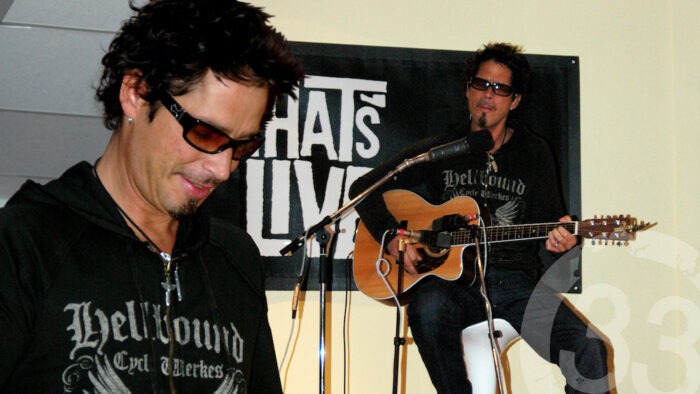 Foto's: Esther Schulting, één van onze samenstellers en deelnemers aan de podcast, en popfotograaf bij buro33. 
Natuurlijk is er ook weer een podcast opgenomen voor KINK! Stefan Koopmanschap gaat samen met kenners Dimitri, Esther Frank, Halbe, Jeroen en Maarten dwars door het oeuvre van Chris, met alle verhalen om die liedjes heen natuurlijk.
En check hier de hele lijst:
Jesus Christ Pose – Soundgarden (1991)
Say Hello 2 Heaven – Temple Of The Dog (1990)
Rusty Cage – Soundgarden (1991)
The Day I Tried To Live – Soundgarden (1994)
Seasons – Chris Cornell (1992)
Call Me a Dog – Temple Of The Dog (1990)
You Know My Name – Chris Cornell (2007)
Birth Ritual – Soundgarden (1992)
Blow Up The Outside World – Soundgarden (1996)
Superunknown – Soundgarden (1994)
Outshined – Soundgarden (1991)
Follow My Way – Chris Cornell (1999)
All Night Thing – Temple Of The Dog (1990)
Beyond the Wheel – Soundgarden (1988)
Reach Down – Temple Of The Dog (1990)
4th Of July – Soundgarden (1994)
Billie Jean – Chris Cornell (2007)
Let Me Drown – Soundgarden (1994)
Mind Riot – Soundgarden (1991)
Revelations – Audioslave (2006)
Flutter Girl – Chris Cornell (1999)
Can't Change Me – Chris Cornell (1999)
Black Rain – Soundgarden (2010)
Been Away Too Long – Soundgarden (2012)
Right Turn – Alice Mudgarden (1992)
Gasoline – Audioslave (2002)
Part Of Me – Chris Cornell (2009)
Pretty Noose – Soundgarden (1996)
Boot Camp – Soundgarden (1996)
Steel Rain – Chris Cornell (1999)
Shadow on the Sun – Audioslave (2002)
Burden In My Hand – Soundgarden (1996)
Dead Wishes – Chris Cornell (2015)
Your Time Has Come – Audioslave (2005)
Head Down – Soundgarden (1994)
Wooden Jesus – Temple Of The Dog (1990)
Nothing Compares 2 U – Chris Cornell (2015)
Higher Truth – Chris Cornell (2015)
Heavy Is The Head – Zack Brown Band ft. Chris Cornell (2015)
A Day In The Life (Beatles) – Chris Cornell (2011)
Time – Chris Cornell (2009)
Hands All Over – Soundgarden (1989)
Pillow of Your Bones – Chris Cornell (1999)
The Promise – Chris Cornell (2017)
She Likes Surprises – Soundgarden (1994)
Live to Rise – Soundgarden (2012)
Out Of Exile – Audioslave (2005)
Wide Awake – Audioslave (2006)
Limo Wreck – Soundgarden (1994)
Set It Off – Audioslave (2002)
Searching With My Good Eye Closed – Soundgarden (1991)
Slaves and Bulldozers – Soundgarden (1991)
Ty Cobb – Soundgarden (1996)
Black Saturday – Soundgarden (2012)
By Crooked Steps – Soundgarden (2012)
Fresh Deadly Roses – Soundgarden (1989)
Gun – Soundgarden (1989)
Stay With Me Baby – Chris Cornell (2016)
Doesn't Remind Me – Audioslave (2005)
Long Gone – Chris Cornell (2009)
Promise – Chris Cornell (2010)
Fell On Black Days – Soundgarden (1994)
Kyle Petty, Son of Richard – Soundgarden (2014)
Preaching The End Of The World – Chris Cornell (1999)
You Never Knew My Mind – Chris Cornell (2021)
Sunshower – Chris Cornell (1998)
No Attention – Soundgarden (1996)
Flower – Soundgarden (1988)
Light My Way – Audioslave (2002)
Drawing Flies – Soundgarden (1991)
Blood On The Valley Floor – Soundgarden (2012)
#1 Zero – Audioslave (2005)
Drown Me Slowly – Audioslave (2005)
Original Fire – Audioslave (2006)
Ground Zero – Chris Cornell (2009)
Fresh Tendrils – Soundgarden (1994)
Like Suicide – Soundgarden (1994)
Patience – Chris Cornell (2020)
The Keeper – Chris Cornell (2011)