De 'Ondergewaardeerde 30' is onze non-hitlijst en wordt samengesteld door muzikanten. Liedjes die in hun oren nog steeds ondergewaardeerd zijn.
Elke twee weken is er een nieuwe bijdrage.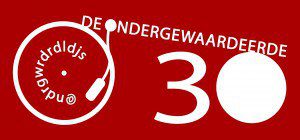 Hoewel zijn eerste succesje met zijn band Stud Muffins was, komt het echte succes als hij solo muziek gaat maken. Het zal een jongensdroom voor velen zijn: Ed Struijlaart zegt zijn baan op om zich full-time op muziek te richten en haalt daarmee succes.
Inmiddels heeft Ed twee prachtige albums opgeleverd: Head, Heart and Hands en Closer Than Skin, zijn er tal van singles uitgekomen en heeft Ed samengewerkt met muzikanten uit zowel Nederland als het buitenland, onder andere Dario Fo (een prachtige cover van Viva La Vida van Coldplay), Lisa Lois, de drummer van John Mayer (toeval?) en Peter Slager (Bløf).
Het meest Ondergewaardeerde liedje aller tijden volgens Ed Struijlaart: John Mayer – Stop This Train (2006)
Een liedje wat afkomstig is van het succesvolle album Continuum. Een album wat er trouwens bijna niet geweest was, John's platenmaatschappij vond namelijk dat er geen goede singles op stonden. Hij maakte zich kwaad en schreef Waiting On The World To Change, inmiddels toch wel een klassieker en de platenmaatschappij had vervolgens goud in handen. Daar wil ik het ook niet over hebben, want dat nummer is natuurlijk grijs gedraaid op den Nederlandse radio.
Ik wil het hebben over het beste liedje wat John Mayer tot op dit moment geschreven heeft: Stop This Train. Een liedje wat voor mij persoonlijk op precies het juiste moment kwam. Het kwam midden in mijn 'quarter-life crisis' en had niet op een beter moment kunnen komen. Het raakte precies alle snaren die maar geraakt konden worden. Ik kwam het nummer op het spoor toen Mayer midden in het schrijf- en opnameproces van Continuum zat. Ik volgde dat op de voet middels diverse John Mayer fora en fanclub sites. Op een avond vond ik op internet een live opname van een nieuw nummer van Mayer; het was de eerste versie van Stop This Train, opgenomen tijdens een live optreden in Eddie's Attic in Atlanta. Deze kleine en knusse club was een bekende plek voor John, aangezien hij daar in zijn begindagen kind aan huis was en er zelfs ooit de Eddie's Attic Open-Mic Shootout heeft gewonnen (1000 dollar!). Hij komt hier tot op de dag van vandaag nog regelmatig terug om nieuw materiaal te testen.
Terug naar Stop This Train: Het besef dat je jonge jeugd achter je ligt en je volwassen leven toch echt al begonnen is. Mensen om je heen vallen weg, druk om te presteren. Kon je nog maar terug, terug naar die onbezorgde jeugd. Helaas, het leven is zo hard als de voorkant van de trein waar Mayer over zingt. Dit stukje tekst vat het voor mij perfect samen:
Once in a while, when it's good
It'll feel like it should
When you're all still around
And you're still safe and sound
And you don't miss a thing
'Till you cry when you're driving away in the dark
Singing, stop this train
I want to get off and go home again
I can't take the speed it's moving in
I know, I can't
'Cause now I see I'll never stop this train.
Waarom is dit nummer ondergewaardeerd? Ik denk vooral dat de artiest John Mayer bij de zichzelf serieus nemende muziekliefhebber ondergewaardeerd is en ik zou daarom graag een lans voor hem willen breken. Als je dit soort liedjes kan schrijven dan vergeef ik je  Your Body Is A Wonderland met liefde!
Het nummer wat ik eruit wil halen: Esther Phillips – From A Whisper To A Scream
| | |
| --- | --- |
| Release | Artiest en Titel |
| 1966 | The Left Banke – Walk Away Renée |
| 1967 | Q65 – From Above |
| 1971 | Little Richard – Green Power |
| 1974 | Maria Bethânia – A Felicidade |
| 1976 | Jerry Jeff Walker – Won't You Give Me One More Chance |
| 1976 | Rory Gallagher – Edged In Blue |
| 1978 | Breeze – It's Only A Matter Of Time |
| 1981 | Frank Zappa – Tinsel Town Rebellion |
| 1983 | De Div – 4 |
| 1984 | Let's Active – Waters Part |
| 1986 | Fatal Flowers – Younger Days |
| 1987 | The Sisters Of Mercy – This Corrosion |
| 1992 | The Saw Doctors – Never Mind The Strangers |
| 1993 | Morphine – Thursday |
| 1999 | De Kift – Bierflessengroen |
| 1999 | Chuck Prophet – I Couldn't Be Happier |
| 1999 | Jason Falkner – Holiday |
| 2001 | Hedwig & The Angry Inch – The Origin of Love |
| 2003 | Yo La Tengo – Today Is The Day |
| 2004 | Iron & Wine – The Trapeze Swinger |
| 2006 | Dixie Chicks – Not Ready To Make Nice |
| 2006 | Cuban Heels – Work Me Baby |
| 2006 | John Mayer – Stop This Train |
| 2008 | Jim O'Rourke – Pictures Of Adolf Again (2008) |
| 2009 | Micachu & The Shapes – Curly Teeth |
| 2011 | Sarah Siskind – Yellow And Blue |
| 2012 | Sukilove – Somehow Someday |
| 2013 | Sir Yes Sir – Smiling |
| 2014 | Opeth – Cusp Of Eternity |
| 2014 | The Big Hunger – Ways To Waste Time |
De huidige Ondergewaardeerde 30 is samengesteld uit bijdragen van Arthur Akkermans, Una Bergin, Bertolf, Pip Blom, Sander Evers, Anneke van Giersbergen, Marinus de Goederen, Annelotte de Graaf, Lenny Helsing, Anne-Maarten van Heuvelen, Specs Hildebrand, Jerry Hormone, Peter Koelewijn, Henk Koorn, Edgar Kruize, Rick de Leeuw, Maceál, Paul de Munnik, Anouk Paus, Aafke Romeijn, Julian Sas, Ian Siegal, Rebecca Sier, Arjan Snijders, Henk Temming, Robby Valentine, Hans Vandenburg, Rob Vunderink, Petra de Winter en Jonas Winterland.