De 'Ondergewaardeerde 30' is onze non-hitlijst en wordt samengesteld door muzikanten. Liedjes die in hun oren nog steeds ondergewaardeerd zijn.
Elke twee weken is er een nieuwe bijdrage.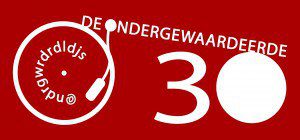 Een accordeon, dat kon hij krijgen. Geld voor een piano of orgel was er niet. Michel van Wassem moest van zijn vader elke dag een uur oefenen, maar spijt, nee. Het heeft hem veel moois gebracht. Na in verschillende bandjes te hebben gespeeld, waaronder de Haagse jazzrockformatie Storm met Jaap de Jonckheere (Urban Heroes, Boom Boom Mancini), kwam hij in 1977 terecht in de symfonische hoek. Pielend op een synthesizer bij de legendarische muziekwinkel Servaas werd hij gevraagd voor Plackband. Na het uiteenvallen van de band en een tussenstop bij November maakt hij sinds 2008 met o.a. zijn oude maatjes Ronald Brautigam (gitaar) en Ton van der Meulen (drums) deel uit van PBII, wat eigenlijk de wedergeboorte is van Plackband.
Na het album Plastic Soup (2010) waagt de band zich aan een rockopera, 1000 Wishes, met een gastrol van Steve Hackett, uitmondend in een project van circa 130 man, inclusief een volledig jeugdorkest. Vorig jaar bracht de band Rocket – The Dreams of Wubbo Ockels uit, gebaseerd op de ideeën van de te vroeg overleden oud-astronaut. Opnieuw een grote theaterproductie die dit jaar live zal worden uitgevoerd met onder andere Eddy Zoëy en Jurgen Raymann.
Misschien geen naam die overal bekend in de oren klinkt, maar Westlander Michel van Wassem heeft zijn sporen wel verdiend. Hoog tijd hem te vragen wat voor Michel nu het meest ondergewaardeerde nummer aller tijden is.
Het meest Ondergewaardeerde liedje aller tijden volgens Michel van Wassem: Frost* – Black Light Machine (2006)
Met m'n maatje Ronald schrijf ik de muziek. Ronald zorgt voor het rauwe randje; ik ben van het mooie. Dat zoek ik eigenlijk altijd terug in muziek, dat mooie. Daarbij moet het ook technisch goed zijn uitgevoerd. Als je naar mijn playlist kijkt met favoriete nummers vind je dat ook terug. Forever Blue van The Little River Band of Book Of Love van Peter Gabriel. Ook mooi: You're The Voice van John Farnham. We gaan dat ook spelen met de band! Ja, en de laatste van Jon Anderson met Roine Stolt. Och och och.
Ik vind het lastig hoor, maar als ik moet kiezen wat ik ondergewaardeerd vind is dat een nummer van Frost* Een hele gave band, helaas niet echt doorgebroken. We hebben met hen gespeeld in Engeland bij de Classic Rock Society. Toen ik kennismaakte met Jem Godfrey dacht ik, wat is dat voor raar dik mannetje, meer type darter dan muzikant, maar toen ie begon te spelen, Jezus! Ga jij maar tomaten plukken, Van Wassem.
Jem heeft heel verschillende dingen gedaan. Zo schreef hij Whole Again van Atomic Kitten en Thats's My Goal voor X-Factor winnaar Shayne Ward, de best verkochte Britse single in 2005, maar hij speelde ook met Mike Kenealy, Steve Vai en Joe Satriani en maakte muziek voor Game of Thrones. Daarnaast doet ie veel promotiewerk voor KORG.
Niet echt een liedje gezien de lengte van circa tien minuten, maar wel hun sterkste nummer: Black Light Machine. Ik heb het niet voor niks als ringtone op m'n iPhone gezet. Die muzikaliteit en op zo'n uitzonderlijk hoog niveau gespeeld. Dat geeft mij weer inspiratie, maar ten opzichte van Jem blijf ik een kleine jongen.
Redactie: De muziek start na 3 minuten.
Uit: Ton van der Meer (Ik ben gebeten door de poolvos), want ik heb niets met Nederlandstalige muziek.
| | |
| --- | --- |
| Release | Artiest en Titel |
| 1966 | The Left Banke – Walk Away Renée |
| 1967 | Q65 – From Above |
| 1971 | Little Richard – Green Power |
| 1972 | Esther Phillips – From A Whisper To A Scream |
| 1974 | Maria Bethânia – A Felicidade |
| 1976 | Jerry Jeff Walker – Won't You Give Me One More Chance |
| 1976 | Rory Gallagher – Edged In Blue |
| 1978 | Breeze – It's Only A Matter Of Time |
| 1980 | Johan Timman – Look Out For The Killer |
| 1981 | Frank Zappa – Tinsel Town Rebellion |
| 1984 | Let's Active – Waters Part |
| 1986 | Fatal Flowers – Younger Days |
| 1992 | The Saw Doctors – Never Mind The Strangers |
| 1993 | Morphine – Thursday |
| 1999 | New Radicals – Someday We'll Know |
| 1999 | De Kift – Bierflessengroen |
| 1999 | Chuck Prophet – I Couldn't Be Happier |
| 1999 | Jason Falkner – Holiday |
| 2001 | Hedwig & The Angry Inch – The Origin of Love |
| 2003 | Yo La Tengo – Today Is The Day |
| 2004 | Iron & Wine – The Trapeze Swinger |
| 2006 | Dixie Chicks – Not Ready To Make Nice |
| 2006 | Cuban Heels – Work Me Baby |
| 2006 | Frost* – Black Light Machine |
| 2009 | Micachu & The Shapes – Curly Teeth |
| 2011 | Sarah Siskind – Yellow And Blue |
| 2012 | Sukilove – Somehow Someday |
| 2013 | Sir Yes Sir – Smiling |
| 2014 | Opeth – Cusp Of Eternity |
| 2014 | The Big Hunger – Ways To Waste Time |
De huidige Ondergewaardeerde 30 is samengesteld uit bijdragen van Arthur Akkermans, Una Bergin, Bertolf, Pip Blom, Peter van Capelle, Sander Evers, Anneke van Giersbergen, Marinus de Goederen, Annelotte de Graaf, Lenny Helsing, Anne-Maarten van Heuvelen, Specs Hildebrand, Jerry Hormone, Michael de Jong, Peter Koelewijn, Rick de Leeuw, Maceál, Paul de Munnik, Anouk Paus, Julian Sas, Ian Siegal, Rebecca Sier, Arjan Snijders, Henk Temming, Robby Valentine, Hans Vandenburg, Rob Vunderink, Petra de Winter en Jonas Winterland.