De 'Ondergewaardeerde 30' is onze non-hitlijst en wordt samengesteld door muzikanten. Liedjes die in hun oren nog steeds ondergewaardeerd zijn.
Elke twee weken is er een nieuwe bijdrage.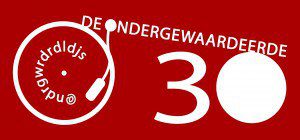 Onze gast speelde eerst in Gomer Pyle om daarna sinds 2011 in een (Haagse) instrumentale band de drumsticks te hanteren. Sapcerock en krautrock. Drie geweldige albums en ze treden regelmatig in Nederland, België, Duitsland en Engeland op.
We rekenden op iets met veel tromgeroffel….
Het meest Ondergewaardeerde liedje aller tijden volgens Sander Evers (Monomyth): Fatal Flowers – Younger Days (1986)
En toen kwam de vraag om bij te dragen aan de lijst met ondergewaardeerde liedjes. Liedjes zijn eigenlijk helemaal niet mijn sterkste kant. Ik opereer al jaren binnen instrumentale bands en met een persoonlijke voorliefde voor diepe instrumentale elektronische soundscapes zijn liedjes altijd heel erg ver weg. Dat neemt niet weg dat er door de jaren heen natuurlijk liedjes voorbij komen die blijven hangen. Een liedje dat blijft hangen is per definitie een geslaagde poging om een goed werkend geheel te componeren. Maar wat is dan eigenlijk ondergewaardeerd? Zijn dat liedjes die niet meer gedraaid worden of liedjes die eigenlijk niemand kent maar die ik nu even op de voorgrond plaats omdat ze zo goed zijn?! Het is lastig om zoiets goed te beoordelen omdat je altijd vanuit je eigen referentiekader naar muziek kijkt, en luistert. Wat in mijn optiek ondergewaardeerd is kan alsnog een hit zijn maar misschien wel juist om de verkeerde redenen. Dat zou dan een parel zijn die midden in het zicht alsnog zijn of haar geheimen niet prijs geeft. Lastig dus, want juist de gewaardeerde liedjes zijn eigenlijk maar het topje van de muzikale ijsberg. Er is zoveel gemaakt.
Dus ik ben gaan spitten, op zoek naar liedjes die heel goed zijn, minder vaak voorbij komen en toch blijven hangen. En er kwamen best mooie dingen voorbij. Neem bijvoorbeeld Five O'Clock In The Morning van Godley & Creme, een heerlijk traag zondagochtend nummer binnen het conceptalbum Consequenses dat als geheel eigenlijk nooit echt gewerkt heeft, de hoorspel elementen zijn minder geslaagd, maar als opzichzelfstaand nummer wel van een verstilde schoonheid. Ondergewaardeerd? Dat zeker! En zo ook The Rainbow van Talk Talk, zeer ondergewaardeerd wat mij betreft. De hele plaat (Spirit Of Eden uit 1988) luistert weg als een lange pastorale organische soundscape, en ondanks het fragmentarische karakter is The Rainbow een zeer aangrijpend gezongen lied, geen liedje, want daar is het te majestueus voor.
Maar toch, echt kiezen kan ik niet, het zijn prachtige tracks maar ze staan ver van me af. Ik wil het dichter bij huis zoeken. Liedjes die uit ons eigen land komen en daardoor qua gevoel ook dichter bij me staan. Ook daar was het even zoeken want er is veel moois geschreven door de jaren heen. Maar uiteindelijk stuit ik op Younger Days van de Fatal Flowers. Dat is de parel die eigenlijk meer aandacht zou mogen verdienen.
Toen het nummer uitkwam in 1986 was ik een puber, ontdekte de popmuziek en besloot ook muziek te gaan maken. Younger Days klonk toen als een melancholische trip terug naar een tijd die ik op dat moment juist doormaakte. Voor mij toen lastig te plaatsen dus. Destijds vond ik het heftiger geproduceerde album Pleasure Ground (1990) veel beter. Maar nu we dertig jaar verder zijn blijkt die melancholie van Younger Days juist van een akelige precisie. De melodie, de tekst, de sfeer en het gitaarlickje dat het nummer versiert dragen bij aan dat gevoel. Juist het feit dat Younger Days minder geproduceerd klinkt maakt dat het naadloos in het canon van de Nederbeat past. Binnen het repertoire van de Fatal Flowers is dit eigenlijk het enige nummer wat die specifieke twist heeft. Uniek, wonderschoon en daarom mijn ondergewaardeerde liedje voor deze lijst.
Hoe zou het eigenlijk met Richard Janssen zijn?
Eruit: Bonnie Raitt – Too Soon To Tell
| | |
| --- | --- |
| Release | Artiest en Titel |
| 1966 | The Left Banke – Walk Away Renée |
| 1969 | Fairport Convention – Who Knows Where The Time Goes |
| 1969 | James Brown – Mother Popcorn |
| 1969 | The Aerovons – World Of You |
| 1971 | Fields – A Friend Of Mine |
| 1971 | Little Richard – Green Power |
| 1972 | Esther Phillips – From A Whisper To A Scream |
| 1974 | Maria Bethânia – A Felicidade |
| 1976 | Jerry Jeff Walker – Won't You Give Me One More Chance |
| 1976 | Rory Gallagher – Edged In Blue |
| 1978 | Ton van der Meer – Ik Ben Gebeten Door De Poolvos |
| 1978 | Breeze – It's Only A Matter Of Time |
| 1980 | Johan Timman – Look Out For The Killer |
| 1983 | John Spencer – Johnny Vergeet me Niet |
| 1984 | Let's Active – Waters Part |
| 1985 | Waterboys – Medicine Bow |
| 1986 | Fatal Flowers – Younger Days |
| 1992 | The Saw Doctors – Never Mind The Strangers |
| 1993 | Morphine – Thursday |
| 1999 | New Radicals – Someday We'll Know |
| 2001 | Hedwig & The Angry Inch – The Origin of Love |
| 2003 | Yo La Tengo – Today Is The Day |
| 2004 | Iron & Wine – The Trapeze Swinger |
| 2006 | Dixie Chicks – Not Ready To Make Nice |
| 2006 | Cuban Heels – Work Me Baby |
| 2011 | Sarah Siskind – Yellow And Blue |
| 2012 | Sukilove – Somehow Someday |
| 2013 | Sir Yes Sir – Smiling |
| 2014 | Opeth – Cusp Of Eternity |
| 2014 | The Big Hunger – Ways To Waste Time |
De huidige Ondergewaardeerde 30 is samengesteld uit bijdragen van Arthur Akkermans, Guido Belcanto, Una Bergin, Bertolf, Ad Bouman, Peter van Capelle, Bob Fosko, Anneke van Giersbergen, Marinus de Goederen, Annelotte de Graaf, Specs Hildebrand, Jerry Hormone, Peter Koelewijn, Anne-Maarten van Heuvelen, Michael de Jong, Frans Kraaikamp, Maceál, Anouk Paus, Dave von Raven, Julian Sas, Ian Siegal, Rebecca Sier, Henk Temming, Robby Valentine, Hans Vandenburg, Rob Vunderink en Jonas Winterland.