De 'Ondergewaardeerde 30' is onze non-hitlijst en wordt samengesteld door muzikanten. Liedjes die in hun oren nog steeds ondergewaardeerd zijn.
Elke twee weken is er een nieuwe bijdrage.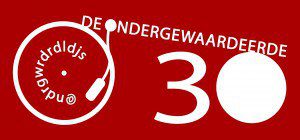 Voor vele van de oudere jongeren is hij het icoon van het wekelijkse hit-overzicht op televisie in de jaren zeventig, en wanneer artiesten niet beschikbaar waren voor een optreden in de studio, dan zocht een cameraploeg hen op of werd het lied van beeld voorzien door een jazzballet onder leiding van Penney de Jager. 15 jaar lang was hij de presentator van Toppop.
Hij is presentator, zanger, componist, schrijver, dichter, kunstenaar, filosoof, multimedia-performer én de uitvoerende van De Parade Van De Hemelse Tragedie: een uniek mega-gedicht en lied van 1.050 verzen met een duur van acht uur en veertig minuten, in de pers beschreven als een poëtische hoogmis en een duizeling-wekkend literair avontuur. Steeds weet hij weer te verrassen. Momenteel speelt hij (gitaar en zang) in duovorm met Rousseau (concertgebouw orkest Viola da Gamba), waarvan hij vindt dat het beste is wat hij ooit gedaan heeft. Ze gaan dit najaar op theatertour.
Het meest Ondergewaardeerde liedje aller tijden volgens Ad Visser: Procol Harum – A Whiter Shade Of Pale (1967)
Mooie sound. Zanger Gary Brooker met magistraal stemgeluid. In het popgewricht van de sixties komt de groep met een juweel van een song, weliswaar een zeer bij Bach geleende compositie met een dromerige tekst van Keith Reid.
De song hoorde ik voor het eerst via Radio Luxemburg. Het station dat in die tijd supersnel de nieuwste Britse pop liet horen. De zender was niet stabiel want het geluid zweefde en dat gaf het effect of de sound door een Leslie-box werd gehaald: een Leslie-box is een speakerbox van een Hammond orgel, waarin de speaker continu om zijn as draait. Dat onbedoelde geluidseffect maakt het luisteren naar Luxemburg, alsof je klanken uit een ander universum hoort.
Zanger Gary Brooker vind ik sensationeel goed en dacht in die dagen dat ik met die gast ooit iets moeten doen. Een voorspellende gedachte want in 1987 – 20 jaar later – ontstaat er een samenwerking tussen ons als Brooker de zangpartij van mijn song No News From The Western Frontier voor zijn rekening neemt voor mijn album Hi-tec Heroes. Het nummer verschijnt tevens succesvol op single. En sterker nog: de groep wil het nummer ook graag op hun eigen album: The Best of Procol Harum.
En zo zie ik opeens mijn naam staan op de hoes als (nota bene) lid van Procol Harum. Het is en blijft een wonderlijke wereld.
Ik moet nog een song weghalen uit die lijst, maar ik laat het lot maar beslissen. Ik kies voor nummer 23. Ik weet niet welk nummer dat is. Ik kies het cijfer blind en omdat ik alle tracks in de lijst goed vind, laat ik het noodlot bepalen wie eruit moet. Dat is overigens mooi in overeenstemming met de gang van het leven zelf. Ad Visser verwijdert op deze wijze The Gathering.
Nawoord: We vroegen hem waarom hij niet zijn samenwerking met Procol Harum als bijdrage gekozen heeft. Ach, er zijn al zoveel mensen die zo verschrikkelijk blij met zichzelf zijn en dan nog matig presteren ook. Ik ben altijd van mening geweest dat men heel goed werk op den duur wel ontdekt. Als je zelf maar loopt te schreeuwen dat je zo goed bent, vind ik iets treurigs hebben.
| | |
| --- | --- |
| Release | Artiest en Titel |
| 1966 | The Left Banke – Walk Away Renée |
| 1967 | Procol Harum – A Whiter Shade Of Pale |
| 1969 | Fairport Convention – Who Knows Where The Time Goes |
| 1969 | James Brown – Mother Popcorn |
| 1969 | The Aerovons – World Of You |
| 1971 | Fields – A Friend Of Mine |
| 1972 | Esther Phillips – From A Whisper To A Scream |
| 1972 | Neil Young – Old Man |
| 1974 | Maria Bethânia – A Felicidade |
| 1976 | Jerry Jeff Walker – Won't You Give Me One More Chance |
| 1976 | Rory Gallagher – Edged In Blue |
| 1977 | Sonic's Rendezvous Band – Slow Down (Take a Look) |
| 1978 | Ton van der Meer – Ik Ben Gebeten Door De Poolvos |
| 1983 | John Spencer – Johnny Vergeet me Niet |
| 1984 | Let's Active – Waters Part |
| 1985 | Waterboys – Medicine Bow |
| 1989 | Bonnie Raitt – Too Soon To Tell |
| 1989 | Tin Machine – Under The God |
| 1993 | Morphine – Thursday |
| 1993 | Wu Tang Clan – Wu-Tang Clan Ain't Nuthing Ta F' Wit |
| 1999 | New Radicals – Someday We'll Know |
| 1999 | Tommy Castro – Lucky In Love |
| 2003 | Yo La Tengo – Today Is The Day |
| 2004 | Iron & Wine – The Trapeze Swinger |
| 2006 | Cuban Heels – Work Me Baby |
| 2008 | Elbow – Weather To Fly |
| 2011 | Sarah Siskind – Yellow And Blue |
| 2012 | Sukilove – Somehow Someday |
| 2013 | Sir Yes Sir – Smiling |
| 2014 | Opeth – Cusp Of Eternity |
De huidige Ondergewaardeerde 30 is samengesteld uit bijdragen van Arthur Akkermans, Guido Belcanto, Bertolf, Ad Bouman, Peter van Capelle, Bob Fosko, Bart Geevers, Anneke van Giersbergen, Annelotte de Graaf, Specs Hildebrand, Peter Koelewijn, Anne-Maarten van Heuvelen, Jiggy Djé, Michael de Jong, Frans Kraaikamp, Saskia van Oerle, Anouk Paus, Dave von Raven, Tricky Dicky, Julian Sas, Rebecca Sier, Henk Temming, Hans Vandenburg, Ad Visser, Guus Willemse en Jonas Winterland.