De 'Ondergewaardeerde 30' is onze non-hitlijst en wordt samengesteld door muzikanten. Liedjes die in hun oren nog steeds ondergewaardeerd zijn.
Elke twee weken is er een nieuwe bijdrage.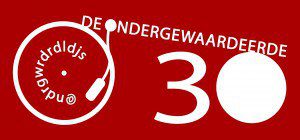 Schrijver van twee boeken en geen onbekende bij Ondergewaardeerde Liedjes (zie hier). Vlaams kleinkunstzanger, die in de jaren zeventig met zijn warme stem de luisteraar verwarmde als straatzanger en variété-artiest. Dankzij een televisieprogramma kreeg hij in 1987 nationale bekendheid en kon zijn eerste plaatje opnemen. De eretitel Koning van het Vlaamse Levenslied kwam hem ten deel.
Een man zonder hits, maar met een koffer vol fantastische liedjes en een gouden plaat voor zijn album Een Man Als Ik (2011). Een man met poëtische teksten over de zelfkant van het leven. Een man die – zeker in Nederland – zo ondergewaardeerd is, dat we overwegen hem als lijstduwer te vragen.
Het meest Ondergewaardeerde liedje aller tijden volgens Guido Belcanto: John Spencer – Johnny Vergeet Me Niet (1983)
Ik heb gekozen voor Johnny Vergeet Me Niet van de Hollandse zanger John Spencer, pseudoniem voor Henk van Broekhoven), een zanger uit Tilburg gezegend met een stem die hem uitermate geschikt maakt voor het vertolken van een dergelijke dramatische popsong.
Johnny Vergeet Me Niet is een cover van de Engelstalige song Johnny Remember Me dat in 1963 een nummer 1 hit werd in Engeland voor John Leyton, een zanger die hiermee zijn absolute hoogtepunt beleefde. Ik kwam het liedje op het spoor bij het zien van een documentaire over het turbulente en zeer dramatische leven van de Britse muziekproducer Joe Meek; een misbegrepen genie. De Phil Spector van de U.K.
Het liedje kan geplaatst worden in de categorie van de 'teenage-tragedy songs', die in die periode bij uitstek populair waren. Maar het nummer kreeg oorspronkelijk veel tegenwind en werd zelfs geboycot door de radiostations, omdat het te morbide geacht werd en daarom allesbehalve stichtend voor de opgroeiende jeugd. Het was pas toen Johny Leyton het zong in een populaire tv serie op de BBC, dat het nummer onder de aandacht kwam en zijn onstuitbare opmars naar de top kon beginnen…
Meteen toen ik het nummer leerde kennen werd ik er verliefd op en dacht  erover om een bewerking in het Nederlands te maken, het op mijn repertoire te zetten en uit te brengen op plaat. Onlangs nog maar ontdekte ik echter dat er al zo'n bewerking van bestaat, namelijk die van John Spencer. Ik neem aan dat Johnny Vergeet Me Niet nooit een grote hit is geweest en zeker niet in België, want anders had ik het ongetwijfeld wel gekend. Omdat dit fantastische nummer zo lang onder de radar (mijn radar wel te verstaan) is gebleven, nomineer ik het als mijn Ondergewaardeerd Lied nummer 1…….
Met plezier gedaan, en ik draag uw project een warm hart toe.
Guido Belcanto heeft Tracks Of My Tears van The Miracles verwijderd. Ik vind dat geen ondergewaardeerd liedje, want  ik hoor dat nog af en toe op de radio.
| | |
| --- | --- |
| 1966 | Jimi Hendrix Experience – Red House |
| 1966 | The Left Banke – Walk Away Renée |
| 1969 | Fairport Convention – Who Knows Where The Time Goes |
| 1969 | James Brown – Mother Popcorn |
| 1969 | The Aerovons – World Of You |
| 1971 | Fields – A Friend Of Mine |
| 1972 | Esther Phillips – From A Whisper To A Scream |
| 1974 | Maria Bethânia – A Felicidade |
| 1976 | Jerry Jeff Walker – Won't You Give Me One More Chance |
| 1976 | Rory Gallagher – Edged In Blue |
| 1978 | Ton van der Meer – Ik Ben Gebeten Door De Poolvos |
| 1979 | Neil Young & Crazy Horse – Powderfinger |
| 1983 | John Spencer – Johnny Vergeet me Niet |
| 1984 | Let's Active – Waters Part |
| 1985 | Waterboys – Medicine Bow |
| 1989 | Mano Negra – Mala Vida |
| 1989 | Tin Machine – Under The God |
| 1993 | Morphine – Thursday |
| 1993 | Wu Tang Clan – Wu-Tang Clan Ain't Nuthing Ta F' Wit |
| 1999 | New Radicals – Someday We'll Know |
| 1999 | Tommy Castro – Lucky In Love |
| 2003 | The Gathering – You Learn About it |
| 2004 | Iron & Wine – The Trapeze Swinger |
| 2005 | Antony & The Johnsons – Hope There's Someone |
| 2008 | Elbow – Weather To Fly |
| 2008 | LCD Soundsystem – Us Vs Them |
| 2011 | Sarah Siskind – Yellow And Blue |
| 2012 | Sukilove – Somehow Someday |
| 2013 | Sir Yes Sir – Smiling |
| 2014 | Opeth – Cusp Of Eternity |
De huidige Ondergewaardeerde 30 is samengesteld uit bijdragen van Anneke van Giersbergen, Bertolf, Ad Bouman, Peter van Capelle, Klaas Jan Dijkstra, Bob Fosko, Specs Hildebrand, Peter Koelewijn, Anne-Maarten van Heuvelen, Jiggy Djé, Michael de Jong, Frans Kraaikamp, Rowan Middelwijk, Anouk Paus, Dave von Raven, Tricky Dicky, Julian Sas, Rebecca Sier, Henk Temming, Hans Vandenburg, Reniet Vrieze en Jonas Winterland.