De 'Ondergewaardeerde 30' is onze non-hitlijst en wordt samengesteld door muzikanten. Liedjes die in hun oren nog steeds ondergewaardeerd zijn.
Elke twee weken is er een nieuwe bijdrage.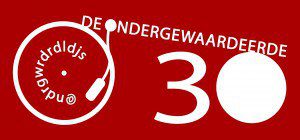 Wegens de overvolle agenda en een nieuw album moesten we geduld betrachten voor onze gast met zijn voorliefde voor nostalgie, met name uit de jaren zestig. Niet dat hij een veteraan is, maar voor zijn (vinyl) platenkast zoekt hij toch voornamelijk de pareltjes uit deze periode.
Humor is een essentieel onderdeel van zijn muziek, evenals de Nederlandse taal. Zijn samenwerking met protestzanger Armand leverde een uniek tijdsbeeld op, en een herwaardering van deze eeuwige hippie.
Een bijdrage uit Rotterdam: uit de tijd dat geluk heel gewoon was.
Het meest Ondergewaardeerde liedje aller tijden volgens Dave von Raven (The Kik): The Aerovons – World Of You (1969)
Ondergewaardeerde liedjes. Daar bestaat zo ongeveer mijn hele collectie uit. Duizenden nummers die stuk-voor-stuk in mijn eigen heilige hitparade staan, in willekeurige volgorde, die weer afhangt van de tijd van het jaar, of hoe m'n pet staat.
Terwijl ik dit schrijf weet ik dan ook nog niet welk lied ik kies. Ondergewaardeerde liedjes zijn vaak niet voor niets ondergewaardeerd, of in ieder geval zijn ze vaak met een reden geen hits geworden. Liedjes worden hits als iedereen ze leuk vind, of dat nou uit de mensen zelf komt, ze dat wordt opgedrongen, of ze ervan gaan houden door een combinatie van die twee.
Mijn voorliefde gaat in het geval van popmuziek vooral uit naar de jaren '60. Als je popmuziek net zo beschouwd als de Barok of de Romantiek kun je met zekerheid zeggen dat de jaren '60 het meest waardevolle hebben opgeleverd qua popmuziek. Er zijn weleens mensen die iets anders beweren, maar dat zijn meestal mensen waarvan je dan later pas ziet dat ze helemaal geen oren hebben.
Misschien wel het beste nederbeatnummer ooit staat op naam van Peter Koelewijn, met de band 4PK maakte hij in 1966 de single Down & Out. Uitstekend gespeeld, ijzersterke compositie, voor mij het summum op het gebied van oerpunk.  Ik snap best dat een nummer als dit de hitlijsten destijds niet haalde. Te hard. Ondergewaardeerd? Wereldwijd bestaat er een scene, die dit nummer hoog in hun hitparade hebben staan.
Daarom lijkt me ondergewaardeerd heel moeilijk toepasbaar op muziek. Het lijkt vaak zo te zijn, maar als je houvast moet hebben aan bijvoorbeeld de radio, dan is het leeuwendeel van alle schitterende, toffe, fijne, grandioze en tijdloze muziek ondergewaardeerd. Op de radio draaien ze 'lekkere' muziek, dat zeggen de deejays ook constant. Het nieuws, weer verkeer en 'lekkere muziek'. Ik heb nu ook de radio aan staan, simpelweg omdat ik even geen zin heb om muziek te luisteren. Maar goed. Je hebt natuurlijk van die nummers die exact in het plaatje passen van platen-kopende publiek, minstens net zo goed zijn als al het andere dat op dat moment in de hitparade staat, uitgevoerd worden door een artiest die voldoet aan het schoonheidsideaal, geproduceerd worden door een vooraanstaand producer, perfect meedeinen op de trend en tóch geen hits worden. Wel, het lijkt me dat je zo'n nummer bij uitstek ondergewaardeerd kunt noemen.
Een voorbeeld daarvan is het nummer World Of You van The Aerovons uit St. Louis, USA. De band werd uitgenodigd voor een auditie bij het gigantische Capitol Records. Een deal leek onvermijdelijk totdat de band werd uitgenodigd door niemand minder dan The Beatles om in Engeland een plaat op te komen nemen voor Decca of EMI en dus hielden The Aerovons de boot af bij Capitol. Vlak nadat de band besloot de grote oversteek te maken, kapte gitarist Bob Frank ermee, iets wat bij de anderen insloeg als een bom. Eenmaal in Engeland werd werkelijk alles uit de kast getrokken om het project te laten slagen. De Abbey Road studio werd afgehuurd en de beste technici werden ingezet; engineer Geoff Emerick (o.a. The Beatles), producer Norman Smith (o.a. Pink Floyd, The Beatles) en niemand minder dan producer Alan Parsons, die mijns inziens geen verdere introductie meer behoeft. Na het opnemen van -wat mij betreft- een klein meesterwerk, keerde de groep terug naar St. Louis alwaar één van de bandleden problemen kreeg in familiekringen. Na het vertrek van Bob Frank, was het verlies van nóg een gitarist en té grote aderlating en werd de band opgeheven. EMI besloot de plaat niet uit te brengen en bleef tientallen jaren op de plank liggen.
Halverwege de jaren '90 kwamen er zo nu en dan bootlegs uit met de opnames. Destijds werd gedacht dat het om een namaakband zou gaan die een mooi verhaal bedacht hadden om de platen te slijten, maar uiteindelijk werd de plaat in 2003 officieel uitgebracht door RPM Records, die het verhaal bevestigden. World Of You doet denken aan het werk Paul McCartney en aan de vroege Bee Gees. De hele plaat (Resurrection) is de moeite waard overigens en is inmiddels te beluisteren op Spotify.
Dave von Raven heeft All Them Witches uit de lijst verwijderd.
| | |
| --- | --- |
| Release | Artiest en Titel |
| 1965 | The Miracles – The Tracks Of My Tears |
| 1966 | Jimi Hendrix Experience – Red House |
| 1966 | The Left Banke – Walk Away Renée |
| 1967 | Stevie Wonder – I Was Made To Love Her |
| 1969 | Fairport Convention – Who Knows Where The Time Goes |
| 1969 | James Brown – Mother Popcorn |
| 1969 | The Aerovons – World Of You |
| 1971 | Fields – A Friend Of Mine |
| 1972 | Esther Phillips – From A Whisper To A Scream |
| 1976 | Jerry Jeff Walker – Won't You Give Me One More Chance |
| 1976 | Rory Gallagher – Edged In Blue |
| 1978 | Ton van der Meer – Ik Ben Gebeten Door De Poolvos |
| 1979 | Neil Young & Crazy Horse – Powderfinger |
| 1984 | Let's Active – Waters Part |
| 1985 | Waterboys – Medicine Bow |
| 1989 | Mano Negra – Mala Vida |
| 1989 | Tin Machine – Under The God |
| 1993 | Morphine – Thursday |
| 1993 | Wu Tang Clan – Wu-Tang Clan Ain't Nuthing Ta F' Wit |
| 1999 | New Radicals – Someday We'll Know |
| 1999 | Tommy Castro – Lucky In Love |
| 2003 | The Gathering – You Learn About it |
| 2004 | Iron & Wine – The Trapeze Swinger |
| 2005 | Antony & The Johnsons – Hope There's Someone |
| 2008 | Elbow – Weather To Fly |
| 2008 | LCD Soundsystem – Us Vs Them |
| 2011 | Sarah Siskind – Yellow And Blue |
| 2012 | Sukilove – Somehow Someday |
| 2013 | Sir Yes Sir – Smiling |
| 2014 | Opeth – Cusp Of Eternity |
De huidige Ondergewaardeerde 30 is samengesteld uit bijdragen van Anneke van Giersbergen, Bertolf, Ad Bouman, Peter van Capelle, Klaas Jan Dijkstra, Bob Fosko, Specs Hildebrand, Peter Koelewijn, Anne-Maarten van Heuvelen, Martijn Janssen,Jiggy Djé, Michael de Jong, Frans Kraaikamp, Rowan Middelwijk, Anouk Paus, Dave von Raven, Tricky Dicky, Julian Sas, Rebecca Sier, Hans Vandenburg, Reniet Vrieze en Jonas Winterland.