De 'Ondergewaardeerde 30' is onze eigen non-hitlijst met liedjes, die het aller-, allermeest ondergewaardeerd zijn.
Elke twee weken draagt een gastschrijver een nieuw lied aan.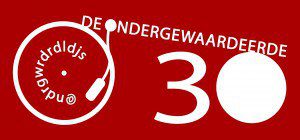 Normaliter hebben we een kort intro en dan het verhaal van de gastschrijver, maar tsjongejonge…wat zijn we trots dat de 'Meester' zijn meest ondergewaardeerde plaat ooit hier uit de doeken gaat doen.
Oudere jongeren herinneren zich de zeezender en radiopiraat Veronica; hét geluid van AM-radio van de jaren zestig tot en met 1974; 's avonds met de transistorradio onder het kussen om vooral niets te missen. Eén van dé programma's was Lexjo met de Adje Bouman Top Tien; een bonte verzameling van geluiden, elpee-tracks (of de hele elpee) en liedjes die de hitlijsten nooit zouden halen. Onbedoeld werden sommige noteringen juist wel hits door zijn vermelding.
Feitelijk is Ad Bouman de 'oervader' van de non-lijsten, zoals de Ondergewaardeerde 30. Nu heeft hij wel meer kunstjes op zijn kerfstok, want hij was persoonlijk verantwoordelijk dat Iron Butterfly's In-A-Gadda-Da-Vida een hit in Nederland werd door de schaar in het 17 minuten durende nummer te zetten en een edit te produceren van iets meer dan 4 minuten. Hetzelfde deed hij ook met Deep Purple's Child In Time.
Dames en heren….
Het meest Ondergewaardeerde liedje aller tijden volgens Ad Bouman: Fields – A Friend Of Mine (1971)
Goh, wat lastig.
Ik bedoel, ik heb wel een paar nummers per decennia. Maar het gaat om één nummer. Begrijp ik, anders zijn de lijsten meteen 'weg'. Ja, dan is Fields toch wel een juiste keus.
Even waarom dan; toen ik dit nummer voor het eerst opzette, dwong het intro je al meteen om het niet af te zetten. Ongekend spannend met als eerste zin:
You Were Once A Friend Of Mine.
Kippenvel!
Verschillende keren uitgebracht (één met ingekort intro; nog steeds spijt dat ik mij door de platenmaatschappij liet omlullen), maar helaas geen hit. Alhoewel… juist daarom voor mij een 100% ondergewaardeerd liedje.
Joni Mitchell – A Case Of You mag eruit.
Periode

Artiest en Titel

Release

jaar

(x) weken genoteerd

<70's

The Miracles – The Track Of My Tears

1965

20

Jimi Hendrix Experience – Red House

1966

20

Stevie Wonder – I Was Made To Love Her

1967

20

Fairport Convention – Who Knows Where The Time Goes

1969

6

James Brown – Mother Popcorn

1969

20

70's

Fields – A Friend Of Mine

1971

0

Genesis – Supper's Ready

1972

20

Nick Drake – From The Morning

1972

20

David Bowie – Wild Is The Wind

1976

20

Chris Bell – I Am The Cosmos

1978

14

80's

Tuxedomoon – In A Matter Of Speaking

1985

20

Waterboys – Medicine Bow

1985

20

Prince – Condition Of The Hearth

1985

20

Mano Negra – Mala Vida

1989

20

Tin Machine – Under The God

1989

20

90's

Wu Tang Clan – Wu-Tang Clan Ain't Nuthing Ta F' Wit

1993

2

DeUS – Mute

1994

20

Bjork – Hyper-ballad

1995

18

Jeff Buckley – Everybody Where Wants You

1998

20

Tommy Castro – Lucky In Love

1999

10

0's

The Prayer Boat – Dead Flowers

2001

20

Paul McCartney – Jenny Wren

2005

8

Ron Sexsmith – Reason For Our Love

2006

20

LCD Soundsystem – Us Vs Them

2008

20

Elbow – Weather To Fly

2008

20

>10's

Sarah Siskind – Yellow And Blue

2011

20

Sukilove – Somehow Someday

2012

20

Woodkid – Run Boy Run

2012

20

Sir Yes Sir – Smiling

2013

20

All Them Witches – The Death Of Coyote Woman

2014

4