De 'Ondergewaardeerde 30' is onze eigen non-hitlijst met liedjes, die het aller-, allermeest ondergewaardeerd zijn.
Elke twee weken draagt een gastschrijver een nieuw lied aan.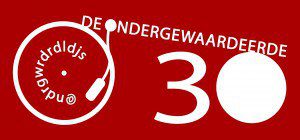 Heerlijk die zomer. En hij wordt nog mooier nu er weer een nieuw liedje aan de Ondergewaardeerde 30 wordt toegevoegd. Twee weken terug vertelde Marèse Peters over haar liefde voor ondergewaardeerde liedje: Hyperballed van Bjork. Dit keer hebben we een gast die schrijft voor online muziekmagazine Damusic en Mania en ook een eigen weblog Carpoolparty heeft met als thema het oor wil ook wat: Max Majorana!
Het meest ondergewaardeerde liedje aller tijden volgens Max Majorana: Guided By Voices – Useless Inventions (2003)
Guided By Voices; ik leerde ze op 14-jarige leeftijd kennen in de hausse die The Strokes veroorzaakten met hun alom bewierookte debuut. Robert Pollard en consorten figureerden in de videoclip van Someday namelijk als antagonisten; in de cameo gaan ze totaal roemloos ten onder na een potje 5 tegen 5. Als je frontman Pollard 'vrouwenkleding' hoort antwoorden op de vraag 'Wat zou een moeder niet willen vinden onder het bed van haar puberende zoon?', bekruipt je onmiddellijk een gevoel van plaatsvervangende schaamte. Ik begreep meteen: dit is een geniale lone wolf. Later kwam ik er achter dat hij ook basisschoolleraar was en wel van een biertje houdt.
Tekenend voor Guided By Voices uit Ohio is dat hun muziek altijd langs de meetlat zal blijven worden gelegd van die twee iconische albums Bee Thousand (1994) en Alien Lanes (1995). Ja, natuurlijk waren dat grensverleggende platen, volledig volgestouwd met grillige, ruwe poppareltjes die 20 jaar later nog niets aan kracht hebben ingeboet. Platen die er in de slipstream van grunge hoogstpersoonlijk voor zorgden dat gammele lo-fi opnametechnieken weer esthetisch werden.
Maar dat is slechts één kant van het verhaal. Robert Pollard is tegelijkertijd één van de meest productieve songwriters ter wereld, die tussen 1986 en 2014 pakweg 30 albums uitbracht onder Guided By Voices – nog los van de talrijke soloplaten en aliassen die hij er in de loop der tijd op na hield. En dan sneeuwt de kwaliteit van een enkel werk wel eens onder door de kwantiteit van het oeuvre.
Neem Useless Inventions – feed on a stroke of brilliance sometimes. Het nummer staat op Earthquake Glue en dat was, tussen Universal Truths & Cycles (2002) en Half Smiles Of The Decomposed (2004), zowaar het enige album dat de band in 2003 uitgaf. Het stamt uit de hi-fi-periode op het gerenommeerde indielabel Matador (daarna ging de band voor 8 jaar uit elkaar) en is op fatsoenlijke, dure apparatuur opgenomen. Nu niet afhaken.
These time's useless inventions,
Satisfy inquiring minds,
What about a piece of pretention,

In production ugly schemes,
Realize the world of quick fix dreams.
Come on and purchase the new one,
Be the first to strap it on.
Lose antiquated fixations,
That you cannot be without.
For a nice try change this model out.
Guided By Voices doe je echt tekort door alleen maar naar de vorm – de verslavende ruis – te luisteren. Wat een slimme, tijdloze, pakkende liedjes kan Pollard toch schrijven! En met wat een gemak gaat hem dat op Earthquake Glue af. Useless Inventions is een rechttoe-rechtaan, maar daarom nog niet minder doeltreffende aanval op de iPod en aanverwanten. Want ook dát gebeurde er in 2001 in Amerika.
De band kwam in 2012 weer bij elkaar, en dat leverde weliswaar 4,5 (op 6) goede platen op, maar had geen lang leven beschoren; in 2015 was alles weer voorbij. Maar vertrouw me, het is slechts een kwestie van tijd voor we weer iets van Bob Pollard horen. Tot die tijd is het zaak om nog eens te grasduinen door zijn honderden tamelijk ondergewaardeerde, in elk geval onterecht bij voorbaat onderbelichte liedjes.
De Ondergewaardeerde 30 lijst
Periode

Artiest en Titel

Release

jaar

Aantal weken genoteerd

<70's

Billie Holiday – Lover Man

1941

4

The Miracles – The Track Of My Tears

1965

4

Jimi Hendrix Experience – Red House

1966

4

Stevie Wonder – I Was Made To Love Her

1967

4

James Brown – Mother Popcorn

1969

4

70's

Led Zeppelin – Immigrant Song

1970

4

Joni Mitchell – A Case Of You

1971

4

Genesis – Supper's Ready

1972

4

Nick Drake – From The Morning

1972

4

David Bowie – Wild Is The Wind

1976

4

80's

Tuxedomoon – In A Matter Of Speaking

1985

4

Waterboys – Medicine Bow

1985

4

Prince – Condition Of The Hearth

1985

4

Mano Negra – Mala Vida

1989

4

Tin Machine – Under The God

1989

4

90's

Aphex Twin – On

1993

4

DeUS – Mute

1994

4

Bjork – Hyper-ballad

1995

2

Soundgarden – Burden In My Hand

1996

4

Jeff Buckley – Everybody Where Wants You

1998

4

0's

The Prayer Boat – Dead Flowers

2001

4

Guided By Voices – Useless Inventions

2003

0

Ron Sexsmith – Reason For Our Love

2006

4

LCD Soundsystem – Us Vs Them

2008

4

Elbow – Weather To Fly

2008

4

>10's

Sarah Siskind – Yellow And Blue

2011

4

Frank Ocean – Bad Religion

2012

4

Sukilove – Somehow Someday

2012

4

Woodkid – Run Boy Run

2012

4

Sir Yes Sir – Smiling

2013

4