De 'Ondergewaardeerde 30' is onze eigen non-hitlijst met liedjes, die het aller-, allermeest ondergewaardeerd zijn.
Elke twee weken draagt een gastschrijver een nieuw lied aan.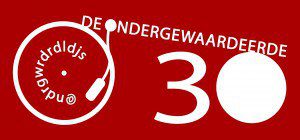 Twee weken geleden vertelde Martijn Janssen over zijn meest ondergewaardeerde liedje: The Tracks Of My Tears van The Miracles. Daarmee opende hij de Ondergewaardeerde 30 lijst nieuwe stijl. Deze keer draagt onze blogger Marèse Peters een liedje aan en schrapt ze – met enige pijn in het hart – My Brain's Down van Nilsson uit de lijst.
Het meest ondergewaardeerde liedje aller tijden volgens Marèse Peters: Björk – Hyperballad (1995)
De IJslandse Björk is een fascinerende en unieke muzikante: haar stemgeluid is scherp genoeg om glas mee te snijden en haar soms wonderlijke uitspraak van de Engelse taal doet daar een exotisch schepje bovenop. Haar ongenadig artistieke inslag zie je terug in haar extreme outfits, het artwork van al haar albums en haar bijzondere videoclips (kijk maar eens naar deze of deze). Alles is van betekenis in het universum van Björk.
En dan hebben we het nog niet eens over haar muziek: een avantgardistische mix van de meest uiteenlopende stijlen. Industrial, pop, triphop, big band, klassiek… Björk heeft lak aan hokjes en etiketten en maakt gewoon wat ze zelf mooi vindt. Een buitenbeentje in het muzikale landschap? Zeker. Maar wel een geniaal buitenbeentje.
Hyper-ballad komt van het album Post uit 1995, haar tweede soloalbum. Haar eersteling Debut (1993) is al ijzersterk, maar Post is rijker, emotioneler, volwassener. In nummers als The Modern Things en Hyperballad neemt ze je mee naar surreële werelden die grappig, maar ook bedreigend kunnen zijn.
In Hyperballad, een subtiel elektronisch meesterwerkje, zingt ze:
We live on a mountain
Right at the top
There's a beautiful view from the top of the mountain
Every morning I walk towards the edge and throw little things off
Like car parts, bottles and cutlery
Or whatever I find lying around
Onschuldig, denk je nog. Maar dan, na een refrein dat je hart doet openbloeien als een roos, komt het volgende couplet:
It's real early morning
No-one is awake
I'm back at my cliff
Still throwing things off
I listen to the sounds they make on their way down
I follow with my eyes 'til they crash
I imagine what my body would sound like
Slamming against those rocks
And when it lands
Will my eyes be closed or open?
Oef.
https://www.youtube.com/watch?v=D0Pv-UkoRC4
De Ondergewaardeerde 30 lijst
Periode

Artiest en Titel

Release jaar

Aantal weken genoteerd

<70's

Billie Holiday – Lover Man

1941

2

The Miracles – The Track Of My Tears

1965

2

Jimi Hendrix Experience – Red House

1966

2

Stevie Wonder – I Was Made To Love Her

1967

2

James Brown – Mother Popcorn

1969

2

70's

Led Zeppelin – Immigrant Song

1970

2

Joni Mitchell – A Case Of You

1971

2

Genesis – Supper's Ready

1972

2

Nick Drake – From The Morning

1972

2

David Bowie – Wild Is The Wind

1976

2

80's

Tuxedomoon – In A Matter Of Speaking

1985

2

Waterboys – Medicine Bow

1985

2

Prince – Condition Of The Hearth

1985

2

Mano Negra – Mala Vida

1989

2

Tin Machine – Under The God

1989

2

90's

Aphex Twin – On

1993

2

dEUS – Mute

1994

2

Björk – Hyperballad

1995

0

Soundgarden – Burden In My Hand

1996

2

Jeff Buckley – Everybody Where Wants You

1998

2

00's

The Prayer Boat – Dead Flowers

2001

2

Ian Siegal – Sugar Rush

2004

2

Ron Sexsmith – Reason For Our Love

2006

2

LCD Soundsystem – Us Vs Them

2008

2

Elbow – Weather To Fly

2008

2

>10's

Sarah Siskind – Yellow And Blue

2011

2

Frank Ocean – Bad Religion

2012

2

Sukilove – Somehow Someday

2012

2

Woodkid – Run Boy Run

2012

2

Sir Yes Sir – Smiling

2013

2