Door de zomervakanties heeft onze (non)hitlijst even stilgestaan. Nu is het de hoogste tijd voor een verse Ondergewaardeerde 30 lijst.
Volgens vertrouwd recept hebben we een gastsamensteller die een nieuwe nummer 1 aan de lijst toevoegt. Deze keer hebben we een dame met een stevige muzieksmaak. Een muziekliefhebster met een uitgebreide muziekkast die als redactieondersteuner voor KXradio schrijft: Anouk Paus!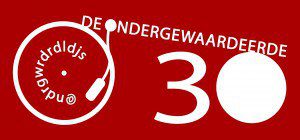 Het meest Ondergewaardeerde liedje aller tijden volgens Anouk Paus: Sir Yes Sir – Smiling
Anouk: Ik heb een voorliefde voor (bijna) alles wat uit België komt dus ja, ook voor muziek. Op de een of andere manier trekt de muzikale kunst van onze zuiderburen me veel meer aan dan die van eigen bodem. Voor de Ondergewaardeerde 30 lever ik dan ook een 'Belgische bijdrage'. Hoewel.. De band van mijn keuze heeft stiekem toch een beetje Nederlands bloed.
De Antwerpse rockband Sir Yes Sir is het geesteskind van zanger/gitarist Tijs Delbeke, die eerder samenwerkte met onder meer dEUS, Dez Mona en Mauro Pawlowski. Voorafgegaan door een tweetal singles kwam in februari 2013 het debuutalbum We Should Talk uit, dat behoorlijk wat aandacht genereerde. De band kreeg voor uitkomst van de plaat al het beroemde minuutje faam bij DWDD en mocht op audiëntie bij Giel. Er volgde een BeNe-clubtour en het vijftal speelde op zowel Lowlands als Pukkelpop. Maar welverdiende fikse airplay in ons kikkerlandje? Nope.
'Smiling', een van de latere singles, geniet mijn voorkeur boven alle andere tracks op het sterke debuut We Should Talk. De herhalende, scheurende gitaarriffs gevolgd door onheilspellende synths, bas, drums en tenorsax (!) grijpen me direct. Voeg daar het hese, kreunende stemgeluid – dat me bij vlagen doet denken aan Nine Inch Nails' Trent Reznor – van Delbeke aan toe en ik word niet meer losgelaten. Verrassend fijne tempowisselingen maken de track onvoorspelbaar en het geheel is smerig lekker te noemen.
Zeer straf!
Overige verschuivingen in de lijst
De drie – door jullie gekozen – nieuwe instromers in de lijst zijn: U2 – Tomorrow (5), Edge & Sinead O'Connor – Heroine (15) en Ben Harper & Jack Johnson – High Tide Or Low Tide (25). De redactie heeft nog twee nieuwe nummers toegevoegd: Alice in Chains – Rooster (10) en The Black Angels – Holland (20).
De lijst van 5 september 2014
Eerstvolgende editie: 03 oktober 2014
Je kunt onderaan de pagina weer stemmen voor de drie nieuwe liedjes, die over ruim een maand de Ondergewaardeerde 30 lijst binnenkomen. De nummers zijn allemaal suggesties die door jullie zijn ingebracht. De drie liedjes waar de meeste stemmen op binnenkomen nemen we op in de lijst. Blijf ons vooral suggesties doorgeven (graag wel nummers die in Spotify staan). Je kunt de nummering van de lijst makkelijk aanpassen, waarna de lijst in de volgorde komt zoals jij deze graag wilt zien.
Veel (luister)plezier!
De redactie van de Ondergewaardeerde 30: Martijn Vet, Ton van Hoof, Frans Kraaikamp en Freek Janssen
Foto Anouk Paus (archief Anouk)