Zijn wíj even trots. Zoals we twee weken geleden al aankondigden, gaan we voor de Ondergewaardeerde 30 werken met gastsamenstellers. De nummer 1 van onze non-hitlijst wordt dus steeds door een nieuwe gastsamensteller gekozen. Als redactie zijn we zeer in ons element dat Marike ons deze prachtige nieuwe nummer 1 cadeau heeft gedaan: Reason For Our Love van Ron Sexsmith.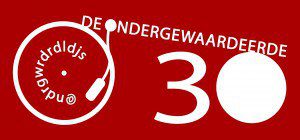 Het meest Ondergewaardeerde liedje aller tijden volgens Marike Jager: Ron Sexsmith – Reason For Our Love
Marike: Ik breek een lans voor Ron Sexsmith. Zo'n typische singer/songwriter die niemand kent, maar die iedereen die van mooie liedjes houdt zou moeten kennen! Er hangt een soort tragiek rondom zijn persoon als artiest, hij is zich er ook van bewust. Al jaren maakt hij prachtige albums met een hele hoop mooie liedjes, maar hij komt er maar niet doorheen. Het grote publiek leert hem niet kennen.
En zo gaat het met vele artiesten natuurlijk.. Maar complimentjes krijgt hij wel, van Sir Paul McCartney bijvoorbeeld. En zijn liedjes worden graag gezongen, door bijvoorbeeld: Katie Melua, Michael Bublé en Leslie Feist. Maar dan weet weer niemand dat het liedje van Ron's hand afkomstig is. Ron is een zeer ambachtelijk schrijver, maar hij schrijft ook vanuit zijn hart en zo hoor je ze zelden. Dit is een van mijn favorieten: Reason For Our Love!
Overige verschuivingen in de lijst
Er is weer flink gestemd op de drie nieuwe binnenkomers! De uitslag: Spearhead – People In Tha Middle is de hoogste binnenkomer op positie 5. Ook Beastie Boys – Get It Together (15) en Alabama 3 – Woke Up This Morning (25) staan nu in de lijst. De redactie heeft ook nog twee nieuwe nummers aan de lijst toegevoegd: Bill Withers – Hope She 'll Be Happier (10) en The Jesus And Mary Chain – Sometimes Always (20).
Daarnaast is behoorlijk gebruikgemaakt van het lijst-schuifsysteem. Hiermee hebben jullie rechtstreeks invloed gekregen op de positie van alle 30 nummers binnen de lijst! Hierdoor is de lijst flink door elkaar geschud. Er is met name flink gestemd op The Unforgettable Fire van U2, Pink Moon van Nick Drake en Unfinished Sympathy van Massive Attack.
De lijst van 2 mei 2014
Eerstvolgende editie: 16 mei 2014
Je kunt onderaan de pagina weer stemmen voor de drie nieuwe liedjes, die over twee weken De Ondergewaardeerde 30 lijst binnenkomen. De nummers zijn allemaal suggesties die door jullie zijn ingebracht. De 3 liedjes waar de meeste stemmen op binnenkomen nemen we op in de lijst. Blijf ons vooral suggesties doorgeven (graag wel nummers die in Spotify staan). En vergeet niet het lijst-schuifsysteem te gebruiken!
Veel (luister)plezier!
De redactie van de Ondergewaardeerde 30: Martijn Vet, Ton van Hoof, Frans Kraaikamp en Freek Janssen
Afbeelding Marike Jager: Gert Jan Kole op Flickr (via Creativecommons)