De 'Ondergewaardeerde 30' is onze non-hitlijst en wordt samengesteld door muzikanten en DJ's. Liedjes die in hun oren nog steeds ondergewaardeerd zijn.
Elke twee weken is er een nieuwe bijdrage.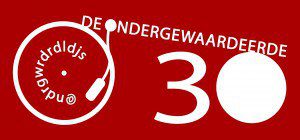 De gastauteur van vandaag is een man met vele talenten: muzikant, liedjesschrijver en auteur. Sinds 1997 verschenen er veertien zeer eigenzinnige en goed ontvangen cd's van zijn hand. Meindert Talma speelde solo en met begeleidingsbands, waaronder The Negroes. Sinds medio 2016 treedt Talma weer op met een vaste band, onder meer vanwege het verschijnen van het album Jannes van der Wal. Met deze ballade en 20 Jaar Muzikale Fruitmand staat hij bovendien in de Snob 2000 genoteerd.
Het meest Ondergewaardeerde liedje aller tijden volgens Meindert Talma: Leonard Cohen – Sisters Of Mercy (1967)
Wetenschappers voorspelden de afgelopen maanden dat we de koudste winter in 100 jaar voor de boeg hebben. Daarom kies ik voor een van de mooiste wintersongs ooit die relatief onbekend is gebleven, in de zin dat ie nooit in de Top 2000 stond en ook nooit wordt gedraaid op de radio.
De eerste keer dat ik Sisters Of Mercy hoorde was op de VPRO-radio toen de bandleden van Sonic Youth tijdens het uitkomen van Evol (1986) hun favoriete liedjes lieten horen, die ik allemaal op cassettebandje opnam. Behalve dat ene liedje van The Carpenters. Vlak daarna hoorde ik op televisie het liedje nog een keer in de film McCabe & Mrs. Miller van Robert Altman; ook de beelden uit onderstaande videoclip.
Het lied heeft door de raadselachtige tekst, de mooie melodie, de typische Cohenzang en de mooi opgebouwde instrumentatie een prachtige sfeer, en heeft ook een bijzondere ontstaansgeschiedenis. Cohen schreef het als een ode aan twee meisjes waarmee hij een hotelkamer had gedeeld tijdens een sneeuwstorm in Edmonton, Canada.
De singer-songwriter extraordinaire hierover: That's the only song I wrote in one sitting. The melody I had worked on for some time. I didn't really know what the song was. I remember that my mother had liked it. Then I was in Edmonton, which is one of our largest northern cities, and there was a snowstorm and I found myself in a vestibule with two young hitchhiking women who didn't have a place to stay. I invited them back to my little hotel room and there was a big double bed and they went to sleep in it immediately. They were exhausted by the storm and cold. And I sat in this stuffed chair inside the window beside the Saskatchewan River. And while they were sleeping I wrote the lyrics. And that never happened to me before. And I think it must be wonderful to be that kind of writer. It must be wonderful. Because I just wrote the lines with a few revisions and when they awakened I sang it to them. And it has never happened to me like that before. Or since.
Uit de lijst: Voodoo Child
| | |
| --- | --- |
| Release | Artiest en Titel |
| 1946 | Louis Jordan – Ain't That Just Like a Woman (They'll Do It Every Time) |
| 1966 | The Left Banke – Walk Away Renée |
| 1967 | Leonard Cohen – Sisters Of Mercy |
| 1967 | Q65 – From Above |
| 1976 | Jerry Jeff Walker – Won't You Give Me One More Chance |
| 1976 | Rory Gallagher – Edged In Blue |
| 1978 | Andrew Gold – Still You Linger On |
| 1978 | Breeze – It's Only A Matter Of Time |
| 1981 | Frank Zappa – Tinsel Town Rebellion |
| 1984 | Let's Active – Waters Part |
| 1986 | The Feelies – Slipping (Into Something) |
| 1986 | Fatal Flowers – Younger Days |
| 1991 | Toad The Wet Sprocket – All I Want |
| 1992 | The Saw Doctors – Never Mind The Strangers |
| 1993 | Morphine – Thursday |
| 1999 | Chuck Prophet – I Couldn't Be Happier |
| 1999 | Jason Falkner – Holiday |
| 2001 | Hedwig & The Angry Inch – The Origin of Love |
| 2001 | Stuurbaard Bakkebaard – Lied Van De Meeuwen |
| 2003 | Yo La Tengo – Today Is The Day |
| 2004 | Iron & Wine – The Trapeze Swinger |
| 2006 | Dixie Chicks – Not Ready To Make Nice |
| 2008 | Jim O'Rourke – Pictures Of Adolf Again |
| 2009 | Micachu & The Shapes – Curly Teeth |
| 2006 | Tim Minchin – Prejudice |
| 2011 | Sarah Siskind – Yellow And Blue |
| 2014 | The Big Hunger – Ways To Waste Time |
| 2015 | Blue Stahli – Not Over Til We Say So |
| 2015 | Flying Horseman – Brother |
| 2017 | Frenzal Rhomb – I'm Shelving Stacks (As I'm Stacking Shelves) |
De huidige Ondergewaardeerde 30 is samengesteld uit bijdragen van Robin Assen, Una Bergin, Bertolf, Pip Blom, De Kift, Sander Evers, Marinus de Goederen, Annelotte de Graaf, Joep Gudde, Kevin de Harde, Hugo Heinen, Lenny Helsing, Anne-Maarten van Heuvelen, Specs Hildebrand, Frank de Jonge, Peter Koelewijn, Rick de Leeuw, Maceál, Paul de Munnik, Michiel Papenhove, Aafke Romeijn, Julian Sas, Arjan Snijders, Robby Valentine, Joop van Nimwegen, Hans Vandenburg, Michiel Veenstra, Rob Vunderink en Jonas Winterland.