De 'Ondergewaardeerde 30' is onze non-hitlijst en wordt samengesteld door muzikanten. Liedjes die in hun oren nog steeds ondergewaardeerd zijn.
Elke twee weken is er een nieuwe bijdrage.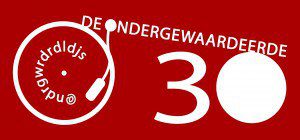 Onze gast is de auteur van popboeken over onder andere Epica: the road to Paradiso, 25 Jaar Westerpop: parel in de Delftse muziekgeschiedenis, Groeten uit Grollo én Prince: The Dutch Experience, dat eveneens op de officiële Prince-expositie My name is Prince (t/m 8 juni) door de organisatie uitgekozen is om, te midden van Prince' persoonlijke bezittingen, gedurende de expo aangeboden te worden.
Maar we vergeten bijna het belangrijkste….hij blogt ook voor Ondergewaardeerde Liedjes.
Het meest Ondergewaardeerde liedje aller tijden volgens Edgar Kruize: Sisters Of Mercy – This Corrosion (1987)
In het lijstje iconische bands uit de jaren tachtig zie je zelden The Sisters of Mercy terugkomen. En dat is opvallend, want het immer van bezetting wisselende vehikel voor de nummers van frontman Andrew Eldritch hebben destijds een enorme invloed gehad. Al is het maar omdat The Sisters Of Mercy muzikaal enorm grenzen aan het aftasten is geweest. Zelfs hier op Ondergewaardeerde Liedjes zie je ze weinig terug. Dus ook 'ondergewaardeerd ondergewaardeerd'.
De band had geen drummer, ze werkten met een drummachine die als bandlid was ingelijfd. Deze 'Doktor Avalanche' drukte een sonisch stempel op het werk op debuutalbum First And Last And Always uit 1985. In 1986 verlaten bassist Craig Adams en gitarist Wayne Hussey de band. Ze kunnen zich niet vinden in de muzikale richting die Andrew Eldritch uit wil. I always wanted to do something different, because whatever we did it all eventually sounded the same, zo zei hij daar over. I wanted to find out how to record songs without any rock structures and especially without guitars. Adams en Hussey zijn eigenlijk voornemens om zonder Eldritch als The Sisters Of Mercy door te gaan. Vond de frontman niet leuk en toen hij hoorde dat ze dus maar de naam The Sisterhood zouden gaan gebruiken, ging hij solo snel onder die naam aan de slag.
Uiteindelijk werd door Adams en Hussey de band The Mission opgericht, vernoemd naar de werktitel van het The Sisters Of Mercy-album dat er nooit kwam; Left On Mission And Revenge. Voor het volgende album Floodland weekte Eldritch bassiste Patricia Morrison los van Gun Club. Het blijkt een gouden greep om het geluid van de band te laten evolueren. Morrisons vocalen geven het geluid van The Sisters Of Mercy meer glam mee, iets ordinairs dat aanstekelijk werkt. Het intrigeerde mij enorm als jong ventje. Single This Corrosion is een steek onder water naar met name voormalig bandmaatje Wayne Hussey. De tekst is opzettelijk slecht (veel 'hey nows') omdat hij vindt dat het werk van Hussey een aaneenschakeling van clichés is.
Onderwijl moest het nummer grootser dan ooit worden en daarvoor is de hulp van Meatloaf-producer Jim Steinman ingeroepen. Een 40 man tellend koor zorgt voor de galmende begeleiding. Als een beukende bulldozer dendert de track je speakers uit en nergens wordt het subtiel. Zelfs niet in de lengte, This Corrosion duurt bijna 11 minuten op het album. De singleversie is beter te behappen. Maar verdorie, wát een track. Laat ik die nu eens als ongeleid projectiel los in de Ondergewaardeerde 30 in om te zien welke slachtoffers het maakt. Ah, ik zie het eerste slachtoffer al. Daar gaat Johan Timman, hij keek niet genoeg uit…
Uit: Johan Timman – Look Out For The Killer, dus.
| | |
| --- | --- |
| Release | Artiest en Titel |
| 1966 | The Left Banke – Walk Away Renée |
| 1967 | Q65 – From Above |
| 1971 | Little Richard – Green Power |
| 1972 | Esther Phillips – From A Whisper To A Scream |
| 1974 | Maria Bethânia – A Felicidade |
| 1976 | Jerry Jeff Walker – Won't You Give Me One More Chance |
| 1976 | Rory Gallagher – Edged In Blue |
| 1978 | Breeze – It's Only A Matter Of Time |
| 1981 | Frank Zappa – Tinsel Town Rebellion |
| 1983 | De Div – 4 |
| 1984 | Let's Active – Waters Part |
| 1986 | Fatal Flowers – Younger Days |
| 1987 | The Sisters Of Mercy – This Corrosion |
| 1992 | The Saw Doctors – Never Mind The Strangers |
| 1993 | Morphine – Thursday |
| 1999 | De Kift – Bierflessengroen |
| 1999 | Chuck Prophet – I Couldn't Be Happier |
| 1999 | Jason Falkner – Holiday |
| 2001 | Hedwig & The Angry Inch – The Origin of Love |
| 2003 | Yo La Tengo – Today Is The Day |
| 2004 | Iron & Wine – The Trapeze Swinger |
| 2006 | Dixie Chicks – Not Ready To Make Nice |
| 2006 | Cuban Heels – Work Me Baby |
| 2008 | Jim O'Rourke – Pictures Of Adolf Again (2008) |
| 2009 | Micachu & The Shapes – Curly Teeth |
| 2011 | Sarah Siskind – Yellow And Blue |
| 2012 | Sukilove – Somehow Someday |
| 2013 | Sir Yes Sir – Smiling |
| 2014 | Opeth – Cusp Of Eternity |
| 2014 | The Big Hunger – Ways To Waste Time |
De huidige Ondergewaardeerde 30 is samengesteld uit bijdragen van Arthur Akkermans, Una Bergin, Bertolf, Pip Blom, Sander Evers, Anneke van Giersbergen, Marinus de Goederen, Annelotte de Graaf, Lenny Helsing, Anne-Maarten van Heuvelen, Specs Hildebrand, Michael de Jong, Peter Koelewijn, Henk Koorn, Rick de Leeuw, Maceál, Paul de Munnik, Anouk Paus, Aafke Romeijn, Julian Sas, Ian Siegal, Rebecca Sier, Arjan Snijders, Henk Temming, Robby Valentine, Hans Vandenburg, Rob Vunderink, Petra de Winter en Jonas Winterland.