De 'Ondergewaardeerde 30' is onze non-hitlijst en wordt samengesteld door muzikanten. Liedjes die in hun oren nog steeds ondergewaardeerd zijn.
Elke twee weken is er een nieuwe bijdrage.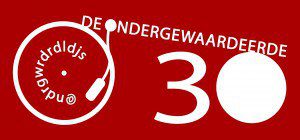 Vandaag een keuze van een muzikant met een verbondenheid met androgene mensen, zoals Mercury, Bowie en Rhodes. Iemand die niet kan en wil begrijpen waarom de gemeenschap dit niet kan accepteren. Iemand die ook gehinderd is in de ontwikkeling van zijn carrière vanwege zijn androgene presentatie.
Zijn keuze is derhalve verrassend en toch weer niet. Een lied uit een briljante film die nooit de echte waardering ontving. Een herkansing?
Het meest Ondergewaardeerde liedje aller tijden volgens Robby Valentine: Hedwig & The Angry Inch – The Origin Of Love (2001)
Het verhaal van Hedwig & the Angry Inch begon als off-Broadway musical en werd later verfilmd. Uitgebracht in 2001. Het verhaal werd geschreven door John Cameron Mitchell (die ook de hoofdrol speelde en het regisseerde) en Stephen Trask. Stephen Trask schreef de fenomenale songs die net als de film nooit de mainstream aandacht en waardering heeft gehad die het verdiende.
Hedwig and the Angry Inch vertelt het levensverhaal van Hedwig, die als Rock-'n-roll drag queen van goedkope diner tot goedkope eettent door Amerika reist. Oorspronkelijk werd ze als Hansel in Oost-Berlijn geboren. Om met een Amerikaanse soldaat te mogen trouwen onderging ze op advies van haar moeder een geslachtsverandering, maar dat ging niet helemaal goed. Eenmaal wonend in Amerika op een trailerpark, wordt ze door de soldaat verlaten op de dag dat de Berlijnse Muur valt. Dus de hele operatie was niet nodig geweest.
Ze begon liedjes te componeren en begon in diners op te treden met een band bestaande uit Koreaanse bruiden. Daar ontmoet ze de jonge Tommy Speck. Speck speelt een beetje gitaar maar Hedwig leert hem de geschiedenis van de Rock 'n Roll en samen schrijven ze geweldige nummers. Ze worden verliefd maar Tommy laat haar in de steek wanneer hij merkt dat ze geen vrouw is maar half man, half vrouw, met een geslachtsorgaan dat niet meer is dan een angry inch. Tommy wordt een grote rockster met de songs van Hedwig. Uit frustratie schaduwt Hedwig zijn tour met optredens in eettentjes en andere treurige gelegenheden met het doel de aandacht van Tommy en zijn publiek te krijgen. Ze wil gerechtigheid voor zijn gestolen succes. Dit doet ze samen met haar nieuw gevormde geweldige punk rock band The Angry Inch bestaande uit illegale Oostblokkers. Het verhaal is een zoektocht naar liefde, naar jezelf, naar acceptatie van wie je bent.
Naar mijn mening heeft het nooit het grote succes gehad die het verdiende door de homo/transgender issues-fobie in de mainstream film- en muziekwereld.
Eruit: Sonic's Rendezvous Band – Slow Down (Take a Look). 
Maar ongefundeerd, want iedere muziek is voor een ander oor. En wie ben ik om te bepalen dat er iets uit moet? M
aar dat zijn de regels van het spel.
| | |
| --- | --- |
| 1966 | The Left Banke – Walk Away Renée |
| 1969 | Fairport Convention – Who Knows Where The Time Goes |
| 1969 | James Brown – Mother Popcorn |
| 1969 | The Aerovons – World Of You |
| 1971 | Fields – A Friend Of Mine |
| 1971 | Little Richard – Green Power |
| 1972 | Esther Phillips – From A Whisper To A Scream |
| 1974 | Maria Bethânia – A Felicidade |
| 1976 | Jerry Jeff Walker – Won't You Give Me One More Chance |
| 1976 | Rory Gallagher – Edged In Blue |
| 1978 | Ton van der Meer – Ik Ben Gebeten Door De Poolvos |
| 1978 | Breeze – It's Only A Matter Of Time |
| 1980 | Johan Timman – Look Out For The Killer |
| 1983 | John Spencer – Johnny Vergeet me Niet |
| 1984 | Let's Active – Waters Part |
| 1985 | Waterboys – Medicine Bow |
| 1989 | Bonnie Raitt – Too Soon To Tell |
| 1992 | The Saw Doctors – Never Mind The Strangers |
| 1993 | Morphine – Thursday |
| 1999 | New Radicals – Someday We'll Know |
| 2001 | Hedwig & The Angry Inch – The Origin of Love |
| 2003 | Yo La Tengo – Today Is The Day |
| 2004 | Iron & Wine – The Trapeze Swinger |
| 2006 | Dixie Chicks – Not Ready To Make Nice |
| 2006 | Cuban Heels – Work Me Baby |
| 2011 | Sarah Siskind – Yellow And Blue |
| 2012 | Sukilove – Somehow Someday |
| 2013 | Sir Yes Sir – Smiling |
| 2014 | Opeth – Cusp Of Eternity |
| 2014 | The Big Hunger – Ways To Waste Time |
De huidige Ondergewaardeerde 30 is samengesteld uit bijdragen van Arthur Akkermans, Guido Belcanto, Una Bergin, Bertolf, Ad Bouman, Peter van Capelle, Bob Fosko, Anneke van Giersbergen, Marinus de Goederen, Annelotte de Graaf, Specs Hildebrand, Jerry Hormone, Peter Koelewijn, Anne-Maarten van Heuvelen, Michael de Jong, Frans Kraaikamp, Maceál, Anouk Paus, Dave von Raven, Julian Sas, Ian Siegal, Rebecca Sier, Henk Temming, Hans Vandenburg, Rob Vunderink, Guus Willemse en Jonas Winterland.