De 'Ondergewaardeerde 30' is onze non-hitlijst en wordt samengesteld door muzikanten. Liedjes die in hun oren nog steeds ondergewaardeerd zijn.
Elke twee weken is er een nieuwe bijdrage.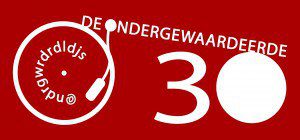 Onze gast is kinderboekenschrijver (Borre), maar heeft in 2016 zijn eerste volwassenenboek gepubliceerd. In 2011 richtte hij geïllustreerd literair tijdschrift Strak op en hij is dit jaar columnist bij de Nieuwe Revue geworden.
En natuurlijk muzikant. Hij is sinds 1999 muzikaal actief; eerst bij de The Ragin' Hormones, daarna bij The Apers, waarmee hij op grote festivals als Lowlands en Paaspop speelde en meermaals door Europa en de Verenigde Staten toerde. Zijn volgende muzikale project was The Quotes, gevolgd door Kepi Ghoulie, Anne Frank Zappa en The Windowsill. Tussendoor studeerde hij ook nog Nederlands aan de universiteit.
Vorig jaar (november) kwam zijn nieuwe album Stout! Stout! Stout! uit als The Jerry Hormone Ego Trip. Het Nederlandstalige album heeft een sixties gevoel en op eigen wijze zingt en speelt hij over alledaagse zaken en absurdistische dingen. En natuurlijk vrouwen: Josefien, Draculina (met Dave von Raven) en Booty Call. En passant leren we ook nog dat bananen niet poepen (want die hebben geen bananus).
Het meest Ondergewaardeerde liedje aller tijden volgens Jerry Hormone: Johan Timman – Look Out For The Killer (1980)
Ik heb niks met elektronische muziek. Echt geen ene reet. Zeker al dat nieuwe spul niet. Trance, drum-'n-bass, techno (al dan niet met een 'k'). Maar jaren geleden las ik in tijdschrift strips, cultuur en curiosa Zone 5300 een artikel over Johan Timman, die in '81 vanuit het niets het elektronische conceptalbum Trip Into The Body uitbracht, om vervolgens nooit meer iets van zich te laten horen. De foto bij het stuk intrigeerde me. Een man met een verwilderde kluizenaarsbaard te midden van tientallen synthesizers en drumcomputers, bij elkaar gehouden door een spaghetti van kabels. Een paar weken later kwam ik Trip Into The Body tegen in de bakken van een tweedehandsplatenzaak. Ik kocht 'm zonder te luisteren. Als de muziek kut was, viel er in ieder geval nog een aardig verhaal over te vertellen.
Tien jaar later draai ik die plaat nog steeds minstens eens per maand. De melodieën en de sfeer zijn te gek en de ouwe elektronica voorziet in bakken nostalgie die ik als a-modieus wezen gedrenkt in de pap der tijden zo fijn vind. En het enigmatische van Timman is de kers op de taart.
Alle tracks op Trip Into The Body zijn te gek, maar als ondergewaardeerd liedje kies ik voor Look Out For The Killer, hier live in Zuidplein, het winkelcentrum waar ik in mijn jeugd menig Happy Meal verorberde.
Jeroen heeft Under The God verwijderd. Bowie is te gek, maar Tin Machine is echt troep.
| | |
| --- | --- |
| Release | Artiest en Titel |
| 1966 | The Left Banke – Walk Away Renée |
| 1969 | Fairport Convention – Who Knows Where The Time Goes |
| 1969 | James Brown – Mother Popcorn |
| 1969 | The Aerovons – World Of You |
| 1971 | Fields – A Friend Of Mine |
| 1972 | Esther Phillips – From A Whisper To A Scream |
| 1972 | Neil Young – Old Man |
| 1974 | Maria Bethânia – A Felicidade |
| 1976 | Jerry Jeff Walker – Won't You Give Me One More Chance |
| 1976 | Rory Gallagher – Edged In Blue |
| 1977 | Sonic's Rendezvous Band – Slow Down (Take a Look) |
| 1978 | Ton van der Meer – Ik Ben Gebeten Door De Poolvos |
| 1980 | Johan Timman – Look Out For The Killer |
| 1983 | John Spencer – Johnny Vergeet me Niet |
| 1984 | Let's Active – Waters Part |
| 1985 | Waterboys – Medicine Bow |
| 1989 | Bonnie Raitt – Too Soon To Tell |
| 1993 | Morphine – Thursday |
| 1993 | Wu Tang Clan – Wu-Tang Clan Ain't Nuthing Ta F' Wit |
| 1999 | New Radicals – Someday We'll Know |
| 1999 | Tommy Castro – Lucky In Love |
| 2003 | Yo La Tengo – Today Is The Day |
| 2004 | Iron & Wine – The Trapeze Swinger |
| 2006 | Dixie Chicks – Not Ready To Make Nice |
| 2006 | Cuban Heels – Work Me Baby |
| 2008 | Elbow – Weather To Fly |
| 2011 | Sarah Siskind – Yellow And Blue |
| 2012 | Sukilove – Somehow Someday |
| 2013 | Sir Yes Sir – Smiling |
| 2014 | Opeth – Cusp Of Eternity |
De huidige Ondergewaardeerde 30 is samengesteld uit bijdragen van Jeroen Aalbers, Arthur Akkermans, Guido Belcanto, Bertolf, Ad Bouman, Peter van Capelle, Bob Fosko, Bart Geevers, Anneke van Giersbergen, Marinus de Goederen, Annelotte de Graaf, Specs Hildebrand, Peter Koelewijn, Anne-Maarten van Heuvelen, Jiggy Djé, Michael de Jong, Frans Kraaikamp, Saskia van Oerle, Anouk Paus, Dave von Raven, Tricky Dicky, Julian Sas, Rebecca Sier, Henk Temming, Hans Vandenburg, Guus Willemse en Jonas Winterland.