De 'Ondergewaardeerde 30' is onze non-hitlijst en wordt samengesteld door muzikanten. Liedjes die in hun oren nog steeds ondergewaardeerd zijn.
Elke twee weken is er een nieuwe bijdrage..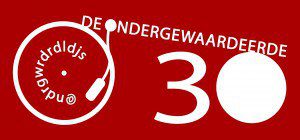 Aanstaande mei komt hij met iets nieuws in een oud jasje: zijn 20 mooiste demo's op cassette. Toch wist hij tijd te vinden om een bijdrage te leveren aan wellicht de mooiste lijst van Nederland. Hij was al eerder een gewaardeerde gast in een blog (hier) en is al sinds de jaren zeventig actief muzikant met onder andere Gruppo Sportivo, Buddy Odor Stop en Dierenpark, maar hij treedt nog steeds met grote regelmaat solo of met vrienden op. Ouwe jongens, krentenbrood dus.
Met zoveel talent en ervaring kan het niet anders dan een bijdrage worden, waar de mond van openvalt.
Dames en heâhren. Bestuh lezeâhrs: Hans Vandenburg!
Het meest Ondergewaardeerde liedje aller tijden volgens Hans Vandenburg: Let's Active – Waters Part (1984)
Sommige nummers blijven je hele leven bij. Neem bijvoorbeeld My Head  Is My Only House Unless It Rains  van Captain Beefheart, Lewis Is Crazy van Lewis Fury (met de beste drumbreak ever), Alone again Or van Love, Something In The Air van Thunderclap Newman, Dance This Mess Around van The B-52's of Ship Building van Robert Wyatt. Maar genoeg gemijmerd, ik moest één rete ondergewaardeerde song kiezen.
Waters Part is geschreven door muzikaal genie Mitch Easter, zanger en gitarist van de band, en een waar garage-pop juweeltje. Ik bedoel maar. Geluid dat je kan aanraken. De akkoordenwisselingen, harmonieën en lyrics scheppen kleuren en beelden, zoals geen andere song uit de 'eighties' dat ooit deed. En dat is dan nog maar één omschrijving.
Let's Active deed in 1981 hun eerste optreden als support van R.E.M., wiens eerste EP door Easter geproduceerd is. Later co-produceerde hij samen met Don Dixon R.E.M.'s eerste twee albums Murmur en Reckoning. Dan kan je wat.
Periode

Artiest en Titel

Release

jaar

(x) weken genoteerd

<70's

The Miracles – The Track Of My Tears

1965

32

Jimi Hendrix Experience – Red House

1966

32

Stevie Wonder – I Was Made To Love Her

1967

32

Fairport Convention – Who Knows Where The Time Goes

1969

18

James Brown – Mother Popcorn

1969

32

70's

Fields – A Friend Of Mine

1971

12

Jerry Jeff Walker – Won't You Give Me One More Chance

1976

6

David Bowie – Wild Is The Wind

1976

32

Chris Bell – I Am The Cosmos

1978

26

Neil Young & Crazy Horse – Powderfinger

1979

2

80's

Let's Active – Waters Part

1984

–

Tuxedomoon – In A Matter Of Speaking

1985

32

Waterboys – Medicine Bow

1985

32

Mano Negra – Mala Vida

1989

32

Tin Machine – Under The God

1989

32

90's

Wu Tang Clan – Wu-Tang Clan Ain't Nuthing Ta F' Wit

1993

14

Morphine – Thursday

1993

10

Bjork – Hyper-ballad

1995

30

Tommy Castro – Lucky In Love

1999

22

New Radicals – Someday We'll Know

1999

8

0's

The Gathering – You Learn About it

2003

4

Paul McCartney – Jenny Wren

2005

20

Ron Sexsmith – Reason For Our Love

2006

32

LCD Soundsystem – Us Vs Them

2008

32

Elbow – Weather To Fly

2008

30

>10's

Sarah Siskind – Yellow And Blue

2011

32

Sukilove – Somehow Someday

2012

32

Woodkid – Run Boy Run

2012

32

Sir Yes Sir – Smiling

2013

32

All Them Witches – The Death Of Coyote Woman

2014

16