De 'Ondergewaardeerde 30' is onze non-hitlijst en wordt samengesteld door muzikanten. Liedjes die in hun oren nog steeds ondergewaardeerd zijn.
Elke twee weken is er een nieuwe bijdrage.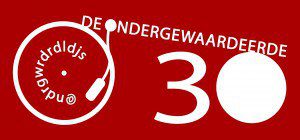 Deze bijdrage komt uit de pen van Heidevolk's bassist Rowan Roodbaert: volgens eigen zeggen een 'muzaholic' en liefhebber van sterke biertjes en wijn, en van Umberto Eco's de Slinger van Foucault. Met favoriete groepen als Arcturus, Mötley Crüe, Behemoth, Enslaved, In Flames, Ulver, Def Leppard en Neil Young moet dit wel een aparte bijdrage worden.
Het meest Ondergewaardeerde liedje aller tijden volgens Rowan Middelwijk (Heidevolk): Neil Young & Crazy Horse – Powderfinger (1979)
Neil Young heb ik altijd een geweldige artiest gevonden. Heerlijk in zijn eigen wereldje en om niemand iets geven wanneer het om muziek gaat. Soms ging het zover, dat de muziek alle kanten op leek te gaan (Computer Cowboy) of werd hij er zelf helemaal in meegesleurd (Tonight's The Night). Het mooiste is dat hij altijd helemaal op weet te gaan in de muziek, wanneer hij een concert geeft. Nummers duren dan ook geen vier minuten – zoals op het album – maar worden twee of drie keer zolang door eindeloze solo's of het repeterend spelen van heerlijke akkoordenschema's. Ik ken dat gevoel.
Zo'n 18 jaar geleden ging ik met mijn broer en een stel vrienden elke woensdagavond naar het bos. Daar was een kampvuurkuil waar we vuur mochten maken en een biertje konden drinken. Mijn broer die, op mijn oom na, de grootste Neil Young fan van het westelijk halfrond is had altijd een gitaar bij zich. Met z'n allen zongen we, speelden we en beleefden we de nummers van Neil Young. En terwijl de gloed van het vuur (en het bier) ons in een rustige tevreden sfeer bracht konden we al zingende en spelende de ogen sluiten en in onze eigen wereld beleven wat Neil Young ons probeerde te vertellen.
Het nummer Powderfinger is een nummer dat niet echt hitgevoelig is, terwijl de tekst hiervan zo briljant is. Een groep jager, stropers of 'moonshiners' woont ergens ver van de bewoonde wereld. De jongste van het stel ziet een boot aankomen op de rivier en weet niet wat hij moet doen, want papa is dood, zijn broer is aan het jagen en 'Big John' is al aan het drinken sinds dat hij zijn geliefde verloor. Nu moet hij voor zichzelf denken. Hij haalt het geweer van zijn vader op, legt aan, haalt de trekker over en…my face splashed in the sky. Het geweer slaat in zijn eigen gezicht terug en hij overlijd. Briljant!!! Hoe verzin je het; zo'n heerlijke wending in zo'n gevoelig nummer. Net wanneer je denkt dat het nummer een beetje gezapig wordt slaat de tekst je terug. Ik zie Neil Young alweer in zijn eigen wereldje zitten waar dit natuurlijk logisch is, prachtig!
Met Heidevolk spelen we andere muziek dan Neil Young en de onderwerpen zijn ook anders, maar momenten van intens genieten in je eigen wereldje zijn er gelukkig altijd bij en dat is een van de mooiste dingen van muziek maken.
Periode

Artiest en Titel

Release

jaar

(x) weken genoteerd

<70's

The Miracles – The Track Of My Tears

1965

30

Jimi Hendrix Experience – Red House

1966

30

Stevie Wonder – I Was Made To Love Her

1967

30

Fairport Convention – Who Knows Where The Time Goes

1969

16

James Brown – Mother Popcorn

1969

30

70's

Fields – A Friend Of Mine

1971

10

Jerry Jeff Walker – Won't You Give Me One More Chance

1976

4

David Bowie – Wild Is The Wind

1976

30

Chris Bell – I Am The Cosmos

1978

24

Neil Young & Crazy Horse – Powderfinger

1979

–

80's

Tuxedomoon – In A Matter Of Speaking

1985

30

Waterboys – Medicine Bow

1985

30

Prince – Condition Of The Heart

1985

30

Mano Negra – Mala Vida

1989

30

Tin Machine – Under The God

1989

30

90's

Wu Tang Clan – Wu-Tang Clan Ain't Nuthing Ta F' Wit

1993

12

Morphine – Thursday

1993

8

Bjork – Hyper-ballad

1995

28

Tommy Castro – Lucky In Love

1999

20

New Radicals – Someday We'll Know

1999

6

0's

The Gathering – You Learn About it

2003

2

Paul McCartney – Jenny Wren

2005

18

Ron Sexsmith – Reason For Our Love

2006

30

LCD Soundsystem – Us Vs Them

2008

30

Elbow – Weather To Fly

2008

28

>10's

Sarah Siskind – Yellow And Blue

2011

30

Sukilove – Somehow Someday

2012

30

Woodkid – Run Boy Run

2012

30

Sir Yes Sir – Smiling

2013

30

All Them Witches – The Death Of Coyote Woman

2014

14