De 'Ondergewaardeerde 30' is onze eigen non-hitlijst met liedjes, die het aller-, allermeest ondergewaardeerd zijn.
Elke twee weken draagt een gastschrijver een nieuw lied aan.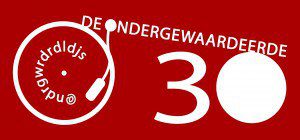 Deze keer is de beurt aan blogger en muziekliefhebber Klaas Jan Dijkstra, die we hebben benaderd, nadat we zijn toffe column over 30 jaar muziekblad Oor hadden gelezen. Hij reageerde meteen enthousiast en leverde een mooi pleidooi aan over een parel van eigen bodem!
Het meest Ondergewaardeerde liedje aller tijden volgens Klaas Jan Dijkstra: The Gathering – You Learn About It (2003)
Negen november 2014 is een memorabele dag. De Nederlandse band The Gathering viert haar 25 jaar bestaan met twee stijf uitverkochte concerten in het nieuwe Doornroosje in Nijmegen. Hun bekendste nummer, Strange Machines, wordt al snel ingezet, maar mijn dark horse komt niet voorbij.
Wanneer je in 1989 tegen de leden van deze deathmetal band met een symfonisch randje gezegd zou hebben, dat ze 14 jaar later met het sferische You Learn About It op de proppen zouden komen dan hadden ze je voor gek verklaard. De band heeft in haar bestaan vele muzikale gedaantewisselingen ondergaan. Misschien is dat ook wel de reden waarom ze nooit een single hit hebben gehad. Het grote publiek is na het album Nighttime Birds uit 1997 afgehaakt, maar de band weet wel een vaste fanbase vanuit de hele wereld aan zich te binden.
You Learn About It wordt door Anneke van Giersbergen tot grote hoogtes gestuwd. Haar ontwapende persoonlijkheid en hemelse zang wordt gecombineerd met een kristalheldere produktie. Alsof Anneke naast je zit en de band bij je in de huiskamer staat te spelen. Het doet mij steeds opnieuw naar adem happen: Can't take no more.  Ondanks het tv-optreden bij Barend en Van Dorp wordt de tipparade niet eens gehaald.
You Learn About It is een balseming voor het oor. Zou je muziek via de mond consumeren dan is het alsof er een engeltje over je tong piest. En dat voor een breakup song.
Periode

Artiest en Titel

Release

jaar

(x) weken genoteerd

<70's

The Miracles – The Track Of My Tears

1965

28

Jimi Hendrix Experience – Red House

1966

28

Stevie Wonder – I Was Made To Love Her

1967

28

Fairport Convention – Who Knows Where The Time Goes

1969

14

James Brown – Mother Popcorn

1969

28

70's

Fields – A Friend Of Mine

1971

8

Nick Drake – From The Morning

1972

28

Jerry Jeff Walker – Won't You Give Me One More Chance

1976

2

David Bowie – Wild Is The Wind

1976

28

Chris Bell – I Am The Cosmos

1978

22

80's

Tuxedomoon – In A Matter Of Speaking

1985

28

Waterboys – Medicine Bow

1985

28

Prince – Condition Of The Heart

1985

28

Mano Negra – Mala Vida

1989

28

Tin Machine – Under The God

1989

28

90's

Wu Tang Clan – Wu-Tang Clan Ain't Nuthing Ta F' Wit

1993

10

Morphine – Thursday

1993

6

Bjork – Hyper-ballad

1995

26

Tommy Castro – Lucky In Love

1999

18

New Radicals – Someday We'll Know

1999

4

0's

The Gathering – You Learn About it

2003

–

Paul McCartney – Jenny Wren

2005

16

Ron Sexsmith – Reason For Our Love

2006

28

LCD Soundsystem – Us Vs Them

2008

28

Elbow – Weather To Fly

2008

26

>10's

Sarah Siskind – Yellow And Blue

2011

28

Sukilove – Somehow Someday

2012

28

Woodkid – Run Boy Run

2012

28

Sir Yes Sir – Smiling

2013

28

All Them Witches – The Death Of Coyote Woman

2014

12