De 'Ondergewaardeerde 30' is onze non-hitlijst en wordt samengesteld door muzikanten. Liedjes die in hun oren nog steeds ondergewaardeerd zijn.
Elke twee weken is er een nieuwe bijdrage.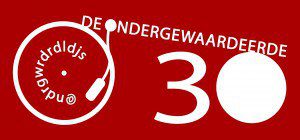 Anne-Maarten is een soort bigamist. Want hoe kan je iemand anders benoemen, die in vele bands tegelijkertijd speelt. Deze Arnhemse zanger-gitarist speelt solo (onder de naam Hills), en in NO Blues, Black Top, de Marbletones, Hills Blues Collective, Phonc & Hills en Hills & Hamid. Alles bij elkaar opgeteld heeft hij 20 albums achter zijn naam staan. Stilzitten lijkt dus geen optie; I just love getting out there and playing live music.
Momenteel is Black Top druk bezig met hun nieuwe CD, die in de komende herfst uit zal komen.
Bij een uitzending van Twee meter sessies hoorde ik voor de eerste keer  iets van het Amerikaanse trio Morphine. Het nummer Buena Buena van het album Cure for Pain (1993) was een bescheiden radio hit. Een jaar later stond de band op Pinkpop. Het was een eigenaardige bezetting: Een zanger bassist met een basgitaar met twee snaren, die hij met een slide bespeelde, een bariton saxofonist en een drummer.
Op het nummer French Fries with Pepper van het album Like Swimming (1997) zingt Sandman:
On 9-9-99 I hope I'll be sitting on the back porch,
drinking red wine.
Maar dat heeft hij nooit mogen beleven. In juli 1999 sterft  Mark Sandman. Hij krijgt een hartaanval op het podium van het Giardini del Principe in Palestrina, Italie. En daarmee is de band ook ter ziele.  Saxofonist Dana Colley en drummer Billy Conway gaan wel verder als de Twinemen.
Het hele oeuvre van Morphine is naar mijn bescheiden mening onderschat. De vijf albums staan vol tekstuele en muzikale spitsvondigheden. De teksten lijken veel over drugs te gaan, maar daar wilde Sandman nooit iets over vertellen in interviews. De band had een uniek geluid, door de bezetting en door de muzikale keuzes. Het nummer Thursday is wel uitgebracht als single, maar heeft in Nederland nooit veel gedaan. Het is een mooi voorbeeld van de muziek van de band en heeft veel te weinig aandacht gekregen. Postuum kreeg de band in Amerika wel veel aandacht en nummers van Morphine zijn jaren na de dood van Sandman gebruikt in de serie The Sopranos.
Ik hoop dat de muziek van Morphine nu heel veel radio airplay zal krijgen, al betwijfel ik dat. Het maakt ook niet uit; ik heb de CD's nog. En zelfs de cassette's. En ik heb de lezer (weer) op het spoor gezet van deze geweldige band.
Van mij mag Jeff Buckley eruit.
Periode

Artiest en Titel

Release

jaar

(x) weken genoteerd

<70's

The Miracles – The Track Of My Tears

1965

22

Jimi Hendrix Experience – Red House

1966

22

Stevie Wonder – I Was Made To Love Her

1967

22

Fairport Convention – Who Knows Where The Time Goes

1969

8

James Brown – Mother Popcorn

1969

22

70's

Fields – A Friend Of Mine

1971

2

Genesis – Supper's Ready

1972

22

Nick Drake – From The Morning

1972

22

David Bowie – Wild Is The Wind

1976

22

Chris Bell – I Am The Cosmos

1978

16

80's

Tuxedomoon – In A Matter Of Speaking

1985

22

Waterboys – Medicine Bow

1985

22

Prince – Condition Of The Hearth

1985

22

Mano Negra – Mala Vida

1989

22

Tin Machine – Under The God

1989

22

90's

Wu Tang Clan – Wu-Tang Clan Ain't Nuthing Ta F' Wit

1993

4

Morphine – Thursday

1993

0

DeUS – Mute

1994

22

Bjork – Hyper-ballad

1995

20

Tommy Castro – Lucky In Love

1999

12

0's

The Prayer Boat – Dead Flowers

2001

22

Paul McCartney – Jenny Wren

2005

10

Ron Sexsmith – Reason For Our Love

2006

22

LCD Soundsystem – Us Vs Them

2008

22

Elbow – Weather To Fly

2008

22

>10's

Sarah Siskind – Yellow And Blue

2011

22

Sukilove – Somehow Someday

2012

22

Woodkid – Run Boy Run

2012

22

Sir Yes Sir – Smiling

2013

22

All Them Witches – The Death Of Coyote Woman

2014

6