De 'Ondergewaardeerde 30' is onze eigen non-hitlijst met liedjes, die het aller-, allermeest ondergewaardeerd zijn.
Elke twee weken draagt een gastschrijver een nieuw lied aan.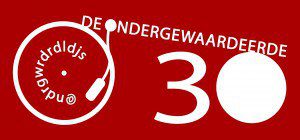 We hebben vandaag een speciale gast uit onze eigen gelederen die een nummer toevoegt en verwijdert uit de Ondergewaardeerde 30. Hij is één van de bedenkers van de ondergewaardeerde lijst der lijsten: de Snob 2000, ook heeft hij regelmatig een vette lijst van 15 nieuwe tracks: de Vette 15. Dames en heren Martijn Vet!
Het meest ondergewaardeerde liedje aller tijden volgens Martijn Vet: Chris Bell – I Am The Cosmos (1978)
Toch wel met wat pijn in mijn hart haal ik Immigrant Song van Led Zeppelin uit de lijst. Fantastische band, geweldig nummer, maar écht ondergewaardeerd? Led Zep heeft naar mijn smaak bovendien ook een aantal betere nummers gemaakt.
Daarvoor in de plaats komt Chris Bell. Begin jaren '90 wás hij heel even de kosmos. In ieder geval in mijn muziek-universum.
De cd-release van het derde album van Big Star bracht deze cultband uit de jaren 70 rond die tijd weer even in de belangstelling. Nog harder ging het toen bands als R.E.M. en The Posies verklaarden al jaren fan te zijn. Frontman Alex Chilton besloot zelfs Big Star opnieuw op te richten. Vooral het nummer Thirteen kreeg alsnog enige bekendheid. Frans droeg het al aan in onze Powerpop-battle.
Dat alles heeft Big Star-gitarist en mede-songschrijver Chris Bell niet meer mee mogen maken. Hij wordt nooit in het rijtje genoemd, maar ook hij maakt deel uit van de 27-club.
Wel kwam, ook begin jaren '90, postuum het album I Am The Cosmos uit, en scoorde hij zowaar een hit. Niet zelf, maar in de vorm van de cover van You And Your Sister door This Mortal Coil. Die band coverde op hun fantastische album Blood overigens ook het titelnummer van die achteraf verschenen Chris Bell-plaat.
In de documentaire Nothing Can Hurt Me over Big Star wordt ruim aandacht besteed aan Chris Bell. Volkomen terecht. Net als Jim, Jimi en Amy moet hij nog tot veel meer moois in staat zijn geweest.
I Am The Cosmos is zo'n verschrikkelijk mooi liefdesliedje, gezongen door een tragische held. Ogenschijnlijk ultiem zelfverzekerd, maar in essentie vol twijfel. Veel mooier wordt popmuziek niet.
De Ondergewaardeerde 30 lijst
Periode

Artiest en Titel

Release

jaar

Aantal weken genoteerd

<70's

Billie Holiday – Lover Man

1941

6

The Miracles – The Track Of My Tears

1965

6

Jimi Hendrix Experience – Red House

1966

6

Stevie Wonder – I Was Made To Love Her

1967

6

James Brown – Mother Popcorn

1969

6

70's

Joni Mitchell – A Case Of You

1971

6

Genesis – Supper's Ready

1972

6

Nick Drake – From The Morning

1972

6

David Bowie – Wild Is The Wind

1976

6

Chris Bell – I Am The Cosmos

1978

0

80's

Tuxedomoon – In A Matter Of Speaking

1985

6

Waterboys – Medicine Bow

1985

6

Prince – Condition Of The Hearth

1985

6

Mano Negra – Mala Vida

1989

6

Tin Machine – Under The God

1989

6

90's

Aphex Twin – On

1993

6

DeUS – Mute

1994

6

Bjork – Hyper-ballad

1995

4

Soundgarden – Burden In My Hand

1996

6

Jeff Buckley – Everybody Where Wants You

1998

6

0's

The Prayer Boat – Dead Flowers

2001

6

Guided By Voices – Useless Inventions

2003

2

 Ron Sexsmith – Reason For Our Love

2006

6

LCD Soundsystem – Us Vs Them

2008

6

Elbow – Weather To Fly

2008

6

>10's

Sarah Siskind – Yellow And Blue

2011

6

Frank Ocean – Bad Religion

2012

6

Sukilove – Somehow Someday

2012

6

Woodkid – Run Boy Run

2012

6

Sir Yes Sir – Smiling

2013

6