We hebben er even op moeten wachten, maar hij is terug: de Ondergewaardeerde 30! De lijst is op een aantal punten gewijzigd – verbeterd zouden we zelfs durven te zeggen. Het doel van de Ondergewaardeerde 30 is om de 30 meest ondergewaardeerde liedjes aller tijden op een rijtje te krijgen. Ambitieus misschien, maar we hebben een plan!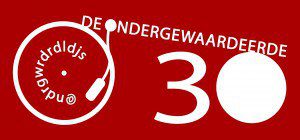 Hoe gaat dat in zijn werk?
De lijst bevat 30 liedjes. De wijzigingen worden aangebracht door een gast-samensteller (m/v). Deze kiest een nieuw liedje en schrijft hier een blog over. Ook mag hij/zij één liedje uit de bestaande lijst wegstrepen. Het streven is om elke twee weken de lijst te wijzigen.
In de huidige lijst zijn de bijdrages van de gast-samenstellers uit 2014 opgenomen. Deze zijn aangevuld met suggesties van liedjes die jullie hebben aangedragen. En nu is het aan de gast-samensteller: onze Ondergewaardeerde Pop-professor: Pop-Martijn!
Het meest ondergewaardeerde liedje aller tijden volgens Martijn Janssen: The Miracles – The Tracks Of My Tears (1965)
Voor mijn keuze gaan we een heel eind terug in de tijd. Precies 50 jaar geleden, in juni 1965, kwam The Tracks Of My Tears van The Miracles (niet veel later omgedoopt in Smokey Robinson and The Miracles) uit. Het is een nummer dat, elke keer wanneer ik het hoor, ik wil delen met iedereen. Zoals de Britse groep ABC al eens zong in When Smokey Sings, hun eerbetoon aan hem.
When Smokey sings, I hear violins
When Smokey sings, I forget everything
Ik vind Smokey Robinson dus een geweldige songwriter, een van de grootheden. Enkele van de vele hits die hij heeft geschreven zijn You've Really Got A Hold On Me, My Girl, The Way You Do The Things You Do en Motown-standard Who's Lovin' You. The Tracks Of My Tears is onder meer gecoverd door Aretha Franklin en Linda Ronstadt. Hoewel zij zeer verdienstelijke versies hebben gemaakt, komen ze niet in de buurt van de melancholie van het origineel. Want Smokey's hoge en ietwat hese stem zijn perfect voor dit relaas van liefdesverdriet. Ja, aan de buitenkant lijkt alles goed te gaan met de hoofdpersoon, maar van binnen is het een en al hartezeer.
Wat ik vooral zo mooi vind, naast de muziek van de Funk Brothers, is de hele tekst en structuur. Alles en niets lijkt met elkaar te rijmen. Het nummer bevat lange zinnen zonder echte rijmstructuur er in en dan zijn er frasen waar gedeeltes in de zin rijmend over elkaar heen vallen. En toch klinkt het als een natuurlijk geheel.
Een goed voorbeeld is  het tweede couplet, dat een totaal ander rijmschema heeft dan het eerste couplet.
Since you left me if you see me with another girl
Seeming like I'm having fun
Although she may be cute
She's just a substitute
Because you're the permanent one
Smokey's liedjes zorgden ervoor dat Motown kon uitgroeien tot een groot soul-label. Maar ik heb het gevoel dat zijn status de laatste jaren verder naar de achtergrond is gedrukt. Velen denken bij Motown aan artiesten zoals The Supremes, Four Tops of Marvin Gaye, songwriters Holland-Dozier-Holland en Norman Whitfield of alleskunner Stevie Wonder. Ik vind dus dat Smokey Robinson en zijn Miracles veel meer waardering verdienen. Te beginnen bij deze Ondergewaardeerde 30.
De Ondergewaardeerde 30 lijst
Periode

Artiest en Titel

Release

jaar

Aantal weken genoteerd

<70's

Billie Holiday – Lover Man

1941

0

The Miracles – The Track Of My Tears

1965

0

Jimi Hendrix Experience – Red House

1966

0

Stevie Wonder – I Was Made To Love Her

1967

0

James Brown – Mother Popcorn

1969

0

70's

Led Zeppelin – Immigrant Song

1970

0

Joni Mitchell – A Case Of You

1971

0

Genesis – Supper's Ready

1972

0

Nick Drake – From The Morning

1972

0

David Bowie – Wild Is The Wind

1976

0

80's

Tuxedomoon – In A Matter Of Speaking

1985

0

Waterboys – Medicine Bow

1985

0

Prince – Condition Of The Heart

1985

0

Mano Negra – Mala Vida

1989

0

Tin Machine – Under The God

1989

0

90's

Aphex Twin – On

1993

0

dEUS – Mute

1994

0

Soundgarden – Burden In My Hand

1996

0

Jeff Buckley – Everybody Where Wants You

1998

0

Nilsson – My Brain's Down

1998

0

0's

The Prayer Boat – Dead Flowers

2001

0

Ian Siegal – Sugar Rush

2004

0

Ron Sexsmith – Reason For Our Love

2006

0

LCD Soundsystem – Us Vs Them

2008

0

Elbow – Weather To Fly

2008

0

>10's

Sarah Siskind – Yellow And Blue

2011

0

Frank Ocean – Bad Religion

2012

0

Sukilove – Somehow Someday

2012

0

Woodkid – Run Boy Run

2012

0

Sir Yes Sir – Smiling

2013

0