Hier is de laatste editie van De Ondergewaardeerde 30 van dit jaar. Met wel een hele speciale gastsamensteller: Bertolf!
Als solo-artiest heeft Bertolf drie hele sterke albums afgeleverd: For Life, Snakes and Ladders en Bertolf. Daar kwam een arsenaal singles van af waar elke singer-songwriter jaloers op zou zijn. Luister maar eens naar Another Day, Two in A Million, Cut Me Loose of Mary. Toch kondigde hij in 2012 aan dat hij voorlopig niet meer in z'n eentje zou opnemen en optreden. Hij stortte zich op avonturen waarbij hij met andere muzikanten kon samenwerken, zoals Lorrainville en Color Reporters. En hij ging het theater in met Her Majesty en Kasper van Kooten. Gelukkig is hij anno 2014 wel weer solo te boeken. Hij komt zelfs in je eigen huiskamer optreden als je dat wilt!
Wat vindt Bertolf zo'n ondergewaardeerd liedje dat hij het op nummer 1 in onze Ondergewaardeerde 30 zet?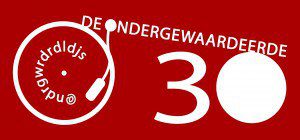 Het meest Ondergewaardeerde liedje aller tijden volgens Bertolf: Sarah Siskind – Yellow & Blue
"Ik heb Sarah Siskind nog niet zo heel lang geleden op zeer moderne wijze via Facebook leren kennen. Reyer Zwart (bassist bij onder andere Jacqueline Govaert, Tim Knol, Anne Soldaat en vele anderen) postte haar song Falling Stars en ik werd onmiddellijk volledig gegrepen door haar stem. Daarna ben ik direct al haar albums gaan kopen, en het liedje dat volgens mij op 1 moet in de Ondergewaardeerde 30, is Yellow & Blue van haar album Novel uit 2011. 
Sarah Siskind woont en werkt in Nashville, en schreef songs voor onder andere Alison Krauss. Ook toerde ze in het voorprogramma van Bon Iver, de band die die tour elk optreden afsloot met Sarah's song Lovin's For Fools. En Justin Vernon, Bon Iver's frontman, heeft Covered, Sarah Siskind's debuutalbum, opnieuw uitgebracht op zijn eigen label. Ook andere grote helden van mij, zoals Tim O'Brien en Paul Brady hebben zich lovend over Sarah uitgelaten.
Toch is ze tot op heden veel te onbekend. Ik hou erg van de pijn in haar stem. En de ongelofelijke souplesse in de melismen die ze zingt. Het spaarzame arrangement, met de elektrische gitaar in open stemming. En wat ik prachtig vind aan de tekst, is hoe het tweede couplet een compleet ander verhaal lijkt te beginnen: I was born in a polaroid…, waardoor je brein vanzelf aan het werk gezet wordt om dingen met elkaar te verbinden.
Welja. Uitleggen waarom iets mooi is. Praten over muziek is als dansen over architectuur toch? Luister zelf maar. Je vindt het vast ook prachtig!"
Overige nieuwe liedjes in de lijst
Deze keer zijn er zes – door jullie gekozen – nieuwe liedjes aan de lijst toegevoegd:
– Taj Mahal – Dust My Broom (3)
– Joni Mitchell – A Case Of You (5)
– Mando Diao – Gloria (10)
– The Scene – Paradijs (15)
– Tricky – Black Steel (20)
– Elvis Costello – So Like Candy (25)
De lijst van 7 november 2014
Eerstvolgende editie: januari 2014
In verband met de Snob 2000 gaat de Ondergewaardeerde 30 even in een korte winterslaap. Volgend jaar komt de lijst weer terug.
Veel (luister)plezier!
De redactie van de Ondergewaardeerde 30: Marèse Peters, Martijn Vet, Ton van Hoof, Frans Kraaikamp en Freek Janssen
Foto: Bertolf.nl