We doen het nog één keer voordat de zomervakantie echt losbarst; het opfrissen van de Ondergewaardeerde 30! Zoals je van ons gewend bent, is ook dit keer de nummer 1 weer aangedragen door een gastsamensteller. Dit keer is dat een geweldige, opkomende artieste met een even geweldige band.
Mocht je één van de gelukkigen zijn geweest die haar gezien heeft op Podium Vlieland tijdens Great Wide Open 2012: wat gaf ze daar een zeldzaam mooi optreden!
Inmiddels heeft ze een eerste album uit: Syrup & Rain. Hoe tof is het dat ze voor onze non-hitlijst de Ondergewaardeerde 30 een stukje heeft geschreven over haar ondergewaardeerde liedje?! Ladies and gentlemen: Channah van 't Riet!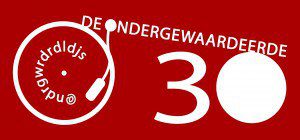 Het meest Ondergewaardeerde liedje aller tijden volgens  Channah van 't Riet: Jeff Buckley – Everybody Here Wants You
'Het is geen ondergewaardeerde artiest, dit keer, maar wel een ondergewaardeerd liedje. De oorzaak daarvan is vooral dat het liedje de kans niet kreeg om tot zijn recht te komen: Everybody Here Wants You van Jeff Buckley.
Velen raakten, net als ik, ontroerd door het album Grace, van Jeff Buckley. Een album dat trouwens vrij ondergewaardeerd werd in de jaren na zijn verschijnen,
maar in de twintig jaar erna twee miljoen keer verkocht werd, regelmatig in albumlijstjes voorkomt en vele oren en harten aan zich wist te binden.
Twee jaar na het verschijnen van Grace werkte Buckley aan een nieuw studio-album, dat de titel My Sweetheart the Drunk zou krijgen. Hij was niet tevreden over de eerste opnamen en in het voorjaar van '97 wachtte hij in Memphis op de komst van zijn band, om de studio in te gaan. Op 29 mei van dat jaar overleed hij, tijdens een avondduik in een zijrivier van de Mississippi.
In 1998 kwam, postuum, Sketches for My Sweetheart the Drunk uit. Een onaf, maar bijzonder album, met daarop Everybody Here Wants You, een prachtig lied dat doet verlangen naar My Sweetheart the Drunk, een album dat er (helaas) nooit heeft kunnen komen.
Overige verschuivingen in de lijst
De drie – door jullie gekozen – nieuwe instromers in de lijst zijn: Robert Wyatt – Shipbuilding (5), Prince – Come (15) en The Smashing Pumpkins – Soma (25). De redactie heeft nog twee nieuwe nummers toegevoegd: Scott Matthews – Obsession Never Sleeps (10) en Admiral Freebee – Nothing Else To Do (20).
De lijst van 11 juli 2014
Eerstvolgende editie: 22 augustus 2014
Je kunt onderaan de pagina weer stemmen voor de drie nieuwe liedjes, die over ruim een maand de Ondergewaardeerde 30 lijst binnenkomen. De nummers zijn allemaal suggesties die door jullie zijn ingebracht. De drie liedjes waar de meeste stemmen op binnenkomen nemen we op in de lijst. Blijf ons vooral suggesties doorgeven (graag wel nummers die in Spotify staan). Je kunt de nummering van de lijst makkelijk aanpassen, waarna de lijst in de volgorde komt zoals jij deze graag wilt zien.
Veel (luister)plezier!
De redactie van de Ondergewaardeerde 30: Martijn Vet, Ton van Hoof, Frans Kraaikamp en Freek Janssen
Afbeelding Channah van 't Riet: Sander de Goede (archief Channah)