De 'Ondergewaardeerde 30' is onze non-hitlijst en wordt samengesteld door muzikanten. Liedjes die in hun oren nog steeds ondergewaardeerd zijn.
Elke twee weken is er een nieuwe bijdrage.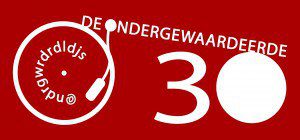 Net als de vorige editie weer een unicum: de bijdrage is in de Engelse taal. Waarom? Singer-songwriter Michael de Jong is weliswaar (half) Nederlander, maar heeft sinds 1950 voornamelijk in de V.S. gewoond, waardoor zijn Nederlands enigszins roestig is. De vertaling van zijn verhaal staat overigens onder de clip.
Enkele maanden geleden hebben we verlaat, maar meer dan terecht (hier) aandacht besteed aan Michael de Jong. Hij heeft met de groten der aarde op het podium gestaan. Een man met een schat aan ervaring in zijn reiskoffer, die hij steeds weer weet te vertalen in bloedmooie liedjes. In september komt zijn nieuwe album uit: Requiem For The Lonely. Hij treedt beperkt op. Ga luisteren naar één van de beste singer-songwriters op deze aardkloot.
Het meest Ondergewaardeerde liedje aller tijden volgens Michael de Jong: Esther Phillips – From A Whisper To A Scream (1972)
OK…I am really not that good at this sort of stuff……, BUT my song pick would be from Esther Phillips and the song would be From A Whisper To A Scream from the album with the same name. Produced by Creed Taylor.
From the haunting melody intro to  that opening line
From a whisper in the wind
to a loud, loud scream
a message came that I've lost you
You must of course take this as part of the complete albumpackage that starts with the first track Home Is Where The Hatred Is to the third track To Lay Down Beside You. It grabs you by the ass and just TAKES you to a place you are in reality way too scared to open that door by yourself.
This is one of those fantastic musicmarriages. The TALENT of Esther Phillips with the magic of Creed Taylor. There are really not too many words I could waste on this album. Not too many people will feel comfortable listening to these tracks. But the purity of the pain…. It wraps around your heart like an old friend that is always there for you. And if you are really, really honest with yourself, you can hear that old friend….whisper.
OK…Ik ben echt niet goed in dit soort dingen, maar mijn keuze zou Esther Phillips zijn en het lied From A Whisper To A Scream van het album met dezelfde naam. Geproduceerd door Creed Taylor.
Vanuit het intro dat zich aan je vastklemt tot die openingszin
From a whisper in the wind
to a loud, loud scream
a message came that I've lost you
Je moet dit als onderdeel van het complete album bezien, dat begint met Home Is Where The Hatred Is tot het derde nummer To Lay Down Beside You. Het grijpt je bij de strot en neemt je mee naar een plek, waar je in alle realiteit veel te bang bent om de deur zelf te openen.
Dit is één van die fantastische muzikale huwelijken. Het talent van Esther Phillips met de magie van Creed Taylor. Ik kan niet te veel woorden aan dit album verspillen. Niet veel mensen zullen zich op hun gemak voelen tijdens het beluisteren van deze liedjes. Maar de zuiverheid van de pijn …. Het kiest een plekje in je hart als een oude vriend, die er altijd voor je is. En als je echt, echt eerlijk tegen jezelf bent, kun je die oude vriend horen …. fluisterend.
***Ter informatie: Esther Phillips werd voor een Grammy voor dit lied genomineerd, maar verloor van Aretha Franklin, die op haar beurt de trofee aan Phillips gaf omdat ze vond dat Phillips had moeten winnen. ***
Periode

Artiest en Titel

Release

jaar

(x) weken genoteerd

<70's

The Miracles – The Track Of My Tears

1965

36

Jimi Hendrix Experience – Red House

1966

36

Stevie Wonder – I Was Made To Love Her

1967

36

Fairport Convention – Who Knows Where The Time Goes

1969

22

James Brown – Mother Popcorn

1969

36

70's

Fields – A Friend Of Mine

1971

16

Esther Phillips – From A Whisper To A Scream

1972

–

Jerry Jeff Walker – Won't You Give Me One More Chance

1976

10

Chris Bell – I Am The Cosmos

1978

30

Neil Young & Crazy Horse – Powderfinger

1979

6

80's

Let's Active – Waters Part

1984

4

Tuxedomoon – In A Matter Of Speaking

1985

36

Waterboys – Medicine Bow

1985

36

Mano Negra – Mala Vida

1989

34

Tin Machine – Under The God

1989

36

90's

Wu Tang Clan – Wu-Tang Clan Ain't Nuthing Ta F' Wit

1993

18

Morphine – Thursday

1993

14

Bjork – Hyper-ballad

1995

34

Tommy Castro – Lucky In Love

1999

26

New Radicals – Someday We'll Know

1999

12

0's

The Gathering – You Learn About it

2003

8

Iron & Wine – The Trapeze Swinger

2004

2

Paul McCartney – Jenny Wren

2005

24

LCD Soundsystem – Us Vs Them

2008

36

Elbow – Weather To Fly

2008

34

>10's

Sarah Siskind – Yellow And Blue

2011

36

Sukilove – Somehow Someday

2012

36

Woodkid – Run Boy Run

2012

36

Sir Yes Sir – Smiling

2013

36

All Them Witches – The Death Of Coyote Woman

2014

20