De 'Ondergewaardeerde 30' is onze non-hitlijst en wordt samengesteld door muzikanten. Liedjes die in hun oren nog steeds ondergewaardeerd zijn.
Elke twee weken is er een nieuwe bijdrage.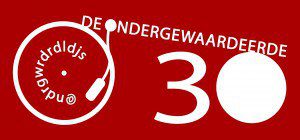 Deze keer heeft een Vlaamse troubadour en literatuurliefhebber het voor het zeggen. Jonas Winterland wordt in Vlaanderen geroemd om zijn bloedmooie liedjes en trefzekere tekstuele miniatuurtjes.
Vorig jaar hadden we een blog over Het Meisje Uit Het Lied; een warm eerbetoon aan de heilige drievuldigheid van de Nederlandstalige rock uit Vlaanderen: Gorki, De Mens en Noordkaap. Eveneens vorig jaar kwam hij zijn schitterende album Zwaartekracht en Andere Verzinsels. Momenteel werkt hij in de studio aan zijn derde album, dat eind 2016 zal uitkomen. 
Houdt hem in de gaten (facebook), want de schrijvende pers is laaiend enthousiast en noemt hem de ontbrekende schakel tussen Eels en Leonard Cohen. Winterland zingt trage chansons met een akoestische gitaar als grondtoon, filmische strijkers en blazers. Wij, Nederlanders, dienen eindelijk zijn oeuvre te waarderen.
Het meest Ondergewaardeerde liedje aller tijden volgens Jonas Winterland: Iron & Wine – The Trapeze Swinger (2004)
'Het meest ondergewaardeerde liedje aller tijden' kiezen…  Boy, oh boy, voorwaar geen simpele opgave.  Geef mij een uurtje en ik maak een lijstje met minstens honderd – naar mijn mening- ondergewaardeerde liedjes.  Om te beginnen hebben alle groten der aarde – Bob Dylan, Leonard Cohen, Neil Young,… – allemaal hun zogenaamde 'lost songs': B-kantjes, live-versies, outtakes, etc., die het om één of andere reden nooit tot officiële albumtrack geschopt hebben.  Maar die categorie van verloren liedjes krijgt later meestal nog eerherstel, met dank aan de nerds, zijnde de meest fanatieke fans die werkelijk alles van hun helden willen horen.  (Ik beken, ik ben er ook één.)
Een andere categorie zijn de ondergewaardeerde liedjes van artiesten die zelf al niet echt naar waarde worden geschat, om wat voor reden dan ook.  Die songs dreigen pas echt tussen de plooien van de tijd te verdwijnen. Eén song waarvan ik, vanuit de grond van mijn melancholisch singer-songwritershart, hoop dat dat toch niet zal gebeuren is het innig mooie The Trapeze Swinger van Iron & Wine.
Achter Iron & Wine schuilt de Amerikaanse songwriter Sam Beam, een zanger die meer fluistert dan zingt en een patent heeft op zacht wiegende folksongs met loepzuivere melodieën. (Wie hem nog niet kent, kan zijn verkenningstocht beginnen bij het album Our Endless Numbered Days)
The Trapeze Swinger werd in 2004 geschreven en opgenomen voor de soundtrack van een niet meteen memorabele film en duurt meer dan negen minuten.  Geen wonder dus dat het lied indertijd wat ondergesneeuwd raakte.  En dat is zonde, want The Trapeze Swinger is Sam Beam op zijn best.
Muzikaal zit het lied zeer eenvoudig in elkaar: nauwelijks vier akkoorden met daarover een melodie die zichzelf als een mantra eindeloos lijkt te herhalen.  Daardoor kom je als luisteraar in een soort van trance wordt je aandacht vanzelf naar de tekst gezogen. Die tekst is, zoals zo vaak bij Iron & Wine, bewust vaag gehouden en lijkt op het eerste zicht een opsomming van losstaande, soms zelfs banale beelden, met daartussen de telkens terugkomende hartenkreet 'Please, Remember Me'. Sam Beam zingt onder andere over de dingen die voorbij gaan, over verloren onschuld, over de angst om vergeten te worden en over graffiti op de hemelpoort, afwisselend hilarisch, hartverscheurend en filosofisch:
Fuck The Man,
Tell My Mother Not To Worry'

Don't Look Down,
Someone Save Temptation…
Het is moeilijk om ze niet allemaal te citeren.
Ten slotte vat hij op het einde haast moeiteloos Het Leven zelve samen:
The Trapeze Act Was Wonderful,
But Never Meant To Last
Kijk, als ik zo'n lied geschreven had, dan zou ik met een gerust gevoel mijn gitaar voor altijd kunnen opbergen.  Maar luistert u vooral zelf.
In 2009 werd The Trapeze Swinger opgevist voor het B-sides & Rarities-album Around The Well)
Periode

Artiest en Titel

Release

jaar

(x) weken genoteerd

<70's

The Miracles – The Track Of My Tears

1965

34

Jimi Hendrix Experience – Red House

1966

34

Stevie Wonder – I Was Made To Love Her

1967

34

Fairport Convention – Who Knows Where The Time Goes

1969

20

James Brown – Mother Popcorn

1969

34

70's

Fields – A Friend Of Mine

1971

14

Jerry Jeff Walker – Won't You Give Me One More Chance

1976

8

David Bowie – Wild Is The Wind

1976

34

Chris Bell – I Am The Cosmos

1978

28

Neil Young & Crazy Horse – Powderfinger

1979

4

80's

Let's Active – Waters Part

1984

2

Tuxedomoon – In A Matter Of Speaking

1985

34

Waterboys – Medicine Bow

1985

34

Mano Negra – Mala Vida

1989

34

Tin Machine – Under The God

1989

34

90's

Wu Tang Clan – Wu-Tang Clan Ain't Nuthing Ta F' Wit

1993

16

Morphine – Thursday

1993

12

Bjork – Hyper-ballad

1995

32

Tommy Castro – Lucky In Love

1999

24

New Radicals – Someday We'll Know

1999

10

0's

The Gathering – You Learn About it

2003

6

Iron & Wine – The Trapeze Swinger

2004

–

Paul McCartney – Jenny Wren

2005

22

LCD Soundsystem – Us Vs Them

2008

34

Elbow – Weather To Fly

2008

32

>10's

Sarah Siskind – Yellow And Blue

2011

34

Sukilove – Somehow Someday

2012

34

Woodkid – Run Boy Run

2012

34

Sir Yes Sir – Smiling

2013

34

All Them Witches – The Death Of Coyote Woman

2014

18