De herfst is ingetreden. Langzaam leven we toe naar een jaarlijks hoogtepunt van Ondergewaardeerde Liedjes: de Snob 2000! Alweer de derde editie van onze alternatieve Top 2000; maar zover is het nu nog niet. In de tussentijd brengen we eerst nog twee mooie edities van de Ondergewaardeerde 30.
De Ondergewaardeerde 30 van oktober wordt aangevoerd door een toffe gastsamensteller; Rebecca Sier. Deze singer-songwriter zou je gezien kunnen hebben op Into The Great Wide Open 2011 waar ze voor de Onder Invloed sessie een cover van Day is Done van Nick Drake speelde. In 2012 stond ze zelfs in het voorprogramma van Lianne La Havas.
Haar liedjes kun je hier luisteren. Mochten deze je bevallen check dan ook het Longen project waar ze samen met andere muzikanten – uit binnen en buitenland – aan werkt. Kortom: super om deze altijd sprankelende gast(e) te mogen hebben!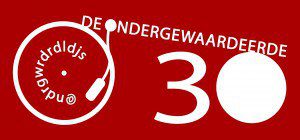 Het meest Ondergewaardeerde liedje aller tijden volgens Rebecca Sier: Sukilove – Somehow Someday
"Graag wil ik het nummer Somehow Someday van Sukilove aandragen voor de Ondergewaardeerde 30. Pesterig, om je te jennen, aan je te trekken en overeind te schudden. Ik ben meestal van de rustig luisterende soort, aandachtig en geconcentreerd, liefst zittend. Maar Sukilove – ik kon niet stilstaan, meer dan een jaar geleden in EKKO, Utrecht.
Groove! Ja, pesterig, die gitaren, die je achterna zittende basloop. Dit lied mag hardop. En meegezongen, om te jennen. Terecht kondigde Pascal Deweze Somehow Someday aan met een waarschuwing: Deze is goed .
Ik heb de indruk dat er binnen de categorie 'ondergewaardeerde liedjes' gradaties van onderwaardering bestaan. Je hebt de voorheen ondergewaardeerde liedjes, die inmiddels vallen onder 'goede smaak' en eindelijk een algemene waardering genieten onder liefhebbers. Zoals muziek van Nick Drake, Jeff Buckley, of Talk Talk uit de Spirit of Eden-periode. Ook heb je ondergesneeuwde liedjes: weinig gehoord, want niet als single uitgebracht, of als B-side, maar evengoed wonderschoon. Vermoedelijk zit het gros van de ondergewaardeerden, inclusief Sukilove, in een derde subgroep. Het zijn de liedjes van de band die niemand kent. Geen hits die een weg banen naar de minder bekende nummers, geen hype, niet cool, simpelweg onterecht onbekend.
Er was veel ruimte om te dansen, en ook in thuisland België blijkt er niet bijzonder veel animo voor het inmiddels aan de wilgen gehangen Sukilove. Ik kan er met mijn hoofd niet bij waarom niet. Is het muzikanten-muziek? Iets voor de nerd? Ik hoor alleen maar hoe Somehow Someday kolkt, Fear de simpele doch harde waarheid spreekt (We're all just meat! – ik schreeuw het net te graag hard mee) en Calm als soundtrack bij zo'n ingewikkelde, terugkerende droom meespeelt. Toegegeven, ik houd wel van bewolkt met bliksem!
Overige verschuivingen in de lijst
Deze keer zijn er maar liefst zeven – door jullie gekozen – nieuwe liedjes aan de lijst toegevoegd:
– Kula Shaker – Govinda (3)
– Motörhead – (We Are) The Roadcrew (5)
– Jack Bruce – Livin' Without Ja (10)
– Wendy & Lisa – Porch Swing (15)
– Robert Plant – Rainbow (19)
– Betty Davis – Whorey Angel (20)
– Gerry Rafferty – The Long Way Round (25)
De lijst van 3 oktober 2014
Eerstvolgende editie: 07 november 2014
Je kunt onderaan de pagina weer stemmen voor de nieuwe liedjes, die over ruim een maand de Ondergewaardeerde 30 lijst binnenkomen. De nummers zijn allemaal suggesties die door jullie zijn ingebracht. De drie liedjes waar de meeste stemmen op binnenkomen nemen we op in de lijst. Blijf ons vooral suggesties doorgeven (graag wel nummers die in Spotify staan). Je kunt de nummering van de lijst makkelijk aanpassen, waarna de lijst in de volgorde komt zoals jij deze graag wilt zien.
Veel (luister)plezier!
De redactie van de Ondergewaardeerde 30: Martijn Vet, Ton van Hoof, Frans Kraaikamp en Freek Janssen
Foto Rebecca Sier (archief Rebecca), foto Sukilove door Johan van Roy (via Absolutelyfree.be)