Twee weken geleden beet Marike Jager het spits af als gastsamensteller van de Ondergewaardeerde 30. Ze brak een lans voor Ron Sexsmith. Als tweede gastsamensteller hebben we iemand over weten te halen die de muziekindustrie vanaf de andere kant kent. Een muziekliefhebber in hart en nieren die al jaren het gezicht is van Muziekspeciaalzaak Kroese Arnhem: Henk Visser!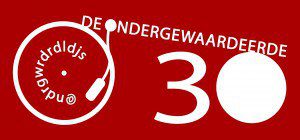 Het meest Ondergewaardeerde liedje aller tijden volgens Henk Visser: Dead Flowers – The Prayer Boat
Henk: "Als bijdrage aan De Ondergewaardeerde 30 wil ik graag het nummer Dead Flowers van The Prayer Boat aandragen. Reden hiervoor is dat het naar mijn mening een ongehoord groot – en pijnlijk – onrecht is dat deze band, die inmiddels niet meer bestaat, tot op de dag van vandaag nog steeds niet de erkenning gekregen heeft die zij absoluut verdient!
The Prayer Boat was een uit Ierland afkomstige band en het nummer Dead Flowers is afkomstig van hun tweede album Polichinelle (1999). Polichinelle staat vol met alleen maar erg mooie liedjes die in de basis akoestisch klinken en allemaal een ietwat melancholische sfeer hebben. Het is dan ook een album dat liefhebbers van artiesten als Damien Rice, Nick Drake en Jeff Buckley absoluut in hun kast horen te hebben staan!
Het uitblijven van succes heeft tot gevolg gehad dat de zanger en liedjesschrijver Emmett Tinley solo verder is gegaan. Het is alweer drie jaar geleden dat hij zijn tweede, titelloze, solo-album uitgebracht. Het is te hopen dat Tinley de hoop nog niet opgegeven heeft en ons toch nog met een derde solo-album gaat verblijden."
Overige verschuivingen in de lijst
De drie – door jullie gekozen – nieuwe instromers in de lijst zijn: Beck – Beautiful Way (5), Buffalo Tom – I'm Allowed (15) en Love – Alone Again Or (25). De redactie heeft nog twee nieuwe nummers toegevoegd: Bill Fay – Be At Peace With Yourself en Robert Johnsen – Come On In My Kitchen.
Opvallende stijgers zijn: dEUS (flink gewaardeerd), Beastie Boys en Alabama 3. Aan de top hebben we een paar steady lijstaanvoerders: U2, Nick Drake, Paolo Nutini en Massive Attack maken hier nog steeds de dienst uit.
De lijst van 16 mei 2014
Eerstvolgende editie: 13 juni 2014
Je kunt onderaan de pagina weer stemmen voor de drie nieuwe liedjes, die over vier weken de Ondergewaardeerde 30 lijst binnenkomen. De nummers zijn allemaal suggesties die door jullie zijn ingebracht. De 3 liedjes waar de meeste stemmen op binnenkomen nemen we op in de lijst. Blijf ons vooral suggesties doorgeven (graag wel nummers die in Spotify staan). En vergeet niet het lijst-schuifsysteem te gebruiken!
Veel (luister)plezier!
De redactie van de Ondergewaardeerde 30: Martijn Vet, Ton van Hoof, Frans Kraaikamp en Freek Janssen